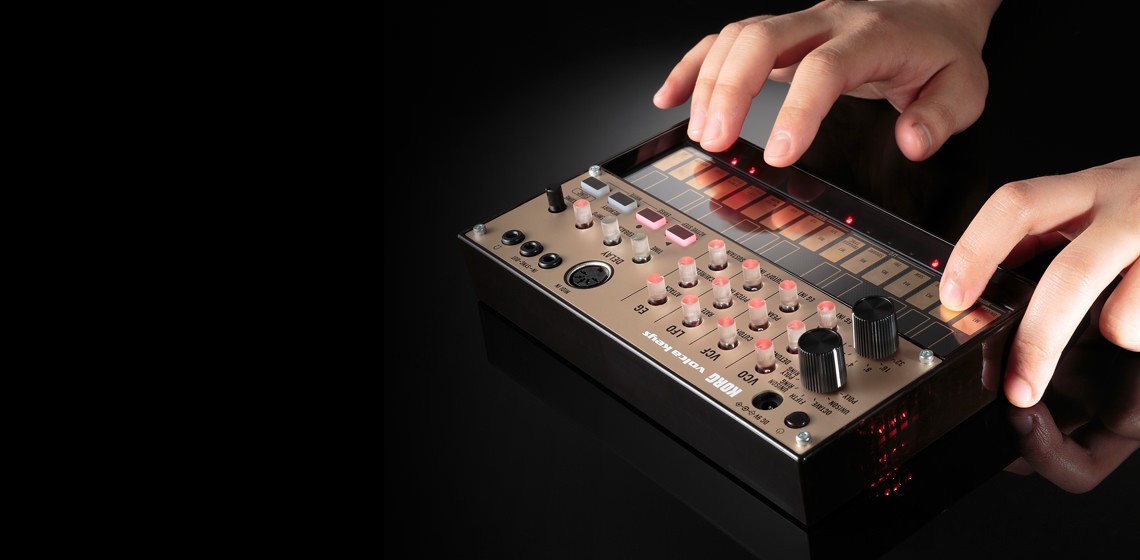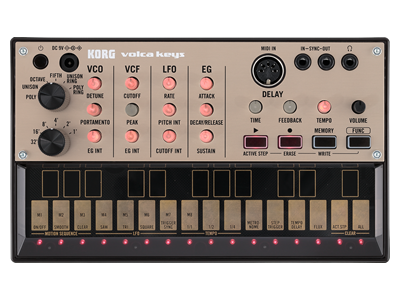 volca keys
ANALOGUE LOOP SYNTH
Learn More
Related Sites
Related Products
Three true-analog synthesizers with built-in sequencers to generate the ultimate analog leads, basses, or rhythms
Following in the footsteps of the monotron, monotribe, and MS-20 Mini analog synthesizers, Korg announces the Volca series. Volca is a new lineup of EDM production tools comprised of three distinct models: the Volca Keys lead synthesizer, the volca Bass synthesizer, and the Volca Beats rhythm machine. These powerful and fun-to-use true-analog devices deliver a diverse array of fat sounds that can be obtained only from an analog synthesizer. Each is also equipped with sequencing/recording capabilities for intuitively generating performances. Multiple volcas can be used in tandem via the vintage-style sync in/out, and with your favorite DAW software or MIDI keyboard via MIDI In. Battery operation and built-in speakers mean that you can conveniently play anywhere and anytime. These are the next-generation analog synthesizers, bringing you the ultimate sounds and grooves with ease and depth. Whether used together or by themselves, the volca series is poised to inject true analog power into any performance or studio setup!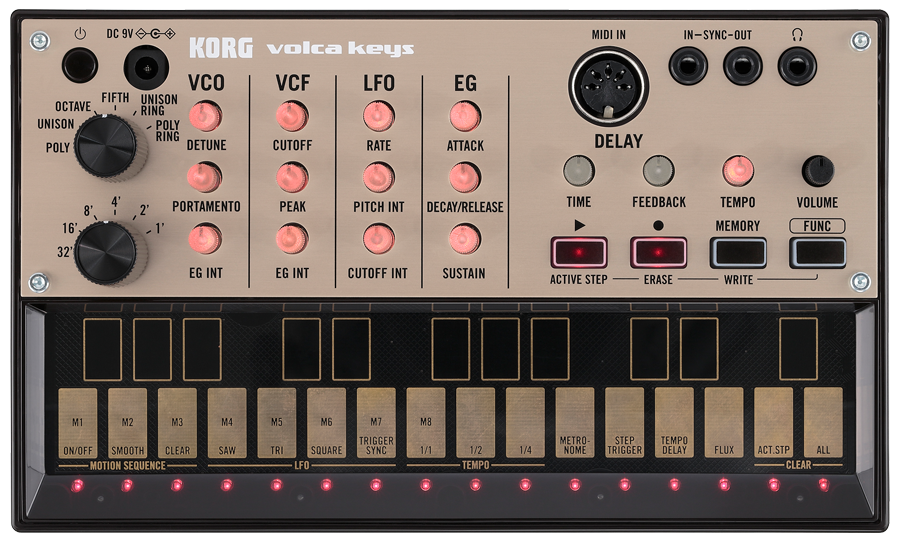 Polyphonic performance
Simple three-voice polyphonic analog synthesizer
With its structure of 3VCO, 1VCF, 1VCA, 1LFO, and 1EG, the volca keys has a recognizable, versatile structure. The ability to generate diverse and powerful sounds with just a few carefully selected parameters is a distinctive characteristic of analog synthesizers. The possibilities are endless; you can use the three oscillators to play chords, use them in unison with detune to produce solid lead lines, or apply ring modulation to create far-out metallic sounds. This is also an ideal beginner's instrument for learning the enjoyment of creating your own sounds.
Voicing function lets anyone create sounds easily
The Voicing function makes it easy to specify how the three oscillators will be combined. Simply turn the knob to choose one of six combinations: Poly, Unison, Octave, Fifth, Unison Ring, or Poly Ring. Without complicating the volca's simple design, this feature makes it easy to obtain a wide variety of sounds.
Delay effect for even more sonic possibilities
The volca keys contains a delay effect that's indispensable for creating spacey synthesizer sounds. This effect also reproduces the pitch change that occurs when you change the delay time on an analog tape echo unit.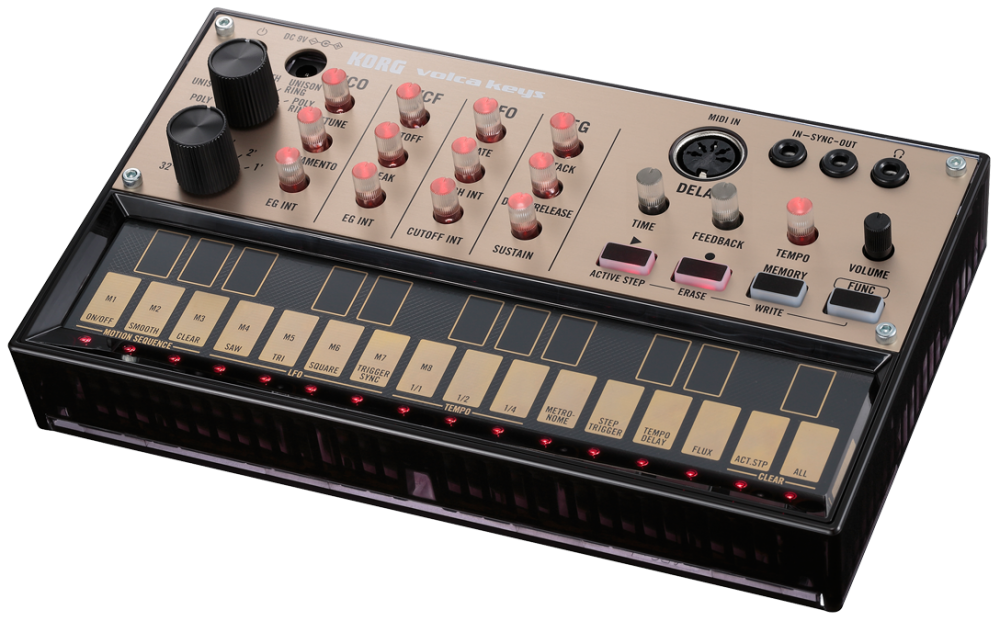 Simple loop sequencer
Loop sequencer lets you record phrases just as you play them
There's a loop sequencer with up to 16 steps, allowing you to record your performance on the touch panel keyboard just as you play. It's easy to create phrases that come to mind, and you can also use overdub recording to produce complex loops that could not be played individually.
Up to eight sequence patterns can be stored in internal memory.
Use the Motion Sequence function to meticulously craft your loops
The Motion Sequence function lets you record knob movements, letting you apply time-varying changes to your sound that will enhance your loops and add originality to your live performances.
Use the Active Step function and Flux function to add dynamic change to your sequences
Active Step is a function that lets you skip a step during sequence playback. It can create effects similar to a short loop or unexpectedly irregular rhythms, allowing dynamic performances just as though you were performing the sequence itself.
By turning on the Flex function, you can play back the phrase without quantizing the steps, producing a loop with a distinctive sense of groove.
Convenient functions for greater ease of use
Self-tuning function
Until now, the problem with analog synthesizers has been that the pitch would drift with changes in temperature or the passage of time. The volca solves this by providing a Self-tuning function that constantly tunes the oscillators. You'll never need to tune during a performance, or wait for the pitch to stabilize after turning the power on.
SYNC jack and MIDI IN connector allow synchronized performance with multiple units or with your DAW
By using the sync jack you can enjoy synchronized playback with multiple volcas or with a monotribe. You can also use the "SyncKontrol" iPhone app to wirelessly control tap tempo, swing settings, and synchronized playback with iOS music apps via WIST.
The MIDI IN connector lets you synchronize with other devices, as well as play the volca from any MIDI keyboard. You can also send note messages from your DAW and use the volca as an analog sound module.

>Information about SyncKontrol
Compact size, battery-powered operation, and built-in speaker for enjoyment anywhere
With its compact size, battery operation, and built-in speaker, it's easy to take the volca anywhere and perform any time.
We use cookies to give you the best experience on this website.
Learn more
Got it