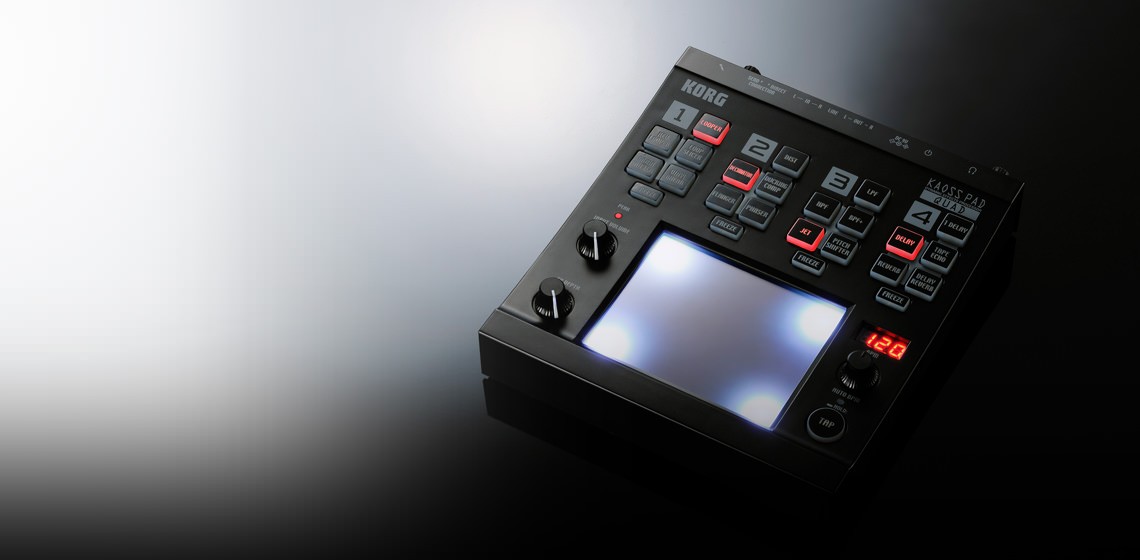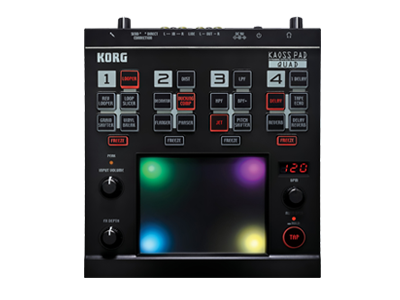 KAOSS PAD QUAD
DYNAMIC EFFECTS PROCESSOR
Learn More
Create your own combination of Kaoss effects,
and simultaneously control up to four effects using a single fingertip!
Introducing the Kaoss Pad Quad; it's Kaoss control evolved to a whole new level.
In 1998, the first-generation Kaoss Pad exploded onto the DJ/music scene with touchpad-based effect control. Since then, the overwhelming acceptance and popularity of the X-Y touchpad is evident in many Korg products – Kaoss Pad effects, the Kaossilator Series, our padKONTROL and nanoPAD controllers, even the exclusive M3 TouchView™ display – that are now standards in the scene. To this we add the Kaoss Pad Quad, with new effects, functions, and features.
As suggested by the name "Quad", this new Kaoss Pad lets you use up to four effects simultaneously. These effects can be sync'ed to the beat of your music, to freely transform your song in realtime. Any audio source can be processed; an MP3 player, a mixing board, an instrument, even vocals via the mic input! The expressive performance potential that arises from the Kaoss Pad Quad leaves other effect units in the dust, and rapidly approaches the realm of an "instrument". The brilliant and colorful LED touchpad illumination adds a strong sense of individuality, further enhancing the Kaoss Pad Quad's unique character.
The Kaoss Pad Quad will enthrall everyone. The intense user can engage in highly technical performances; the casual user can enjoy DJ-like fun. Either way, the audience will be equally captivated. The interest and depth emanating from this new instrument is sure to touch every listener.
Brilliant, colorful LED touchpad illuminations move in sync with your performance
Control multiple effects in realtime using the intuitive Kaoss X-Y touchpad
Create your own Kaoss combinations and use up to four effects at once
Choose one of five effects from each of four effect groups; a total of 1,295 combinations!
Freeze button holds the effect settings after you release your finger, for dazzling hands-free use
New Looper effects – Forward, Reverse and Slice – add new audio intensity
Mix it up with new DJ emulation Vinyl Break and Ducking Compressor effects
Auto BPM engine detection and Tap Tempo functions keep your Kaoss locked to the beat
KAOSS PAD QUAD - Introduction Movie
KAOSS PAD QUAD - Performance Movie
We use cookies to give you the best experience on this website.
Learn more
Got it