News OK Go Chooses Winner Of volca movie contest
Together with Grammy award winning band OK Go, we invited musicians to show their playful and tech-savvy side and enter to win one of their signature volca's. We thoroughly enjoyed reviewing all of the entries from around the world. The spirit of the volca line is to inject mind-blowing sonic power into any performance or studio set up and our community of music creators never disappoints!

After reviewing global submission the band and KORG are happy to announce the winner: Kotro Laszlo Lehel who will receive a brand new OK Go edition Volca Sample signed by the band as well as an OK Go merchandise package.
KORG New Music Always OKGO contest, ba babe (nu IDea performance)
You can see more entries here: http://bit.ly/1rACEUb

KORG would like to thank to everyone who entered the contest and wish continued enjoyment and satisfaction to everyone using KORG products.
Product Information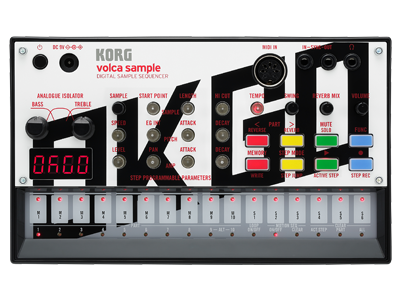 volca sample OK GO edition
DIGITAL SAMPLE SEQUENCER
We use cookies to give you the best experience on this website.
Learn more
Got it