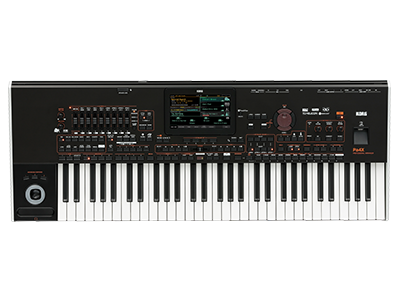 Pa4X ORIENTAL
PROFESSIONAL ARRANGER
Support for Your Purchase
Learn More
Related Sites
Related Products
Choose the Musical Partner to Deliver the Perfect Oriental Performance.
The Pa4X ORIENTAL Professional Arranger is more than a keyboard. It's your backup band; your accompanist; and your musical director. Whatever music you are going to play, from Western to Oriental - Arabic, Persian, Turkish - the Pa4X ORIENTAL delivers.

Ideal for composing, recording, and combo use, the intuitive Pa4X ORIENTAL really comes to life in the hands of the solo keyboard performer and entertainer. And nowhere else is the flawless operation and superior sound of one keyboard instrument more in the spotlight. To that end, every aspect of KORG's industry-leading Professional Arranger series has been re-examined and improved, resulting in the Pa4X ORIENTAL—an instrument without equal. The all-new EDS-X (Enhanced Definition Synthesis – Expanded) sound engine delivers unprecedented realism and highly detailed sounds. KORG's exclusive DNC (Defined Nuance Control) provides highly-articulate solo instruments. Partnerships with Waves Audio and TC Helicon provide state-of-the-art audio processing and vocal effects. The Oriental version comes with a bonus package including the most effective musical resources available from top-class Middle East libraries.
Pa4X ORIENTAL - Introduction Movie
Oriental version add Sounds, Drumkits, Styles, Keyboard Sets and Pads from Turkish, Persian and Arabic acclaimed libraries
15 easy access custom preset for Quarter Tone scales + cancel button
2 models to choose from: 76-key or 61-key
Semi–weighted keys with velocity sensitivity and aftertouch
Elegant, streamlined aluminum cabinet
7-inch capacitive TouchView™ display with tilting system
Easy-to-use panel layout and intuitive completely redesigned graphical interface.
New EDS-X (Enhanced Definition Synthesis-eXpanded) sound engine
- Improved realism and pristine sound quality
Massive internal ROM with a renewed PCM database
Plus up to 1.5 GB (3 GB when compressed) of user PCM data
Over 2,000 sounds (more than 190 Oriental Sound and 60 Oriental DK) including GM and XG sets
768 user Sound and 384 user Drumkit locations with full editing features
Revised Digital Drawbar Organ sound engine
DNC (Defined Nuance Control) and realtime articulation:
- Three assignable switches
- Four-way joystick
- Ribbon controller
Complete sample recording and editing features
Import audio waveforms in the most common formats including Wav, Aiff and SoundFont™.
Over 700 Styles (more than 190 Oriental) with Intros, Endings, Fills, Count-ins, and Breaks
- 4 Keyboard Sets and 4 Pads per Style,
- 13 Internal user banks and 13 Direct user banks locations for unlimited storage
Guitar Mode 2 provides more realistic guitar parts
Chord Sequencer function in Style Play mode records any chord progression on-the-fly
- Chord Sequences can be saved in each Style and SongBook entry
Search function for quickly locating any musical resource
New standard MidiFile to Style converter feature (BOT)
New Kaoss functionality to easily remix styles and midi songs in real-time
Keyboard Set Library includes a collection of best ready to play sounds
- Keyboard Sets can be recalled even from Direct locations
Multiple Effects processors – 148 effect types:
- 4 Insert and 3 Master effects for accompaniment parts,
- 1 Insert and 2 Master effects for Keyboard Tracks
Waves MAXXAUDIO Mastering Suite:
- MaxxEQ™, MaxxBass™, MaxxTreble™, MaxxStereo™, MaxxVolume™
TC Helicon® Vocal Processing:
- Four-part Harmonizer, Double, µMod, Reverb, Delay, Filter, HardTune, Pitch Correction plus Compressor, EQ, Gate (Adaptive Mic Setting on the Mic input)
Double MP3/MIDI file players with recording capability, X-Fader and Vocal Remover
- Score, Chords, and Lyric display
- Compatible with most common lyrics formats including graphical (+G) for MP3.
- Lyrics can be showed in their original languages (except Oriental and Arabic Languages)
Enhanced compatibility for GM and XG songs
Fully programmable SongBook database based on Styles, SMF, Karaoke, and MP3
- Instant recall of any song setting
- User-definable Set Lists assignable to panel buttons
- Filtering and ordering options
Easy MIDI connection of external controllers through USB HOST ports
Multi-language extended character set
Internal hard drive
- Pa4X ORIENTAL 76: Standard
- Pa4X ORIENTAL 61: Optional
MicroSD card slot (card not included) allows for mass storage and data protection
Optional PaAS speaker bar—connects without wires or power supply
We use cookies to give you the best experience on this website.
Learn more
Got it