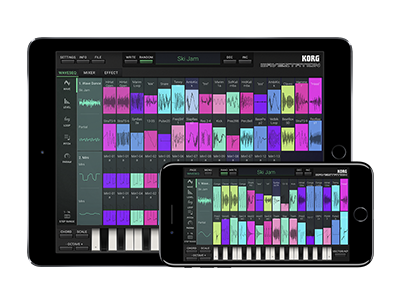 KORG iWAVESTATION
WAVE SEQUENCE SYNTHESIZER
Support for Your Purchase
Learn More
Related Products
Creating sounds with time-varying timbre, on your mobile device.
A wave sequence synthesizer for iOS.
The WAVESTATION synthesizer went on sale in 1990. This instrument featured an advanced vector synthesis system which created new sounds by combining and connecting multiple waveforms; it provided a mix/morphing function that let you use a joystick to change the balance of four oscillators, and a distinctive wave sequence function that allowed you to place waveforms in a desired sequence to create sequence patterns. To this day, it continues to be considered a legendary and still-unique instrument.

Now in 2016, the WAVESTATION has been reborn as "KORG iWAVESTATION," an app for iPad/iPhone. In addition to completely reproducing the programs, it also features a renewed design that lets everyone experience the stupendous sound-shaping potential of the WAVESTATION. It features touch-based operation that's distinctive of iOS, in conjunction with a new graphic interface that allows you to visualize and edit the time-varying timbral changes that are distinctive of the WAVESTATION. The sound and functionality are taken directly from the WAVESTATION itself, but the speedy and intuitive sound-shaping which were previously impossible are now made possible by the iWAVESTATION. Now you can obtain the diverse sounds of wave sequencing, inimitable by any other synthesizer, on your iPad/iPhone.
KORG iWAVESTATION - Introduction Movie
A faithful reproduction of the original WAVESTATION sound.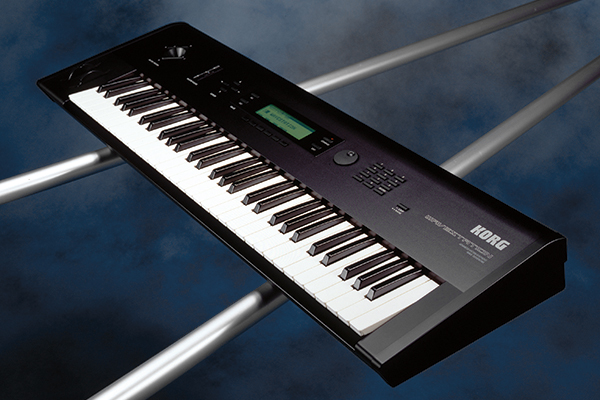 In addition to providing the sounds from all PCM memories of the WAVESTATION, the new iWAVESTATION also reproduces in software every detail of the parameters, based on an analysis of the original hardware circuit diagram. You can pursue a faithfully recreated sound that could never be obtained merely by sampling the original hardware.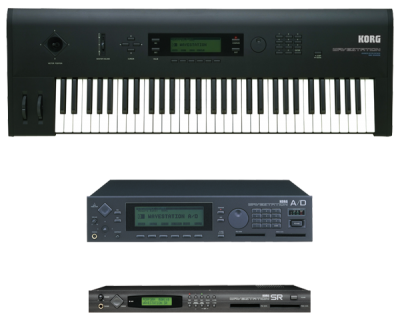 WAVESTATION / A/D / SR
About WAVESTATION
The WAVESTATION was the first synthesizer that enabled wave sequencing. A wave sequence cross-fades a variety of waveforms, smoothly connecting these waveforms to let you play them. The WAVESTATION differs most greatly from other synthesizers in how it lets you freely design and play wave sequences.

When you create a patch using multiple oscillators, the WAVESTATION lets you use vector synthesis to freely configure how the sound is modulated.

This high degree of flexibility provided by the oscillators is what generates the sounds that are so distinctive of the WAVESTATION, such as rhythmic percussion sounds and pads that have a sense of motion.
A new wave sequence view that can be graphically controlled.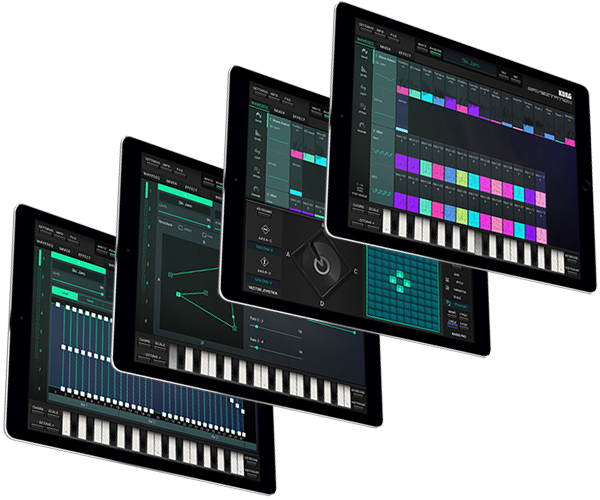 Although the original WAVESTATION held enormous potential as a sound engine, its complex editing structure meant that sound design required a certain amount of knowledge and understanding, earning it a reputation as an instrument that was by no means straightforward to approach. In 2004, the WAVESTATION software synthesizer was released with an improved interface as part of the "KORG Legacy Collection."

Now with the iWAVESTATION, we advance another step with a graphical user interface that takes advantage of the touch operations that are a characteristic of iOS. Even more than ever, we've updated the screen design with an emphasis on creating sequences. With intuitive parameter control using touch operation and a smooth motion graphic that conveys the movement of that sequence, you'll enjoy unprecedentedly flexibility for editing. You can freely control all of the multi-leveled elements of the WAVESTATION's programs, including sounds, effects, and wave sequences.

The original engineers who were involved with the development of the original WAVESTATION participated in redesigning the interface. Numerous functions and ideas that were not possible with previous technology have been implemented in iOS, the platform of today.
1,500 sounds, more than 700 waveforms, 55 effects, and a powerful random sequence engine.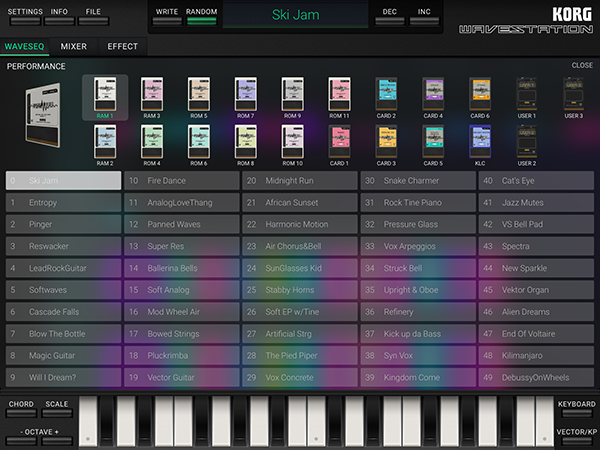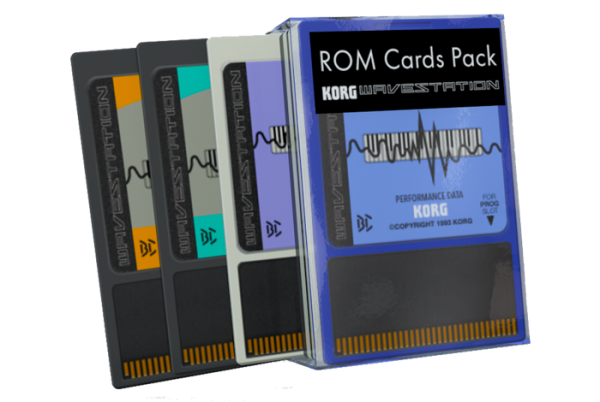 Expansion Card Pack
This new instrument includes a stupendous number of presets and waveforms, covering all models of the series: WAVESTATION, WAVESTATION EX, WAVESTATION A/D, and WAVESTATION SR. The six option PCM and program cards that were highly acclaimed by users at the time, as well as the KLC card that was newly added with the KORG Legacy Collection, are also included for a total of seven, bringing the total to more than 1,500 preset sounds, more than 700 waveforms, and 55 effects, and giving you virtually infinite possibilities for creating sounds. (*)

iWAVESTATION also provides a new random sequence function which will give you different perspectives to inspire new sounds.

* The 1,500 sounds and 7 cards are the total number of optional PCM and program cards available, including in-app purchases.
Produce music together with KORG Gadget integration.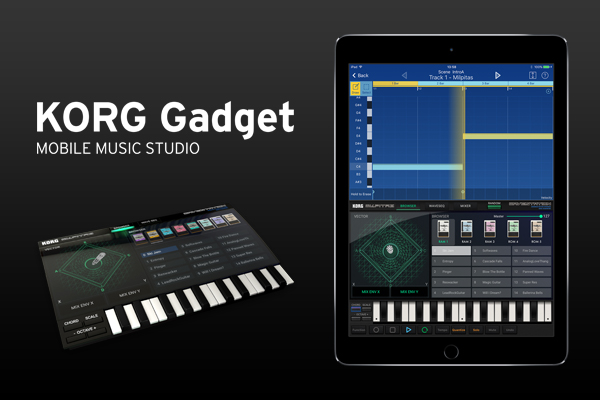 iWAVESTATION can be used in conjunction with the "KORG Gadget" music production DAW app that has won numerous awards around the world. If both apps are installed, it can be used as the "Milpitas" gadget inside the KORG Gadget app. Not only the preset sounds, but also user programs created on iWAVESTATION can be used right away in your musical productions. The distinctive soundscapes of the WAVESTATION are sure to generate new chemical reactions from the sequences that you create using KORG Gadget. iWAVESTATION is compatible with Audiobus and Inter-App Audio, and can also be used as a sound module for GarageBand.
Connect a MIDI keyboard and use iWAVESTATION as an external sound module.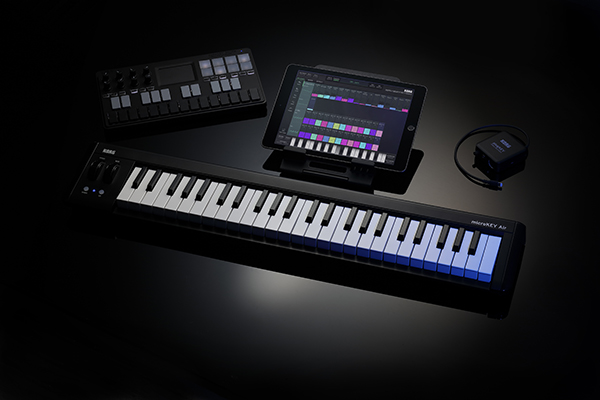 You can enjoy iWAVESTATION by itself, or you can connect a MIDI controller and play it as an external sound module. You can use the nanoKEY Studio or microKEY Air which support Bluetooth MIDI for wireless performance, use the microKEY that connects directly via a Lightning adapter, or use the plugKEY interface to connect your favorite 5-pin MIDI keyboard. A lightweight and compact mobile system based on iWAVESTATION and your iPad/iPhone can move easily between studio and stage, giving you classic WAVESTATION sounds wherever you are.
Register here to get KORG App News Letter
Register for the KORG app News Letter so that you won't miss the latest news and information about KORG iWAVESTATION.

KORG iWAVESTATION is available for download purchase from the Apple App Store.
We use cookies to give you the best experience on this website.
Learn more
Got it