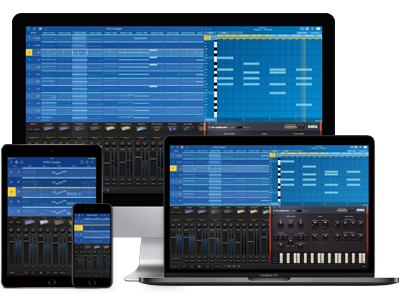 KORG Gadget
MUSIC PRODUCTION SOFTWARE
Support
Learn More
Related Sites
Related Products
From iOS to Mac.
Music production software to help your musical imagination become reality.
KORG Gadget is a completely new type of music production software that provides more than 30 small synthesizers and drum machines called "gadgets," and lets you freely combine these to produce anything from powerful electronic music to rock music. Following the worldwide success of the award-winning Gadget for iPad/iPhone we now announce the new Gadget for Mac. Building on the smooth operability and intuitive user interface of the iOS version, "KORG Gadget for Mac" provides a new dimension of inspiration for every creative artist. The Mac version also comes with the "Gadget Plug-In Collection," a magnificent collection of plug-ins that support AU, VST, AAX, and NKS. With KORG Gadget, you can use the Mac version at home and the iOS version when you are mobile, letting you enjoy a seamless workflow and ideal music production experience. The care that KORG has paid to hardware instruments over more than 50 years of experience has been channeled into the powerful cutting-edge musical software that is KORG Gadget. Now, the ultimate all-in-one music production studio extends its scope to a new platform and brings a new level of music making for Mac users everywhere.
Collaboration with Propellerhead Reason | KORG Gadget UPDATED
KORG Gadget Plug-in Collection supports NKS | Track Produced & Performed by DJ BAKU
A collection of more than thirty Gadgets
KORG Gadget comes with more than 30 gadgets that include our wide range of synthesizers, drum machines, samplers and audio. Each gadget delivers incredible range of sounds, and provides carefully selected parameters that let you easily achieve the sound you're looking for. This powerful group of gadgets provides complete support not only for electronic music but also for rock, pop, and jazz band sounds. Simply get started with your favorites from the numerous gadgets that are provided to sound great quickly.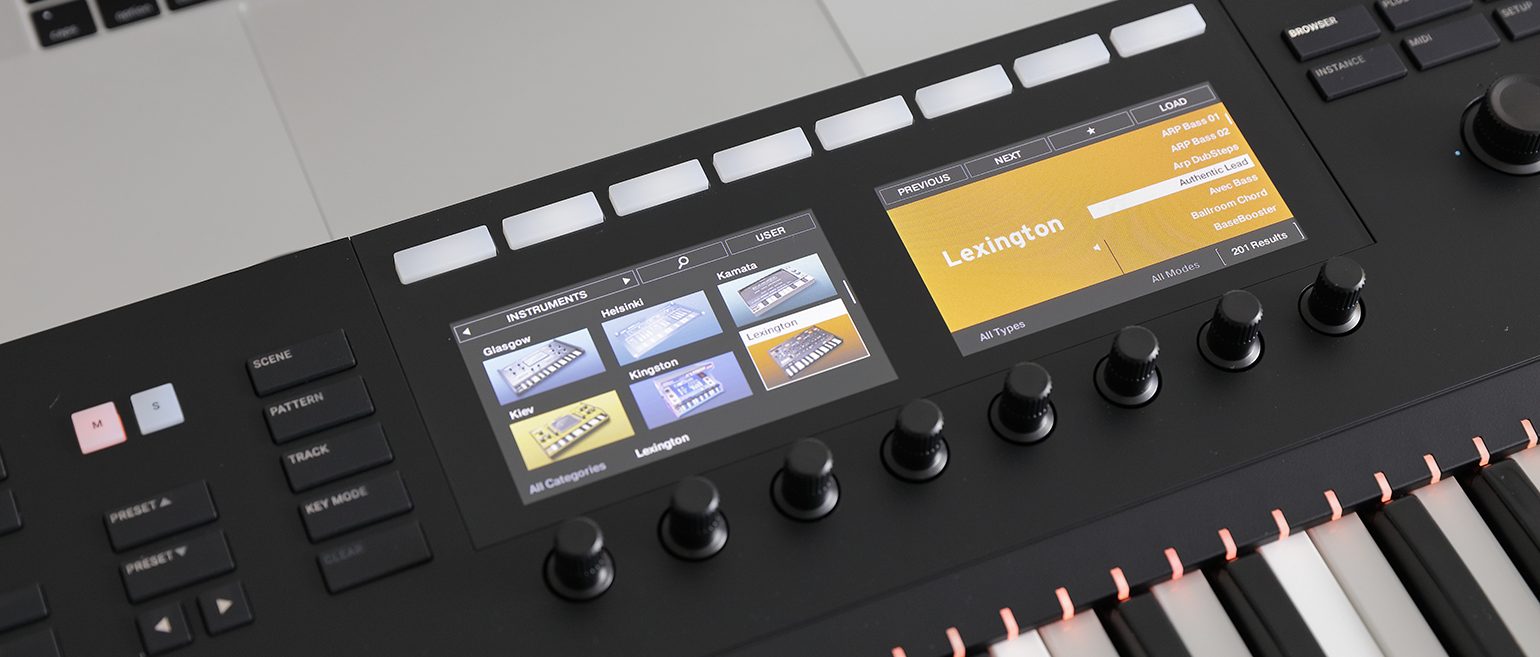 All gadgets are provided as plug-ins
KORG Gadget for Mac comes with the "Gadget Plug-in Collection" that allows the gadgets to be used as plug-ins. It's a gigantic collection of plug-ins that support AU, VST, AAX, and NKS. the standard bundle of gadgets includes models of the KORG Module, iM1, iWAVESTATION, ARP ODYSSEi and iMono/Poly that have already been acclaimed as iOS apps, giving you complete coverage of production-ready sounds and presets. These highly refined sound engines meet the needs of any production style, and can be used in your favorite DAW(*).

* Please check the here for Operability confirmed DAW software.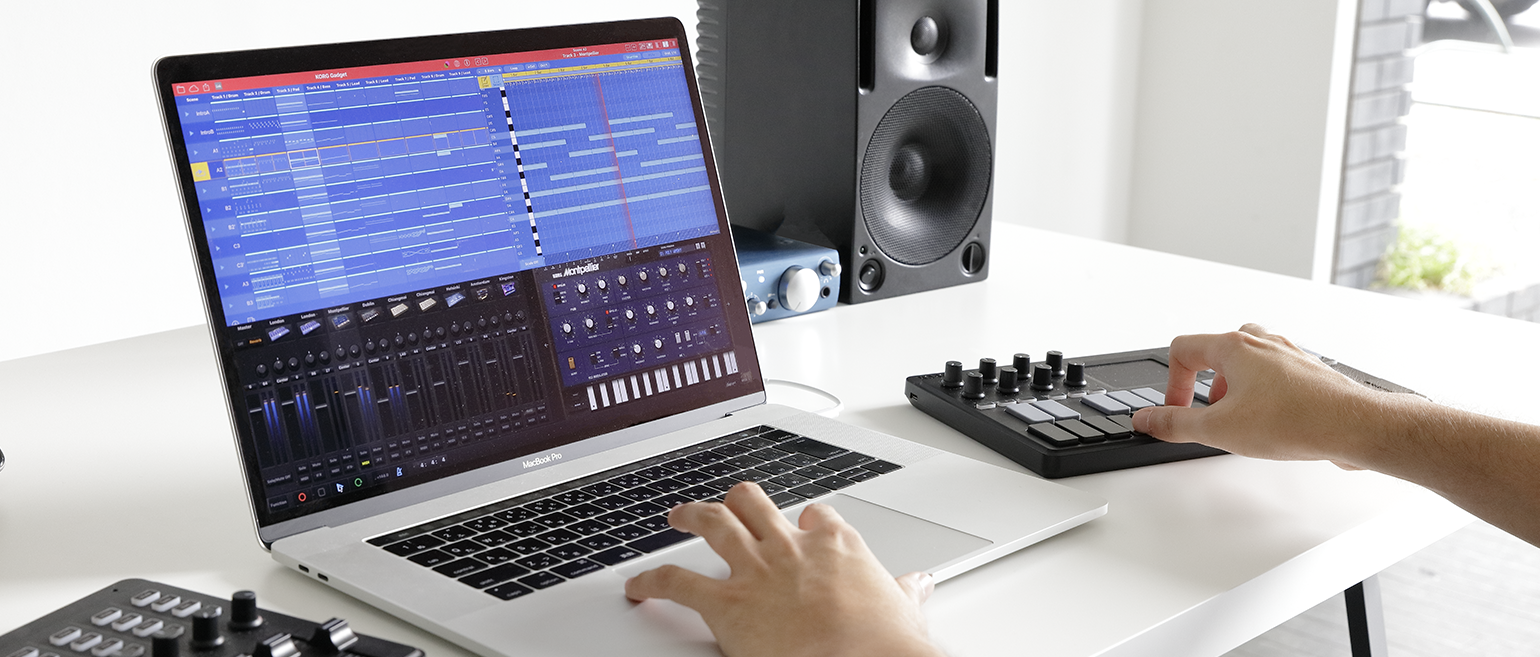 An intuitive music production workflow
The most intuitive feature of KORG Gadget is its user interface. It provides an easily understandable layout that divides the fundamentals of music production into four processes - sounds, phrases, sequences, and mix - and lets you perform these tasks intuitively and seamlessly. The iOS version provides two screens that can be switched vertically and horizontally, while the Mac version takes advantage of the large display to let you browse everything in a single screen. gadget was also among the first to support the "Touch Bar" that's featured on the new MacBook Pro. You can use the gadget keyboard to perform with Touch Bar. With workflow that lets you move flexibly between different platforms such as Mac, iOS, and the plug-in collection, you'll be guided towards perfecting your music without interrupting your creative flow.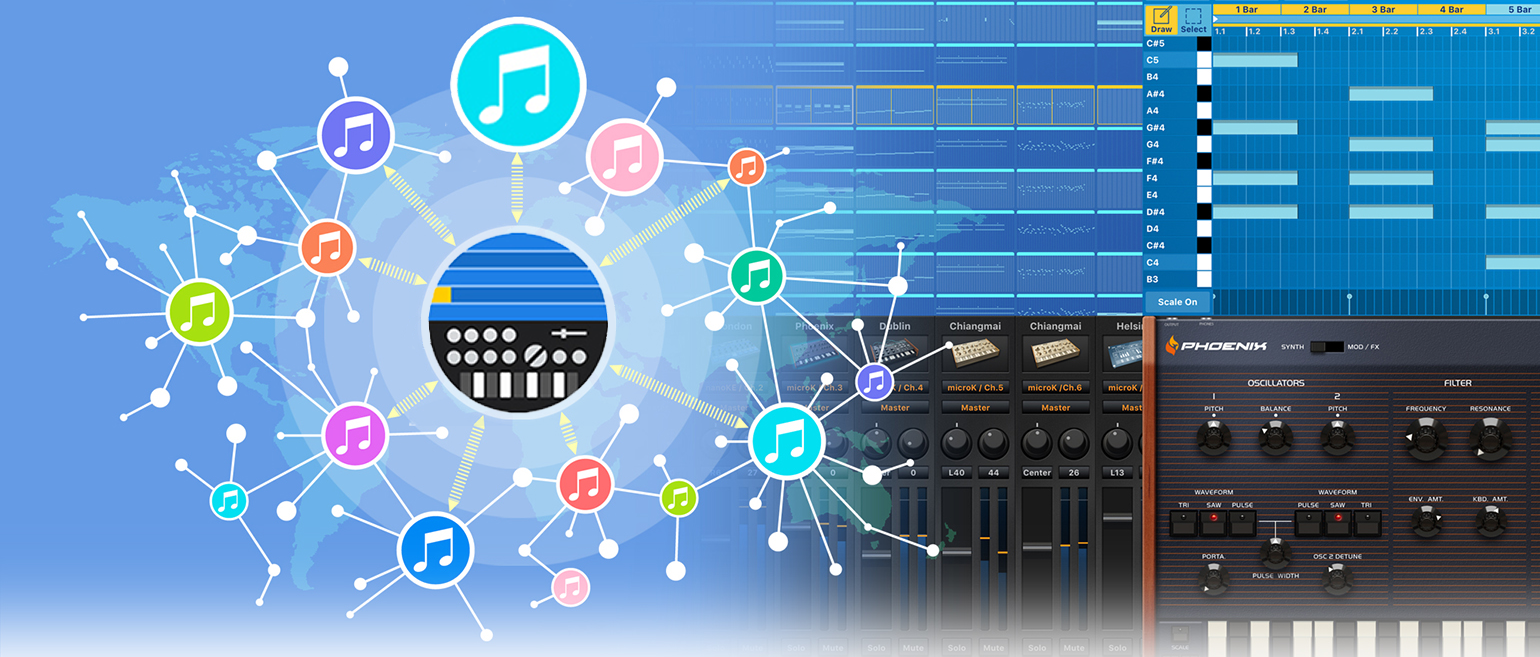 Collaborate with creators around the world
Songs that you create using KORG Gadget can be shared using a variety of music sharing services around the world. "GadgetCloud (*1)" provides numerous opportunities for you to test your skill as a musical creator; you can submit your tracks for recommendation by KORG or enter them in contests, and there's also a ranking system. You can also directly upload your tracks anywhere, including to SoundCloud, Facebook, or Twitter.
Make it come alive with new MIDI controllers
To customize your needs, you can select your favorite MIDI controller that complements the KORG Gadget. For example if you're using a nanoKEY Studio or nanoKONTROL Studio, you can record and mix wirelessly. Native support for these controllers means that setup happens automatically. By partnering with a MIDI controller that inspires you, you can improve the quality of your music production.
Experience KORG Gadget with a lite version
You can get a glimpse of the amazing power of KORG Gadget by downloading the free of charge KORG Gadget Le - a lite version of the Mac / iOS. Although there are limitations to the number of gadgets and tracks that you can use, you can experience the seamless and intuitive music production possibilities of KORG Gadget.
Press
"A fresh take on iPad synthesis and sequencing from Korg. Simple enough to use but powerful and fun, with some excellent sounds."

MusicTech

"If you have an iPad buying Korg Gadget is a no-brainer. If you don't, maybe it's time to bite the bullet!"

Musicrader

"From the moment I fired it up, Gadget completely blew me away. It's the single best iPad electronic music tool I've ever used, hands down. Its 15 synths are so specialized, but collectively cover so much ground, that even newcomers can quickly find exactly the sounds they're seeking. The sequencing and arrangement functions are absolute best of breed for iOS."

KeyboardMag
Register here to get KORG App News Letter
Register for the KORG app News Letter so that you won't miss the latest news and information about KORG Gadget.