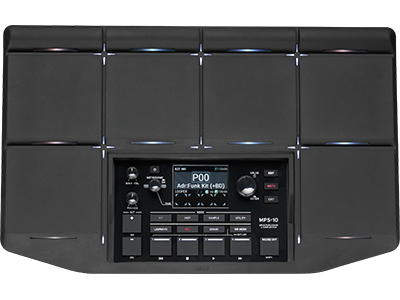 MPS-10
DRUM, PERCUSSION & SAMPLER PAD
Support for Your Purchase
Learn More
Redefine the beat: your control, your performance.
The MPS-10 is the next step in the constant evolution of drum performance and musical expression. Meticulously crafted to be both rugged and refined, MPS-10 meets the diverse demands of drummers and percussionists everywhere, opening the door to new and creative ways of performing never previously possible.

Immerse yourself in a world of sonic possibilities with its 10 pads, thanks to a preloaded sound source that defies expectations, a versatile sampler, 4 groundbreaking CC pads, and a cutting-edge 4-track looper – all seamlessly integrated into a singular, comprehensive kit. Enhance your performance through an external trigger IN jack, footswitch compatibility, and an expression jack.
A Seamless Symphony of Playability and Features
An indispensable companion for drummers, a digital percussion revelation, and the ultimate partner for performers, the MPS-10 is a harmonious blend of playability and features. Whether you're in the studio or performing live, the MPS-10 stands ready to fulfill your drum and percussion needs with its captivating array of exciting and useful features.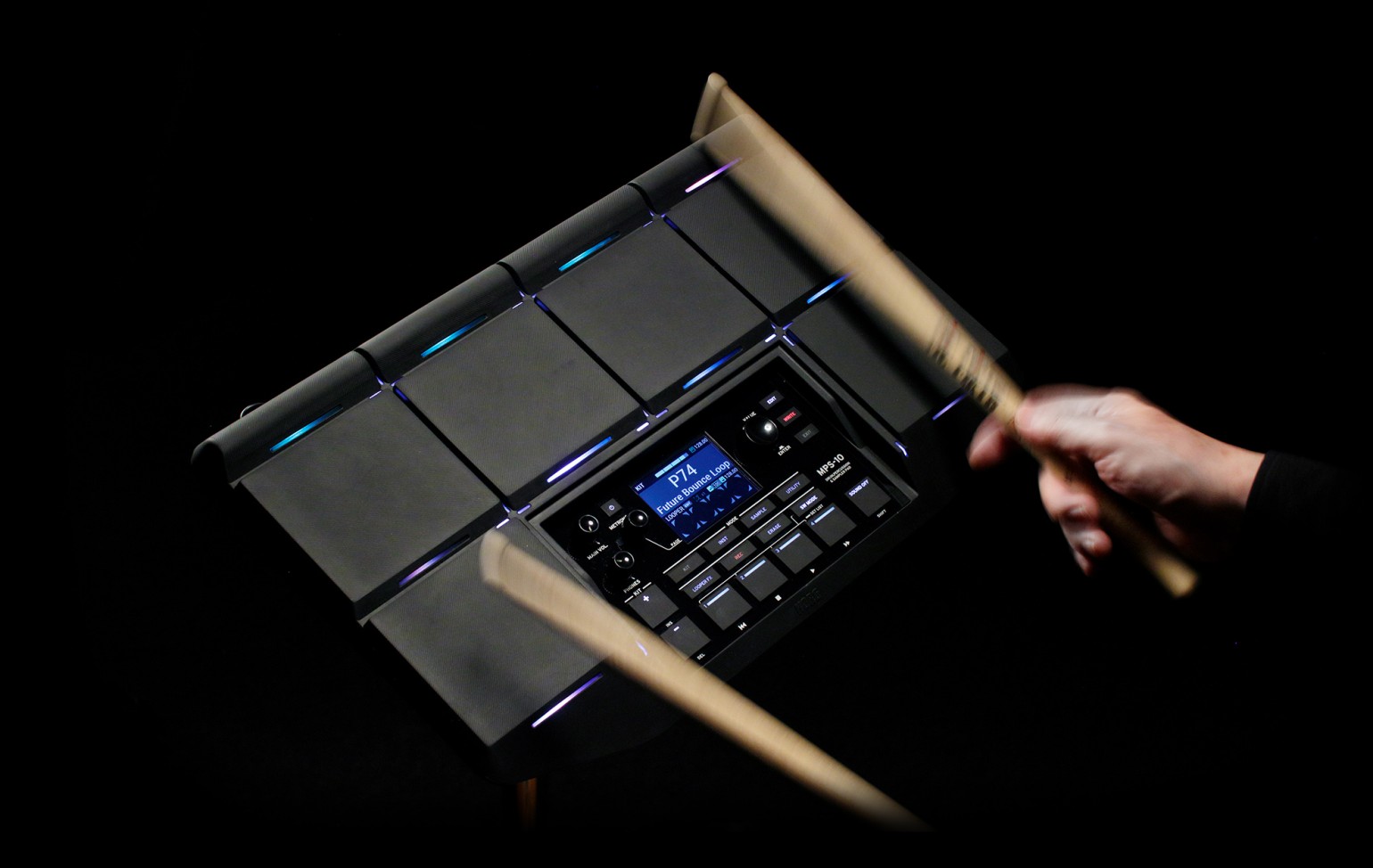 Limitless Soundscapes at Your Fingertips
With an expansive collection of 2,350 assignable Instruments (INST pads) and more than 3000 high quality samples at your disposal, the MPS-10 opens the gateway to boundless creativity. Revel in a deep library of cool, useful sounds that range from dynamically expressive instrument tones and captivatingly nuanced variations based on your strike's intensity, to the essential electric instrument sounds that drive so much modern drumming.
Classical percussion enthusiasts will delight in the inclusion of congas, bongos, and more, while acoustic percussion aficionados will be delighted to find an extensive range of useful, dynamic and authentic sounds. The looped phrases, impactful sounds for games, TV spots and movie trailers, mesmerizing melodic steelpan tones, and an array of HIT/SFX sounds will drive you to explore.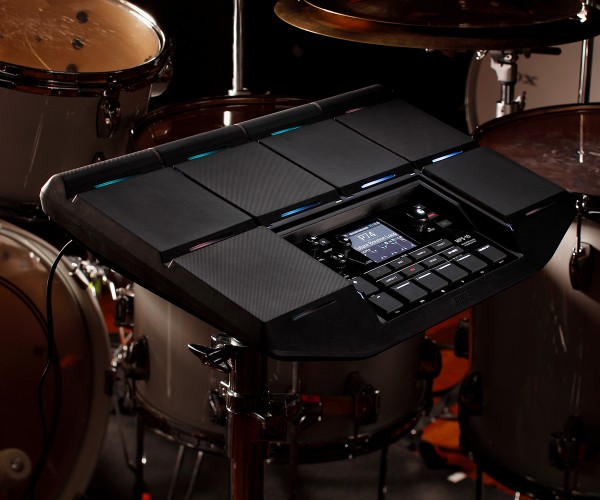 Instant Results with Preloaded Kits
100 carefully curated kits, each comprising 10 INST pads, await your command as you dive into the MPS-10. The musical journey commences the moment your fingers grace the pads, igniting a galaxy of sonic brilliance. Furthermore, a realm of personalization unfolds with 100 user KIT slots, empowering you to craft and customize your own original kits.
Masterful Sound Sculpting
Empower your sonic tapestry with unparalleled control. Enhance the sonic excitement with the default master reverb and filter, augmented by two insert systems and a master system, all at your command. Easily toggle the effects for each pad, orchestrating intricate tone changes with precision.
Seamless Transitions, Effortless Control
Experience uninterrupted creativity with the Smooth Sound Transition (SST), ensuring flawless kit transitions after striking a cymbal or repeating a sample, such as a snare. When silence beckons, a simple press of the SOUND OFF button works immediately.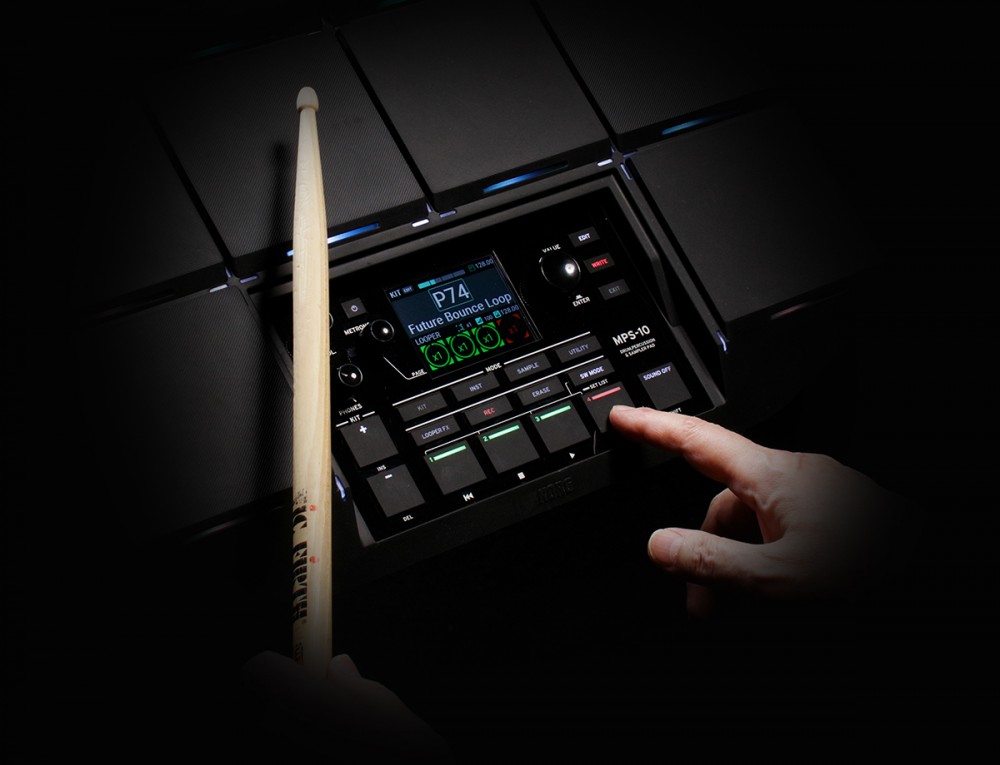 The Artistry of Looping
Elevate your performance with the incredibly flexible and powerful 4-track looper. Revel in the dedicated looper effects, crafting intricate looping phrases that will inspire your creativity - and your audience! With synchronized settings that ensure flawless playback across tracks, and the ability to export each track as a WAV file, your creative possibilities will go even further than your real-time performance.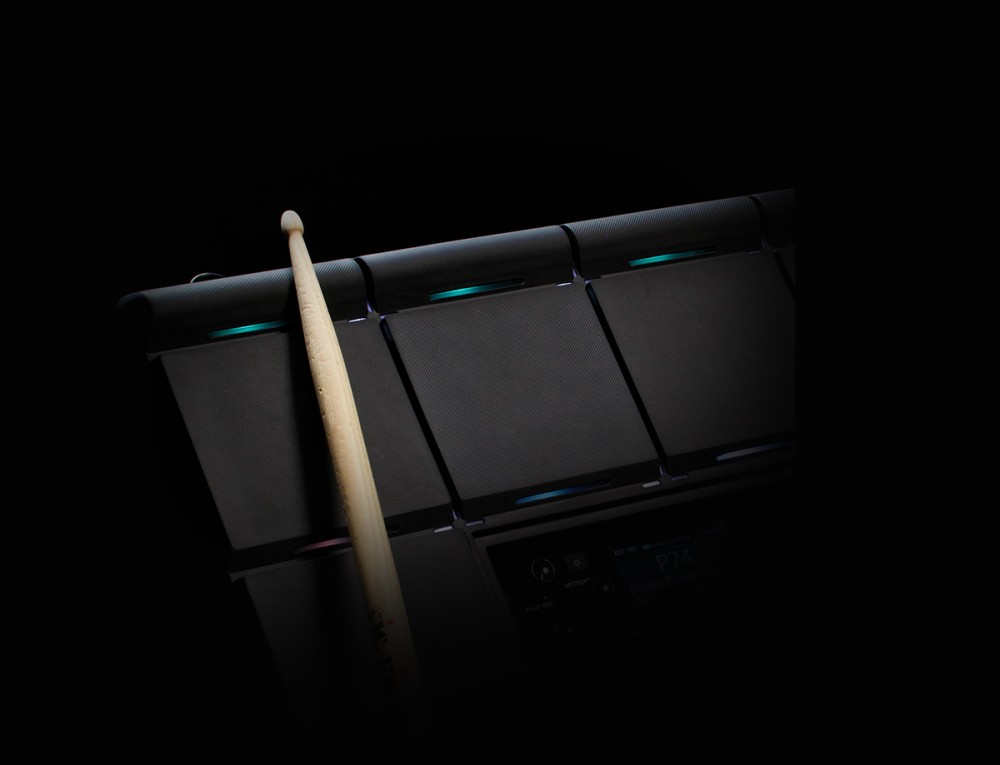 The CC Pad revolution
Embark on a journey of sonic manipulation with the four visionary and deceptively powerful CC pads. The top 4 pads of the MPS-10 can be used as CC pads, detecting the striking position with incredible precision and thus allowing for intuitive control of effect parameters.
Delve into gradual filtering, EDM-inspired drum rolls with Note Delay, and real-time tonal transformations through the versatile MFX functions. Elevate your drumming artistry to new heights with unprecedented control and expression.
Unleash Your Sound, Unshackle Your Creativity
The sampler function liberates your creativity, allowing effortless importation of user samples. Seamlessly integrate your favorite sounds from a USB flash drive into the MPS-10, assign them to any pad, and even replace portions of preset kits with your personal soundset.
Brilliant Visuals, Uncompromising Legibility
Take center stage with confidence, as the vivid full-color display is easy to read even amidst the brightest lights. Tailor the saturation to your preference for \ visual clarity. Navigate your sonic journey effortlessly with three-color LEDs illuminating each pad, ensuring seamless performance even on the dimmest stages.
Unveil Your Artistry with Ease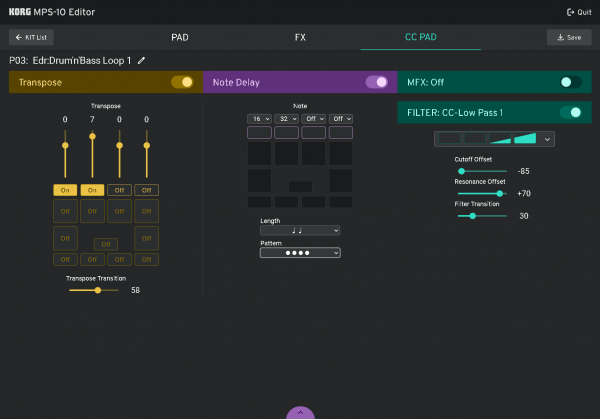 Crafting your signature kit is a breeze with the MPS-10 Editor, a user-friendly web app. Seamlessly connect the MPS-10 to your PC via USB, and dive into a realm of endless creative possibilities as you shape your own unique kits.
Expand Your Horizons with External Triggers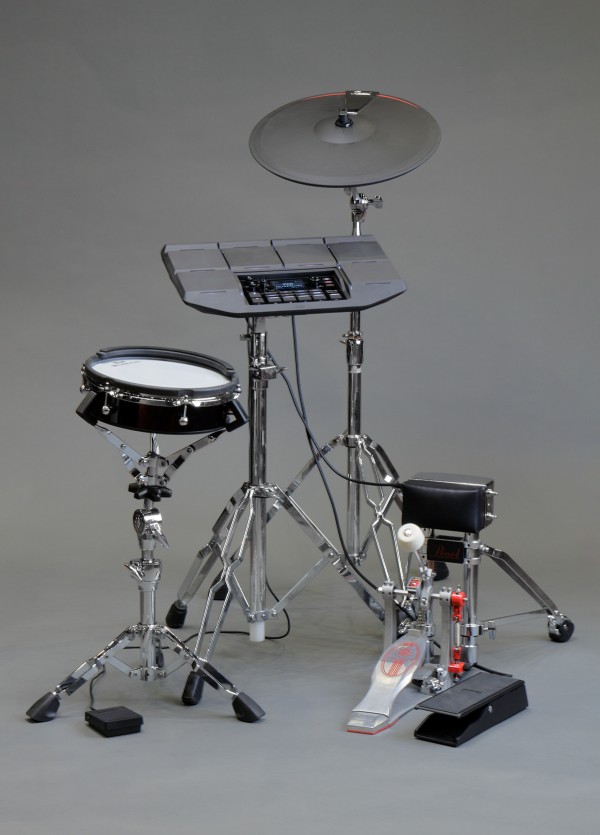 Embark on a sonic odyssey with dual trigger-in terminals, accommodating up to four triggers and pads via a Y-shaped cable, allowing for a total of 15 sounds within one kit. Unleash the full spectrum of drumming artistry with a single unit, empowered by the preloaded KIT featuring a dedicated bass drum as a Trigger connection tone (Pad11).

Elevate your performance, redefine your sound, and craft unforgettable musical experiences with the MPS-10 – where innovation meets artistry.
The latest technology, built to last
Developed by the design team behind WaveDrum and Pearl e/MERGE, highly praised by professional players for its feel and performance, the MPS-10 provides the ultimate drum pad experience with a unique pad design that sets it apart from the rest.

In pursuit of a combination of durability and performance, a high-quality rubber material was perfected through multiple prototypes and supervision by the most demanding professional players . We have strived to achieve the right balance of hardness, sensitivity, and dynamics to enable drummers and percussionists to express themselves naturally.

The pad layout is designed to ensure the proper setup and striking positions when integrated into a drum kit, resulting in comfortable playing and superior strike detection. And while maintaining the standard pad size, it accommodates 10 pads within a compact housing.

Although it boasts a stylish appearance, it is built to resist the adversities of the road and has successfully passed extensive and rigorous testing, making it a professional-grade equipment with no compromises in toughness.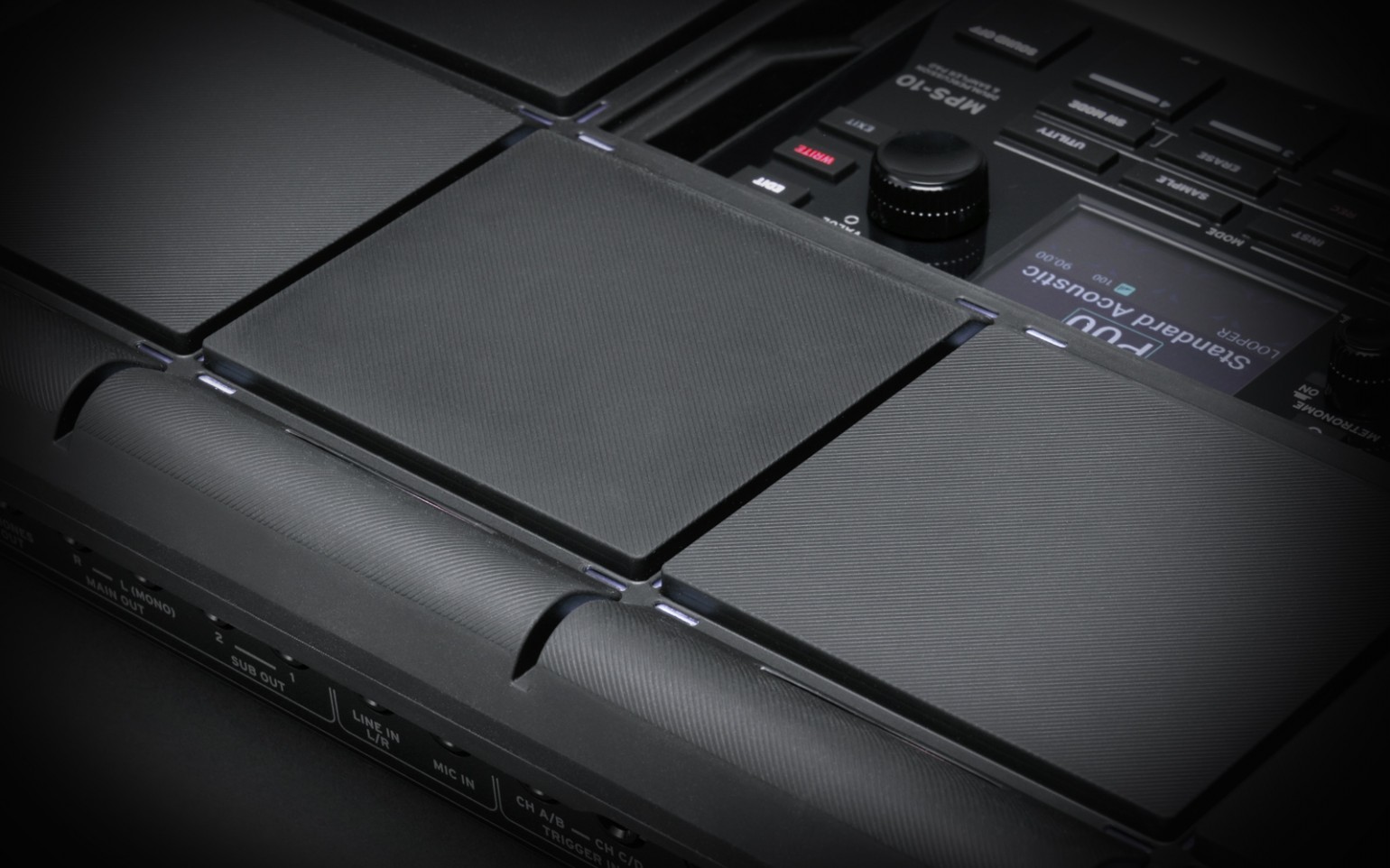 We use cookies to give you the best experience on this website.
Learn more
Got it