Features
Artists 2014.12.09
Queen's Spike Edney - Behind the scenes with the Korg Kronos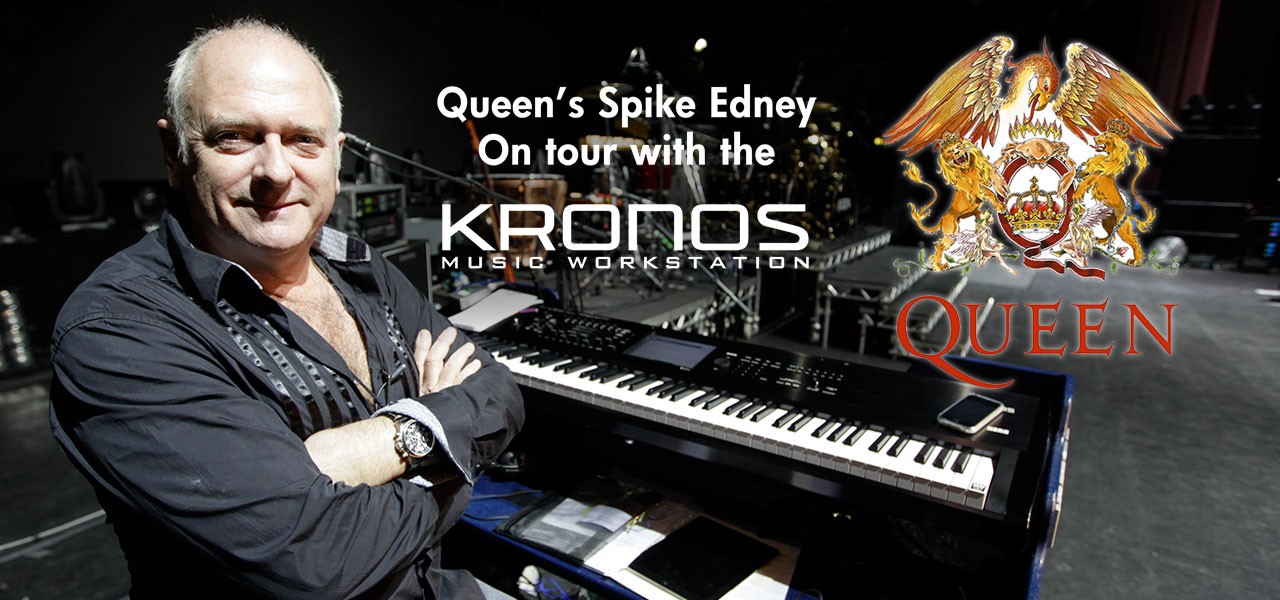 Queen's Spike Edney - Behind the scenes with the Korg Kronos
Go behind the scenes of legendary rock band Queen and see how the Korg KRONOS is the only keyboard needed on tour to perform the multitude of hits covering 30 years including "The Show Must Go On" and "Radio Gaga". Spike Edney has been Queen's musical director and keyboard player performing on all the tours since 1984, including the legendary Live Aid gig.
In addition to being legendary rock band Queen's musical director and keyboard player since 1984, British multi-instrumentalist Spike Edney has toured, recorded and performed with the living and late legends of our time.
His career began in the mid 70's as keyboard player and musical director for Soul & Motown legends Ben E King and Edwin Starr.
In the 80's, after tours and studio work with Bob Geldof's Boomtown Rats, Dexy's Midnight Runners, Thomas Dolby, Haircut 100 and Duran Duran, Spike commenced his 28 year career with Queen, joining them for two world tours, ("The Works" and "Magic"), as well as classic performances at "Live Aid", "Rock in Rio", "Live at Wembley" and "Knebworth".
Since then Spike has continued to perform and record with both Brian May and Roger Taylor on their solo projects. In 1987 Spike founded the band The Cross with Queen's Roger Taylor, co-producing 3 albums "Shove It", "Mad Bad and Dangerous To Know" and "Blue Rock" and in 1992 Spike joined The Brian May Band for the "Back to the Light" tour (the first of two world tours), followed by the "Another World" tour in 1997. Spike resumed his familiar position on the Queen stage for their 2005/2006 "Return Of The Champions" international tour and their 2008 "Cosmos Rocks" European and South American tours with a new line-up, featuring Paul Rodgers on vocals.
Along the way, Spike has relied on a variety of KORG Instruments including Triton Extreme, CX-3 combo organs and M3 Workstations (hence you can see Spike's customized M3 logo keyboard stand!), and during 2012, the KRONOS Workstation.
More recently, Spike joined Queen + Adam Lambert for their 2012 Summer shows in Kiev, Moscow, Wroclaw and London's Hammersmith Apollo. It was at this final show in London that KORG caught up with Spike during the afternoon's soundcheck, to hear how the KRONOS workstation has been coping with the demands of performing songs from 30 years of QUEEN.
Spike's other work in his capacity as Musical Director for Queen includes the "Freddie Mercury Memorial Concert". The 90's also saw the launch of Spike's All-Star Band a.k.a. The SAS Band. The artists and musicians who have performed with The SAS Band to date are part of an ever growing collection of some of the world's greatest Rock and Pop performers and include such names as Roy Wood, Chaka Khan, Roger Daltrey, Lionel Richie, Roger Taylor, Brian May, Paloma Faith, The Sugababes, Gary Brooker, Jack Bruce, Paul Young, Marti Pellow, Paul Rodgers, Madeline Bell, Tony Hadley, Bob Geldof, Lulu, Suggs, Midge Ure, Errol Brown, Graham Gouldman, Kiki Dee, Leo Sayer, Chris Thompson, Toyah Willcox, Ronnie Spector and Fish, to name a few.
Other notable performances include the "Unesco Concert for Iraq", the 2002 "Party at the Palace" concert for the Queen's Jubilee at Buckingham Palace and Nelson Mandela's 90th birthday concert in Hyde Park, London.