Features
Artists 2013.01.01
Jamie Cullum - On stage, in the studio and at home with the Korg SV-1 & Wavedrum
Jamie Cullum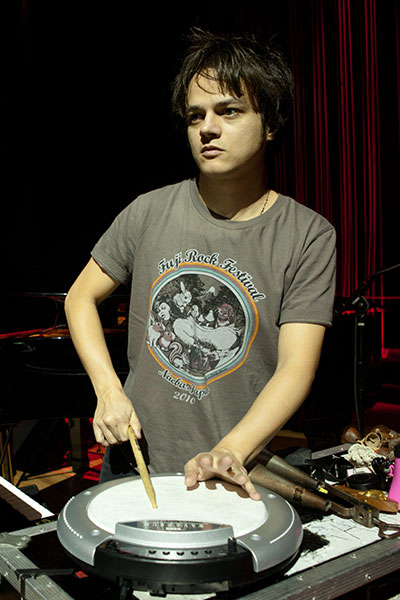 Jamie Cullum is undoubtedly one of Britain's most energetic and charismatic performers, at least partially responsible for introducing jazz to a young audience who might otherwise have thought it 'old-hat' and 'un-cool'. Jamie hit the big time back in 2003, when his Twentysomething album went Platinum. Since then, he has enjoyed a string of hugely successful album releases, often defying genre definitions by mixing jazz with hip-hop and electronic instruments.
Speaking to Korg mid-way through his 2010 European tour, promoting his hit album The Pursuit, Jamie explained just how vital his recently-acquired Korg MicroSampler, Stage Vintage Piano (SV-1) and WaveDrum have become in the live setup and song composition process.
"The SV-1 is my primary practice keyboard," says Jamie, "so it's the first thing my tour manager puts in my dressing room in the morning – I walk in and it's there! This is the first tour it has been on, so I'm not yet using it live, but I'm sure it is going to end up on stage by the end.
"Another reason for having the SV-1 back stage is that I've been writing a lot while on the road. The tour finishes in December so I'll be back in the studio early next year to begin recording the material I'm currently composing. I'm using the SV-1 for over three hours a day, so I actually play it more than my stage piano!
"The key weighting is something Korg have really got right on this one, yet somehow they've managed to do it without making the instrument really heavy. It's great because you can easily carry it around without it breaking your back."
Making Waves
The Korg instrument Jamie plays most on stage is his WaveDrum, which has been used throughout each gig of the current tour. Off stage, however, it also plays an important role in the studio. "I am very fond of getting loops and drum beats going to write over," explains Jamie, "and quite often, I start with a WaveDrum loop and improvise to a click for five minutes. It's so creative because it speaks to the way I work, which is to improvise. You can hit almost any part of it and get a sound!
"To be honest, it is one of the first electronic instruments I've played that feels as though it is not electronic. If you have headphones on or have the level up quite loud, it's as though you are playing a real instrument.
"Although I'm not really a drummer I can play with sticks and brushes, but I prefer to use my hands because then I have that real connection with the instrument. Having said that, my drummer had a play using brushes and got some amazing sounds out of it. It was interesting to see a drummer really connect with an electronic instrument like that. If you are not a drummer then it's possibly easier to get used to, but a drummer, who really relies on the feedback they get from an acoustic instrument, is usually more demanding. So to see him covet an electronic percussion instrument is very interesting.
"Most electronic instruments have loads of sounds, but normally you find that there are only about five you like and you have to design your own, but I've probably used 80 of the WaveDrum ones so far, which is a good sign with an electronic instrument. The Djembe sounds are particularly good. I've got a real Djembe, but with the WaveDrum you can really muck around with the sound in a totally new way."
The MicroSampler
Jamie's MicroSampler has yet to appear on stage, but his excitement over its potential is very evident. "I'm loving the MicroSampler – it's just ripe with possibilities. It's an incredible little instrument. There is so much you can do with it and it's really intuitive. "I'm just getting to grips with it and contemplating the possibility of sampling strings from my album and using them for gigs.
"I've also been doing a whole lot of sampling of bass drums and snares from old records. It's so easy to do; using MP3s I've ripped from the internet and sampling them straight from my iPod into the MicroSampler.
"I haven't yet tested the vocoder, but I used to use the one on my MicroKorg a lot, especially when I was doing DJ gigs with my brother. Vocoding is obviously really good fun, but doesn't currently have a place in the set."
Jamie is also considering the possibility of using the MicroSampler as a live sampling tool on stage, having experimented with the technique in the past. "I've done a lot of live sampling using a Boss pedal, and I love the idea of stacking up sampled vocals and piano sounds, but I'm still trying to work out how that would work in my set. I've done it a lot with my beat box style tracks in the studio, but the reason I haven't done more of that sort of music live on stage is because it is very hard to re-create in the way I would like to; which is not being tied to tracks and clicks that you have to follow. Instruments like the MicroSampler give you the opportunity to make that music breathe, and make it more about live creation than pressing space bar over and over again.
"At home, the MicroSampler is always hanging around because it takes batteries and I can stick it in my bag to take home and use on the sofa next to my laptop, or the cat! I know it is going to be a very prominent and permanent musical friend to me.
"It reminds me of an old home sampling keyboard I had where I could sample my own voice and do amazing things with it, using echo, fuzz effects and so on. This is an extension of that, but just more thought out and better. It taps into that child-like exploration of music which I am interested in."
Piano Forte
Jamie describes his studio setup as being vastly different from the live rig, but at the heart of both is an acoustic piano. "Much of what I record begins and ends with piano," he insists, "but my writing also involves the use of the tools I have in the studio, and a lot of those tools are vintage synths. I have an old Korg Polysix from the 1970s, plus some Moog synthesizers, Hammond, Vox and Wurlitzer organs, and a Fender Rhodes piano. It can takes a bit of time to get everything working so I have begun to use the SV-1, WaveDrum and MicroSampler to kick-start ideas. They are very easy to use in that way.
"The core of my live setup is also an acoustic piano; the only other thing I use is an old Stage 54 Fender Rhodes running through a bunch of pedals. I bought it from a second-hand store when I was 15 years old because I was into a lot of '70s stuff like Herbie Hancock and Steely Dan; so Fender Rhodes is a sound I know extremely well.
"I still love my original Rhodes but the emulation on the SV-1 is so good, as are the on-board effects, that I could easily be tempted to use it on stage as well. The SV-1 has the first Rhodes emulation I've heard that's managed to really address the top end. A lot of them get the middle and bottom end really good but as soon as you near the top it starts to sound electronic. It thins out and you can hear the dynamics change. But on the SV-1, Korg have captured that bell-like tone of the top end, which sounds like you are hitting a piece of metal that resonates. They must have taken a lot of time to get that sounding real."
At present, Jamie feeds the output of his Rhodes through a series of effects pedals. However, he is considering the SV-1's on-board processors as a potential alternative to the above, if using the Rhodes emulation. "There's an amazing tape delay which sounds fantastic. You have a lot of control and can do crazy things with the stereo effect. My favourite is the on-board spring reverb, which is really, really good. It gives a tougher, Radiohead-type sound."
Valve Warmth
One of the most striking features of the SV-1 is the on-board 12AX7 valve, which lights up the control panel and adds analogue warmth to the digital signal path. At first, Jamie viewed it with skepticism. "Before I got the SV-1 I honestly thought the valve was a total gimmick, but now I think that what Korg have tapped into – that a lot of other manufacturers have yet to catch up with – is making these keyboards feel like instruments that you love and want to touch. They feel like a piece of craftsmanship. The valve not only adds to the sound, but gives you the feeling of an instrument that is living and breathing, as oppose to just a piece of plastic that makes a noise. You can sense it on the piano sound as well, but for me, so much of what I do is based around a piano that I can only use a real one.
"The SV-1 also has brilliant ARP String Synthesizer and Mellotron strings models. They are very thick sounding, as if coming off tape rather than a ROM sample. One thing, of course, you are never going to replicate with any Mellotron sound, is that feeling of a piece of tape winding underneath the keys, but other than that, the sound is really, really good."
Jamie's live production team are also considering the possibility of using the SV-1 as a provider of sample patches, which are currently triggered by Jamie's keyboardist and saxophonist. "That is something we're looking into because in the set we have some patches running off the computer which we specifically developed and programmed for our sets. We have an 808 beat going on in one track and some synths that we programmed using Logic's ES1 synthesizer. They provide a few atmospheric background drones that run just like as a backing track."
And Finally
Our interview almost completed, there was still the mystery of how Jamie manages to prepare and present his weekly BBC Radio 2 jazz show while touring the world and performing live gigs. "I do it from the road!" he reveals. "I do a lot of preparation before I go away, but do the show the morning, or day before, it's due for broadcast, to keep it really current. I have with me a really good microphone, a little A/D converter and a small mix box, so I use that lot to record onto my computer, and perform it as if I was doing it in the studio. When it's done, I use Cyberduck to send it to my producer, who checks it over and edits anything that needs re-editing. Then it goes live!" Truly impressive.
Product Information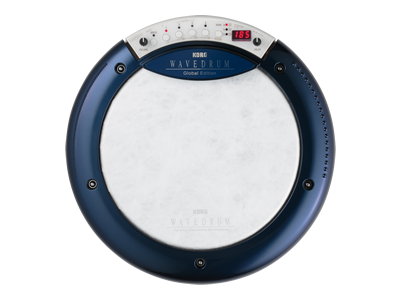 WAVEDRUM Global Edition
DYNAMIC PERCUSSION SYNTHESIZER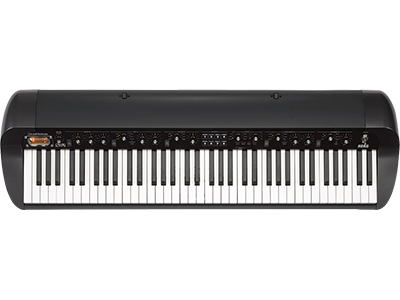 SV-1 Black
STAGE VINTAGE PIANO