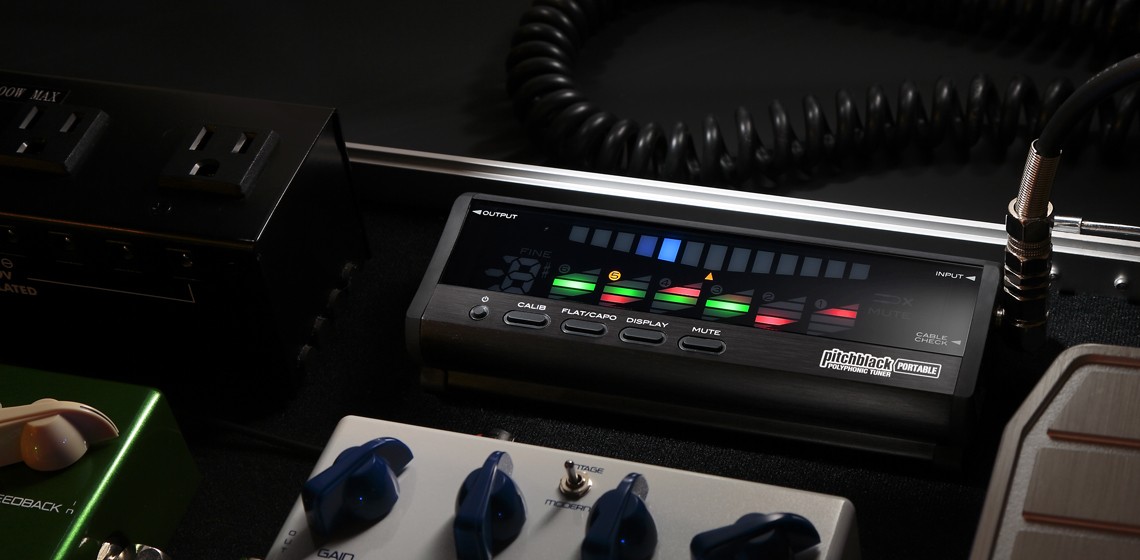 Fast and accurate polyphonic tuning
Top-of-the-line tuner for guitar and bass
The Pitchblack Portable is a guitar/bass polyphonic tuner that provides speedy and accurate tuning. The Pitchblack Portable features a high-brightness LED display which provides excellent visibility, so that the pitch drift of each string is instantly and clearly visible. Korg's proprietary cable checker function is also built-in, letting you easily check for broken cables; making this unit the ideal choice for stage or studio use. The Pitchblack portable lineup gives you a choice of three models: aluminum black, aluminum red, and aluminum silver. With an accuracy of +/-0,1 cents, the Pitchblack Portable delivers a significant advance in guitar/bass tuning.
KORG Pitchblack Portable Introduction movie
Large, high-brightness LED display providing excellent visibility
Rapid and precise polyphonic tuning, with the tuning of all strings visible at a glance
String Seeker function
Three meter display modes: regular, strobe, and half-strobe
Ultra-high precision tuning of +/-0.1 cents (when using strobe meter)
Ideal for "floating tremolo systems"
Korg's proprietary automatic guitar/bass (4-6 string) detection
Flat (5 Semitones), Capo (7 Semitones), and Drop-D tunings are also supported
Cable Checker warns of broken or shorted cables
Buffered output minimizes any change in audio quality
Mute function lets you tune silently
Cascade-connectable DC out
Slim horizontal body fits anywhere
Three choices of color: aluminum black, aluminum red, and aluminum silver