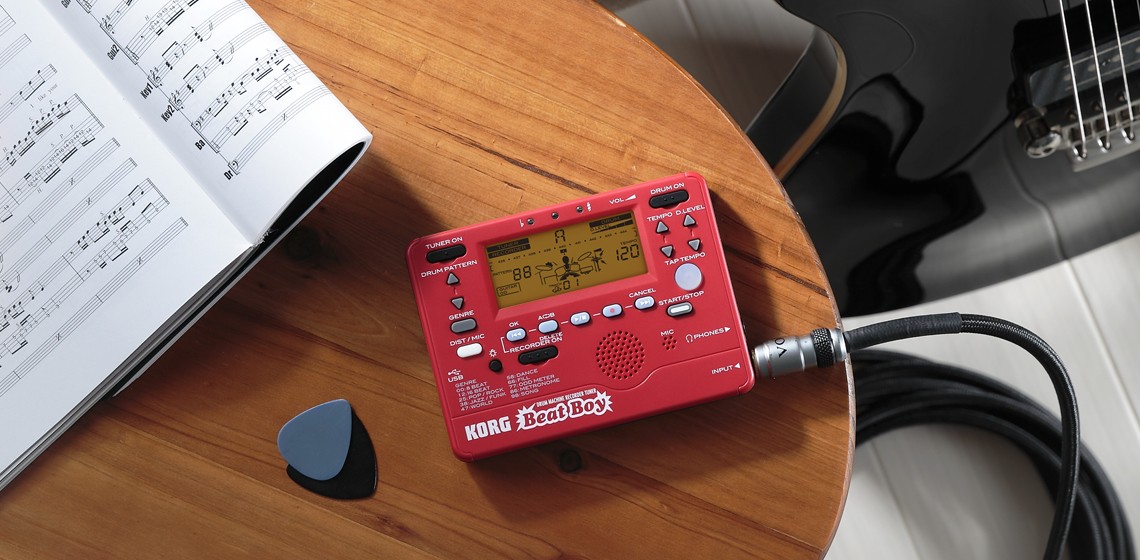 Recorder section
Recording format

PCM audio format WAV, format (extension: .wav), 44.1 kHz@16-bit
Available recording time

Approximately 20 minutes (Internal memory: 120 MB)
Total number of tracks

Up to 100 tracks
Tuner section
Scale

12 note equal temperament
Detection range

C1 (32.70 Hz) - C8 (4,186.01 Hz)
Detection accuracy:

Less than ±1 cent
Drum machine section
Tempo range

30 - 252 beats per minute (BPM)
Number of drum patterns

100
(8Beat: 12, 16Beat: 13, POP/ROCK: 13, JAZZ/FUNK: 9, WORLD: 11, DANCE: 8, FILL: 11, ODD METER: 9, METRONOME: 12, SONG: 2)
Others
Connectors

INPUT jack (1/4"mono), PHONES jack (1/8" stereo mini)
Speaker

Dynamic speaker (φ23 mm)
Power supply

Two AAA batteries (alkaline or nickel-metal hydride batteries)
Battery life*

(when using the speaker / when using headphones)
Recorder: Approximately 3.5 / 11 hours
Drum machine: Approximately 9 / 12 hours
Tuner: Approximately 11 / 16 hours
*Continuous operation when using alkaline batteries with the backlight off and the volume at maximum.
Dimensions
(W x D x H)

111 x 82 x 18 mm / 4.37" x 3.23" x 0.71"
Weight

122g/4.30 oz (including the accessories battery)
Accessories

AAA batteries x 2 for verifying functionality, Rubber feet
* All product, company, and standard names are trademarks or registered trademarks of their respective holders.
* Appearance and specifications of products are subject to change without notice.