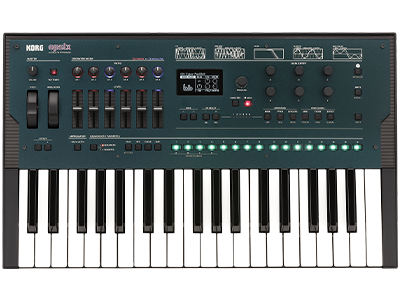 opsix
ALTERED FM SYNTHESIZER
Learn More
Related Products
Related Accessories
Related Artists
2022.01.31
Show All
Effect Operator

In opsix version 2.0.0, the EFFECT operator mode was added. When using this mode, the oscillator signal and input signal are fed into one of 10 different effects, including delay, comb filter, and distortion. For more details, please reference "Parameter Guide > OPERATORS:MODE > When Mode is set to 'Effect'" in the user manual.

Peaking EQ, Shelving EQ, Phaser, Short Delay, Comb Filter, Distortion, Drive, Decimator, Waveshaper, Punch
Other improvements are listed below.
- Noise Pink and Noise Blue have been added to the list of available oscillator waveforms.
- Aftertouch is now selectable as a control source for LFOs, EGs, and the Virtual Patch.(*1)
- Aftertouch can now be recorded and played back via the motion sequencer.(*1)
- Midi clock sync is now more accurate.
New Preset Sounds

In addition to the improvements listed above, there are 100 new preset programs and improvements to some of the original 250, resulting in 350 total preset sounds. To accommodate this new data, the default program order and favorites lists have been updated as well. To make them easier to find, they are now grouped by shared characteristics like octave and loudness. (*2)



*1 Available via External MIDI input. The opsix keyboard does not support aftertouch.
*2 opsix sound data v2.0 is available for download at korg.com. For information on how to transfer the data to your opsix, please refer to the user manual included in the download. Please note that the order of the preset programs in your opsix itself will change.
We use cookies to give you the best experience on this website.
Learn more
Got it