The sounds
The 36 sounds in the SV-1 BK span from electric pianos, acoustic pianos, organs, strings and synth. Each category of instrument starts with the essential classics and then moves beyond what other products offer, going into some rare and unique instruments that were the part of the soundtrack of their eras. So the electric pianos start with a seven-way velocity switched "tine" version, continue through the classic "reed" based model and then into a vintage analog "electra" instrument (all from American manufacturers), as well as two different Japanese mid-80's digital classics. The acoustic pianos include three-way stereo versions of both German and Japanese grand piano giants, a more intimate upright piano, a much-needed mono piano for small gigs, a late '70s-mid 80's Japanese electro-acoustic variation, plus some blended sounds. Organs include three variations of the classic tonewheel model, plus the most famous British and Italian combo organs, along with the first known offering of a signature American tube- driven console organ.

Clavs include four variations of the tonal settings plus a related keyboard from the same manufacturer that used a plucked-reed mechanism for a unique and intimate sound. Add in real, tape-based, and analog strings; choir; and a couple of fat analog synth sounds and you have an incredibly versatile palette of sounds to perform with.

Each of the core instruments has been accurately sampled including tine, key-off, damper and hammer noises at different velocities. We even sampled piano cabinet resonances to enhance the accuracy of our pianos. This attention to detail, called the RX Experience, is what makes playing the SV-1 BK a joy. It comes to life under your hands, with a three-dimensional sound evoking the electro-mechanical legends, reborn.
Vintage FX chain and amp modeling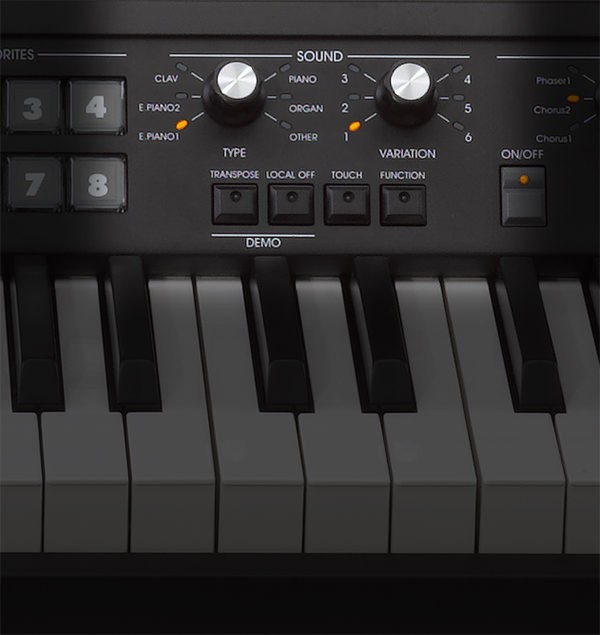 The superb sound generation of the SV-1 is further enhanced with the inclusion of six separate stages of signal processing, all bypass-able.

EQUALIZER (bass, middle and treble)
Controllable from the front panel, the EQ allows you to shape the tonal quality of your sound in real-time.

PRE FX (Compression, Boost, U-Vibe, Chorus/Vibrato, Tremolo, Wah)
This section provides the essential effects for pre-treating your sound or adding some vintage vibe, with some classic effects modeled by Korg's legendary guitar effects designers. Add a sweep pedal (i.e. Korg's EXP-2 or XVP-10) to get funky with the Wah.

AMP MODEL (Amp Modeling, cabinet simulation and noise reduction)
A wealth of amp heads and speaker cabinets are available to add color, drive and edge to your sound. Plus, Korg's exclusive Valve Reactor circuitry adds the warmth or snarl that only a real tube can provide.

MODULATION FX (Chorus 1 &2, Phaser 1&2, Flanger and Rotary)
Some of the most famous stomp-box pedals have been recreated to give you the signature sounds for these legendary timbres. Korg's rotary speaker emulation has long been acclaimed as one of the best, faithfully adding nuance and motion to any organ sound.

REVERB/DELAY (Room, Plate, Hall, Spring, Tape Echo and Stereo Delay)
Four types of reverb are provided, along with a classic tape-echo, plus a tempo-based digital delay – complete with a tap tempo switch.

LIMITER
This final step in the chain ensures your level remains balanced across all sounds, and is adjustable only via the included computer editor/librarian software.
Intuitive and simple interface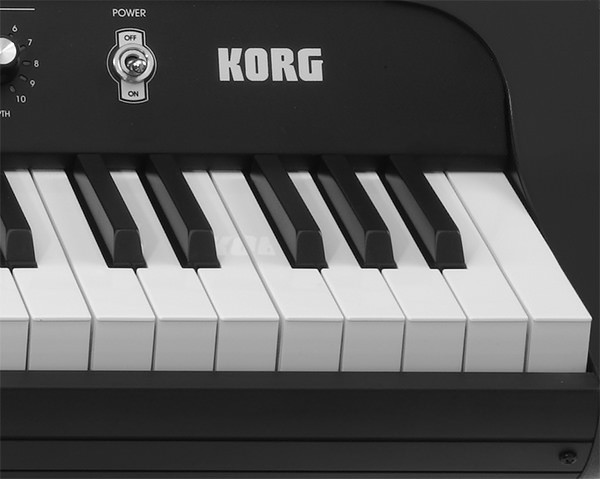 The user interface has been designed with performance in mind; every essential control is quickly accessible on the front panel, with no confusing menus or multiple button presses. Rotary knobs include illuminated LED's to show the position of the knob, and can be pressed to restore the original setting. For really quick changes, the SV-1 BK has eight car-radio style buttons to instantly call up your eight Favorite sounds and settings. Storing a Favorite is equally as easy. Simply adjust the controls to your preferred settings, then press and hold one of the Favorites buttons; when the button flashes, press it again and the settings are now stored.
Keyboard, tuning curves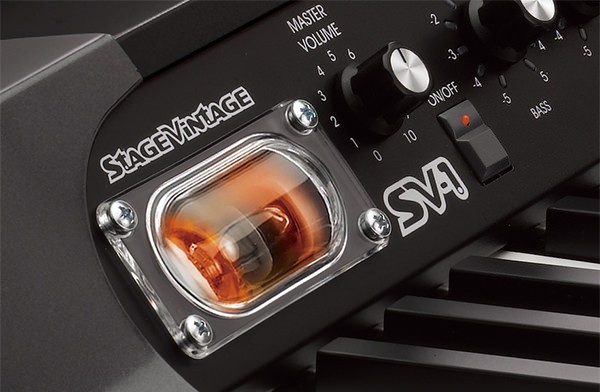 The SV-1 BK is equipped with Korg's finest graded-hammer action (RH3) keyboard on both the 73-key and 88-key versions. The FUNCTION button provides access to eight different tuning curves including equal, grand piano stretch, electric piano stretch, electric grand, upright stretch, detuned and two user-definable types (configurable using the editor/librarian software). Overall tuning can also be accessed via the FUNCTION button, and adjusted by using the EQ treble control. While in this mode, concert pitch (A=440) can be recalled quickly by pressing the treble encoder pot. Needless to say, the SV-1 BK can be transposed into any key.
We use cookies to give you the best experience on this website.
Learn more
Got it