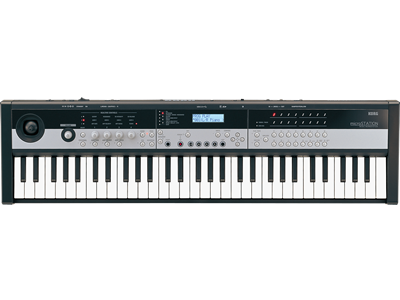 microSTATION
MUSIC WORKSTATION
Learn More
Related Sites
Related Products
On-Board Sequencer transforms your musical ideas into finished songs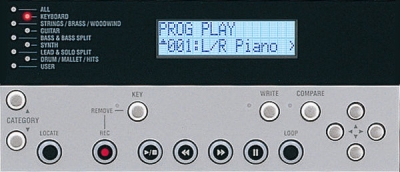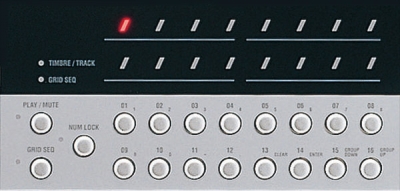 The built-in, high-performance 16-track MIDI sequencer provides a versatile array of capabilities such as template songs, loop recording, a grid sequence function, arpeggiator, and auto song setup to provide a powerful boost to your music productions. Many of these newly added features are designed to assist novice sequencer users to complete their musical ideas.
Template Songs
Template songs are a great way to begin. Each template song loads up the appropriate instruments and pre-routed effects to match a specific musical style. The arpeggiator settings deliver ready-to-use bass and drum tracks. Of course, any track can be changed, edited or rewritten.
Loop Recording
This function repeatedly records a specified range of measures. For example, you can loop a four-measure section and create a drum pattern by recording each of the drums and bass notes individually. Basic editing functions such as copying, erasing, and deleting measures are also provided. This method is similar to recording on a multi-track recorder.
Visual Grid Sequencing
This is a unique method of entering notes in which the front panel function buttons and corresponding LEDs (01 – 16) to create rhythm patterns as on drum box or step sequencer. Rhythm instruments such as the bass drum, snare, hi-hat, and bass will sound at the timings indicated by the illuminated LEDs.
Dual Polyphonic Arpeggiators
The arpeggiators provide five preset patterns and 640 user patterns, of which 512 are preloaded. In addition to standard arpeggiator patterns, Korg's polyphonic arpeggiators can produce a variety of chord progressions or phrases based on the notes being played on the keyboard. This advanced arpeggiation system can be used to create drum patterns, bass phrases, guitar riffs and keyboard backing runs. In Combination or Sequencer modes, the microSTATION lets two arpeggio patterns run simultaneously. You can apply separate arpeggio patterns to a different programs, or use split or velocity to switch between arpeggio patterns, providing powerful performance possibilities.
Auto Song Setup
Using this convenient function, a Program or Combination (with its arpeggiator settings) can easily be recorded to multiple tracks, creating the basic tracks of your song.
Easy operation; Massive control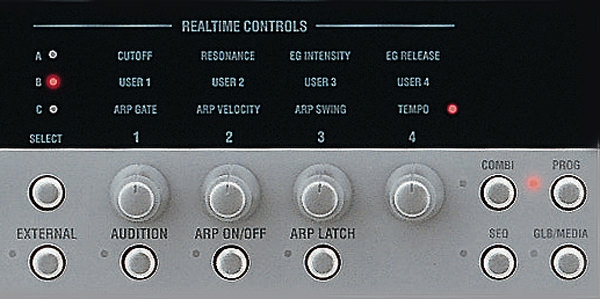 The microSTATION's knobs and controllers are located for easy use. Frequently used parameters can be assigned to the four realtime control knobs for convenient sound editing or for performing with the arpeggiator. With the External switch on, these four knobs can be used to control an external MIDI device.

A joystick is provided for even more expressive potential.
Convenient, reliable SD/SDHC storage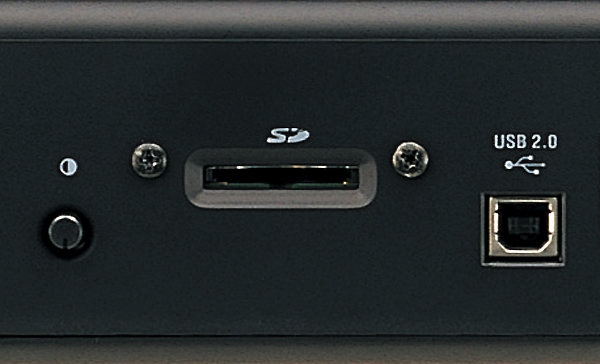 The microSTATION provides an SD card slot, allowing you to save your Programs, Combinations, and song data directly onto an SD/SDHC card.
Stand-Alone + Plug-In Editing software
The bundled "microSTATION Editor" and "microSTATION Plug-In Editor" software lets you use your computer to edit the microSTATION's Programs, Combinations, Drum kits, and Arpeggio patterns. The "microSTATION Editor" is a stand-alone program, while the "microSTATION Plug-In Editor" allows the microSTATION to be used as a VST, AU or RTAS plug-in instrument inside a DAW or other host application on your computer.

These editors allow more detailed sound editing than is possible from the microSTATION itself. You can also save sounds that you've created on the microSTATION.