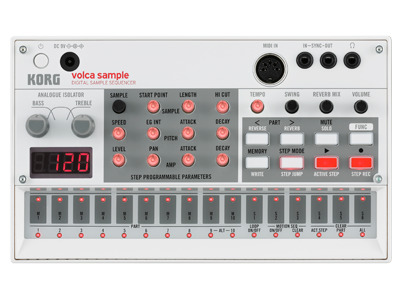 volca sample
DIGITAL SAMPLE SEQUENCER
Learn More
Related Products
Related Accessories
Volca sample APP "AudioPocket" FAQ
Q: What happens to the sample memory when I transfer a sample?

A: The sample in the specified sample slot number will be overwritten. This means that if you are overwriting a short sample with a long one, you are going to need more memory, or you may get the "FuLL" error if you are close to your 4MB limit.
Q: I get this error: "Err typE"

A: Make sure your volca sample system is ver. 1.2 or above.
Q: I get this error: "Err FuLL"

A: Your volca sample's memory is full. So use the delete page available in volca sample system ver. 1.2 or above.
Q: I get this error: "Err dcod"

A: Alerts sounds can get in the way of the transfer. Putting your iPhone into airplane mode during transfer is a good idea if you get lots of alerts.
Q: How do I delete specific samples on my volca sample?
A: Use the delete function. For more info, please refer to
this guide
.
Q: How do I delete everything on my volca sample?

A: Use "Clear All Sample Slots" in Utility
Q: What is "iTunes File Sharing"?
A: iTunes File Sharing is a way for your iPhone to exchange files with your computer.
For more information visit
here
.
volca sample FAQ
Q. I have saved my own sequences over the factory sequences. Can the factory sequences be restored?

A. You can restore the factory sequences with the following operation:

1. While holding down the FUNC and MEMORY buttons, turn on the power. REC and PLAY buttons will blink.
2. Press the REC button to return the sequences to the factory defaults. Press the PLAY button to cancel the restore operation.
We use cookies to give you the best experience on this website.
Learn more
Got it