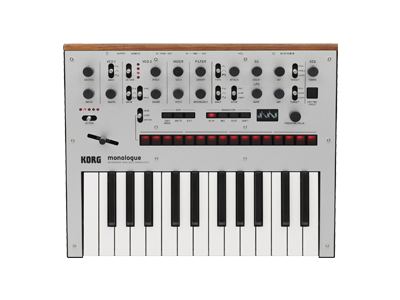 monologue
MONOPHONIC ANALOGUE SYNTHESIZER
Ondersteuning
Lees meer
Gerelateerde websites
Gerelateerde producten
Accessoires
Sound Librarian / Sound Packs
Introducing free to download program packs and the Sound Librarian that lets you import, load, save and manage your program data.
monologue Sound Librarian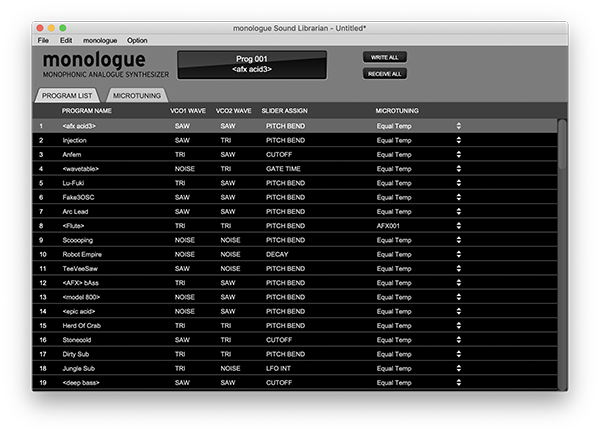 The monologue Sound Librarian lets you easily reorder and organize the programs inside your monologue and has the functionality to save your program library on your computer. In addition to managing your programs, it is used to load factory and bonus libraries distributed by KORG.

Download the Sound Librarian for Win >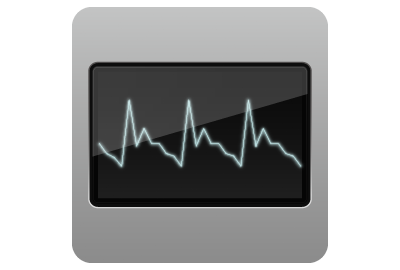 * How to import the sound packs
Drag and drop the preset data (.molgpreset) onto the monologue Sound Librarian icon to add it to your preset data window. You can view your preset data window by clicking Option > Open Preset Window. Please refer to Operation Manual included in the monologue Sound Librarian for further details.
Sound Packs vol.1 "Electronic score and Retrocade"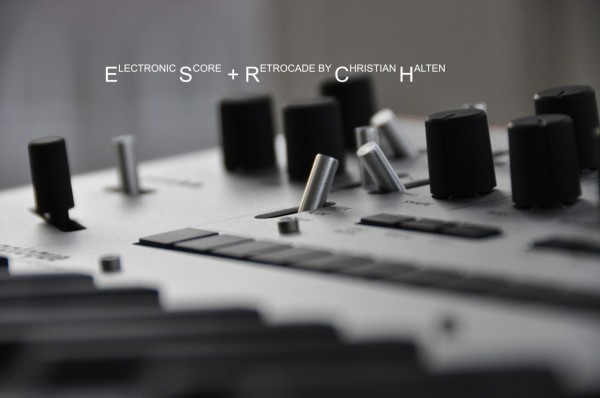 All users of the KORG monologue can look forward to new "sound food" for their beloved synth!
Electronic Score & Retrocade is the new sound library by film composer Christian Halten. Expressive sounds that trigger direct visual associations are the main axis of this library. Chiptune or film scoring: you will find something for you! From "Oxygene" to "
monoModel", "Sarlacc", "Lightcycle" or "CBeamGlitter", the pictures are now at your fingertips.
Strange rhythms like "Firebarrel", "Snow on Mars", "Pong" and "Squirrel" can bring that certain something into your own productions. Let yourself be inspired and explore this new sound palette on your monologue. Christian Halten works as a film composer in Berlin.
His focus is on music for feature and documentary films with special concepts. The creation and exploration of new instrumental sounds is always the starting point of his work to further expand the visual imaginary with fresh ideas. This method of working also led to the creation of its sampling software SampleRobot, which has been a huge success for the last 12 years.
Christian Halten studied film music in Ludwigsburg and then worked in the composing teams of Henning Lohner and Hans Zimmer in Los Angeles.

Sound Packs vol.2 "Dutch Bass"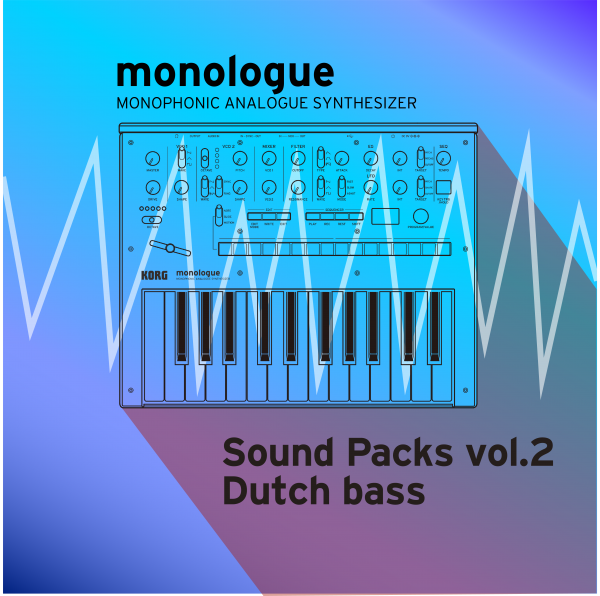 A brand new bank of bass patches for monologue users. "Dutch Bass" is a new sound library for the KORG monologue by Dutch sound designer Mark Gijsman. This is a synthesizer bass dedicated pack, with lots of fat and crunchy basses to choose from and suitable for any genre of music. It also features some vocal type patches and drum loops for good measure. In addition, each one of the 31 programs includes an original step sequence to take your music to the next level!
Sound packs vol.3 "Beats and Loops" door OscillatorSink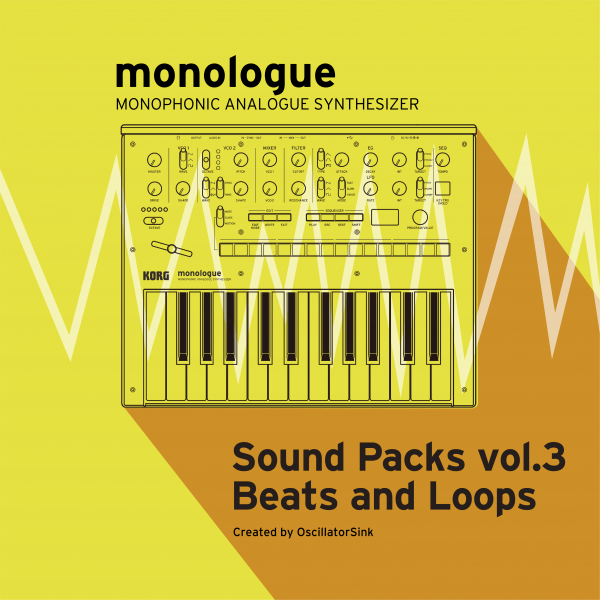 Dit sound pack is anders dan de meeste andere sound packs voor de Monologue. Het is eigenlijk meer een 'looppack' met 30 drum- en percussieloops voor de KORG monologue.

Dankzij de flexibiliteit van de sequencer van de monologue kan deze ook ingezet worden als drummachine, waarbij de monosynth opwindende en unieke percussieloops en texturen levert die je nooit zou kunnen genereren met conventionele drummachines.
Ondanks dat elke patch ook gewoon vanaf het keyboard kan worden gespeeld, begint het pas echt leuk te worden als je de sequencer gaat gebruiken. Elke patch is ontworpen als standalone loop die meteen kan worden ingezet. Met de Mod-regelaar beschik je over onmiddellijke instelmogelijkheden, maar spelen met de andere parameters levert allerlei nieuwe expressies op. Je kunt ook spelen met het in- en uitschakelen van de sequencer-stappen, het fijnregelen van de volgorde en het veranderen van de noten in de sequence (omdat sommige patches gebaseerd zijn op tempo-synced LFO's is het soms noodzakelijk om een sequence na wijzigingen opnieuw op te starten). De loops kunnen zelfs nog beter gaan klinken na extra bewerking – je kunt bijvoorbeeld compressie, saturatie, delay, reverb, etc. toevoegen in je DAW of via je mengtafel om loops verder te verrijken of uit te breiden.

We hopen dat naast het gebruik van deze geweldige loops in je eigen muziek - kant-en-klaar dan wel nadat je ze zelf verder perfectioneert - dit loop pack laat zien dat je je eigen unieke percussieloops kunt genereren met de monologue.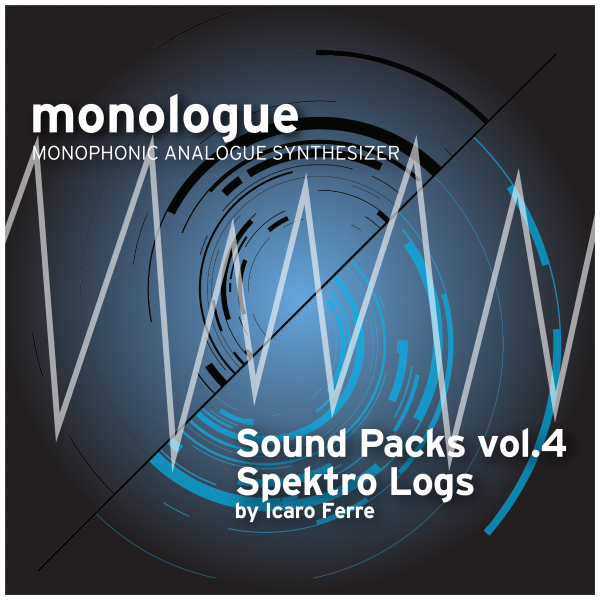 This sound pack includes 100 custom presets created over the years by Ícaro Ferre from Spektro Audio. In it you can find everything from melodic presets (bass and lead) to FXs, drum parts and entire sequences. Ícaro Ferre is an electronic artist and maker from São Paulo, Brazil. Besides producing and playing live electronic music, Icaro has also created and worked on many music-related software and hardware projects through his company Spektro Audio. The focus of Icaro's work is to use technology and design to create new ways of expressing creativity.