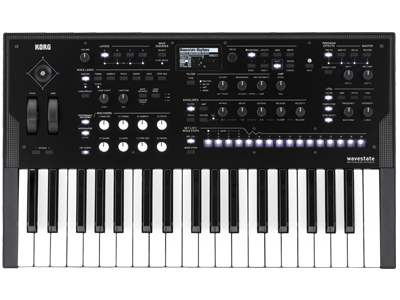 wavestate
WAVE SEQUENCING SYNTHESIZER
Lees meer
Gerelateerde websites
Gerelateerde producten
Accessoires
Related Artists
2022.01.31
Show All
Legendarische synthese, volledig vernieuwd.
Organisch, inspirerend en waanzinnig krachtig.
KORG's legendarische Wavestation bracht de wereld wave sequencing en transformeerde rauwe samples in geluiden die niemand ooit eerder had gehoord. In de vlaggenschepen KORG OASYS en KORG KRONOS werd wave sequencing nog verder ontwikkeld en werd het unieke palet van weelderige, evoluerende pads en ritmische reeksen uitgebreid.

KORG kondigt nu met trots de volgende stap in digitale synthese aan: de wavestate. Met de radicale, opnieuw bedachte Wave Sequencing 2.0, levert de wavestate verbazingwekkende, steeds veranderende geluiden met uitgebreide hands-on bediening.

Deze heruitgave is verre van nostalgisch. De wavestate is van de grond af opnieuw ontworpen voor een nieuwe generatie muzikanten, producers en componisten, waarbij hij bronnen gebruikt van een enorme diversiteit, waaronder modulaire synths, grooveboxen en algoritmische samenstellingen. De compacte vormfactor, met 37 toetsen van volledige afmetingen, zorgt voor gemakkelijk transport en hij sluit daardoor perfect aan bij podiumgebruik, in de studio of bij een desktopopstelling.
wavestate - Introductievideo
Wave Sequencing 2.0
Omvangrijke modulatie met handige bediening
Gigabytes aan samples
Gemodelleerde filters, waaronder die van de MS-20 en Polysix
64 stereo stemmen
4 lagen met vectorbesturing
14 gelijktijdige effecten
Setlijsten en vloeiende geluidsovergangen
Randomizen
Compact, geweldig design, 37 fullsize toetsen
Ontworpen door Korg R&D in Californië

Wave Sequencing 2.0
Bij de Wavestation had elke stap van een Wave Sequence een tijdsduur, een sample en een toonhoogte. Dit zorgde op zich voor opvallende patronen, maar de patronen werden steeds op dezelfde manier herhaald, keer op keer. Wat als ze op organische, onverwachte manieren zouden kunnen evolueren, in plaats van alleen maar te herhalen?

Wave Sequencing 2.0 splitst de timing, de sequentie van samples en de melodie op, zodat elk afzonderlijk onderdeel kan worden gemanipuleerd. Er zijn ook nieuwe kenmerken toegevoegd, waaronder vormen, gate-tijden en step sequencer-waarden. Elk hiervan deze is een "Lane" en elke Lane kan een ander aantal stappen en zijn eigen begin-, eind- en looppunten hebben.

Elke keer dat de reeks wordt afgespeeld, worden de afzonderlijke Lanes gecombineerd om de output te creëren. Een sample kan bijvoorbeeld worden gematcht met een andere duur, toonhoogte, vorm, gate-time en stapsequentiewaarde elke keer dat hij wordt afgespeeld. Je kunt de start-, eind- en looppunten van elke Lane voor elke noot afzonderlijk moduleren, met behulp van snelheid, LFO's, enveloppen, mod-knoppen of andere controllers. Elke noot in een akkoord kan iets anders spelen!

Lanes kunnen ook elke keer dat ze spelen de volgorde van de stappen willekeurig afspelen, met realtime controle over het bereik van de betreffende stappen. Tenslotte kunnen individuele stappen willekeurig worden overgeslagen, met een instelbare kans van 0 tot 100%. Het resultaat zijn organische, steeds veranderende geluiden die reageren op jouw bediening. De vier ingebouwde arpeggiators kunnen communiceren met Wave Sequences voor nog meer mogelijkheden.

Simpelweg expressief. Ongekend diep.
De wavestation is afgeladen met knoppen en bedieningselementen en nodigt uit tot onderzoeken. Alle basiselementen zoals filters, envelopes, LOF's en effecten bevinden zich onder je vingertoppen met specifieke bediening vanaf het frontpaneel. Acht programmeerbare MOD-knoppen zijn ontworpen om het beste uit elke sound daarboven te brengen en introduceren daarbij compleet nieuwe aspecten. Gebruik ze voor realtime performances en bewaar ze vervolgens ook nog 's als nieuwe sound. Voeg daarbij de pitchbend- en modulatiewielen en de unieke vector-joystick en je meervoudige dimensies voor realtime expressie.

Wil je nog dieper? Bijna alle knoppen op het frontpaneel en de meeste parameters die je bedient via de display kunnen worden gemoduleerd. Je kunt zelfs de meeste instellingen van de stappen in de wave sequence beïnvloeden! Met de Mod Processors kun je signalen moduleren d.m.v. quantizeren, egaliseren, verbuigen en meer.

Randomizatie die inspireert.
Op zoek naar nóg meer inspiratie? Een specifieke toets op het frontpaneel, gemarkeerd met een dobbelsteen-icoontje, genereert nieuwe sounds d.m.v. intelligent randomizeren. Randomizeer het volledige geluid of alleen onderdelen ervan, zoals het filter, de Sample Lane of de effecten. Gebruik de resultaten zoals ze zijn of als startpunt voor je eigen creaties.
An arsenal of effects.
The wavestate's superb effects deliver production-ready sounds. Each Layer has three dedicated effects; additionally, the Performance has a master reverb and parametric EQ. Along with standards such as compressors, EQs, choruses, flangers, phasers, and stereo delays, you'll find distinctive processors such as the Wave Shaper, Talking Modulator, Reverse Delay, Multiband Mod Delay, and Overb (from the OASYS), plus modeled effects including VOX guitar amps, VOX wah, multi-head tape echo, and a collection of classic guitar pedals.
Kies je filter.
Voeg een vintage karakter aan je sounds toe met de agressieve lowpass- en highpass-filter van de MS-20 of het krachtige, smeuïge lowpass-filter van de Polysix. Vorm en verfijn het geluid met een complete collectie resonante 2de en 4de orde lowpass-, highpass-, bandpass- en bandreject-filters. Of verlaat de gebaande paden met KORG's unieke Multi Filter, dat een moduleerbare mix van meerdere modi tegelijkertijd creëert.
Samples zat! 64 stereo stemmen.
Met een totaal van enkele gigabytes aan data is de sample library van de wavestate meer dan duizend keer groter dan die van de oorspronkelijke Wavestation. Dat is nogal veel geweldig klinkend ruw materiaal voor wave sequences. Er is een bank gemaakt door Plugin Guru, splinternieuwe van KORG en een selectie uit de KRONOS en KROME bibliotheken. Natuurlijk levert KORG ook alle originele samples uit de Wavestation (inclusief alle optionele) plus een enorme verzameling wave sequences uit de Wavestation. Bespeel tot 64 stereo stemmen met perfecte helderheid, gebruikmakend van KORG's gepatenteerde anti-aliasing-technologie voor het afspelen van samples.

Met vier vermenigvuldigen.
Met al deze synthpower zou je denken dat de wavestate maar één geluid tegelijkertijd kan weergeven. Niets is minder waar. Voor nog rijker en complexer resultaten kun je tot vier Programs gelijktijdig binnen een Performance stapelen met elk zijn eigen effecten en arpeggiator. Met de vector-envelope en de joystick kun je individuele stemmen van de vier layers mixen en elke andere parameter beïnvloeden.

Set Lists and Smooth Sound Transitions.
Set Lists offer effortless organization of your wavestate Performances, and deliver instant access at the gig or in rehearsal. Smooth Sound Transitions allow previously-played voices and effects to continue to ring out naturally, even once a new sound has been selected.
Plays well with others.
Balanced stereo outputs connect to any recording or monitoring system, and a stereo headphone output is provided for private playing or onstage cueing. Din-style MIDI jacks ensure connection to other MIDI-equipped instruments and audio gear. The wavestate supports class-compliant USB MIDI connections to Windows and Mac computers, and the wavestate librarian program is available as free download from KORG.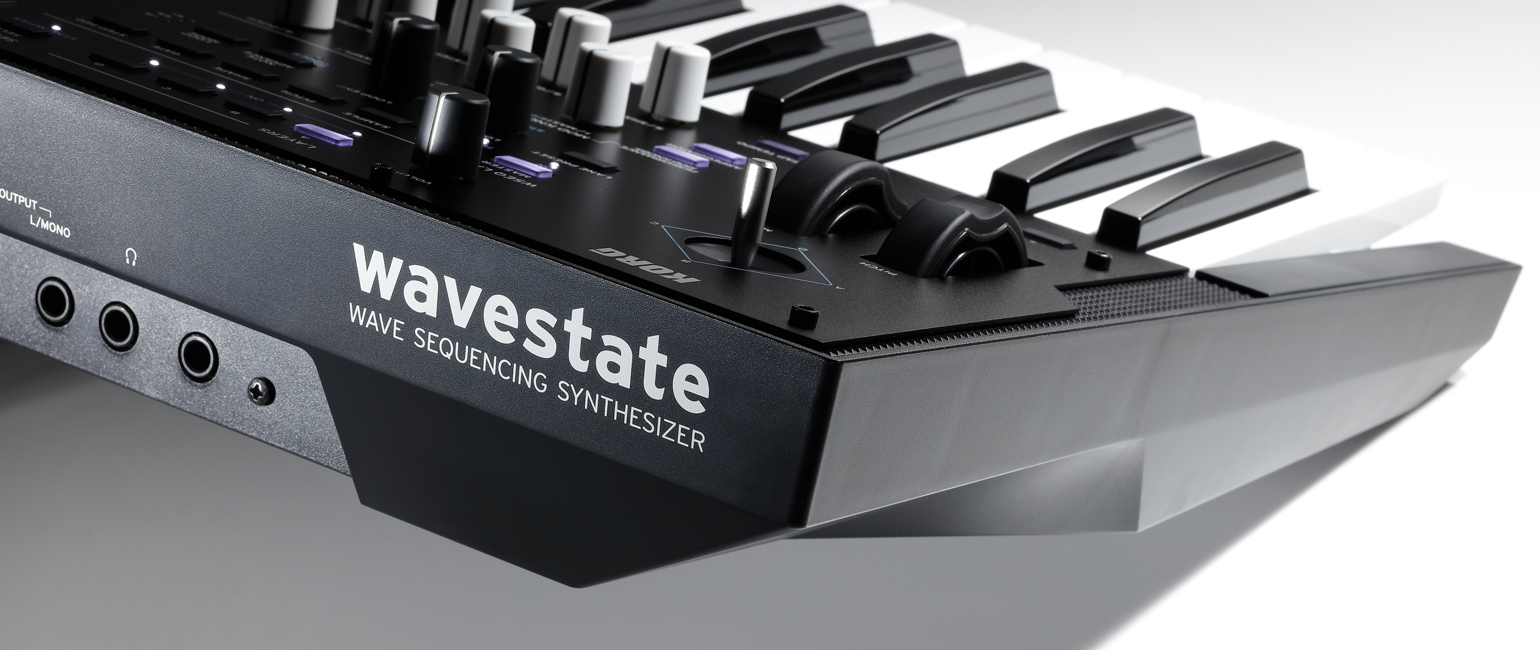 Designed by KORG R&D in California.
KORG R&D created the original Wavestation, co-created the OASYS and Kronos, and has developed fundamental technologies behind many other KORG instruments. The wavestate reflects their unique aesthetic, delivering stunning sound and deep flexibility via cutting-edge technologies.

Three of the key sound designers from the original Wavestation, John Bowen, John "Skippy" Lehmkuhl (Plugin Guru), and Peter "Ski" Schwartz, joined Belgian artist Airwave and the renowned KORG voicing team to create the incredible wavestate sound library.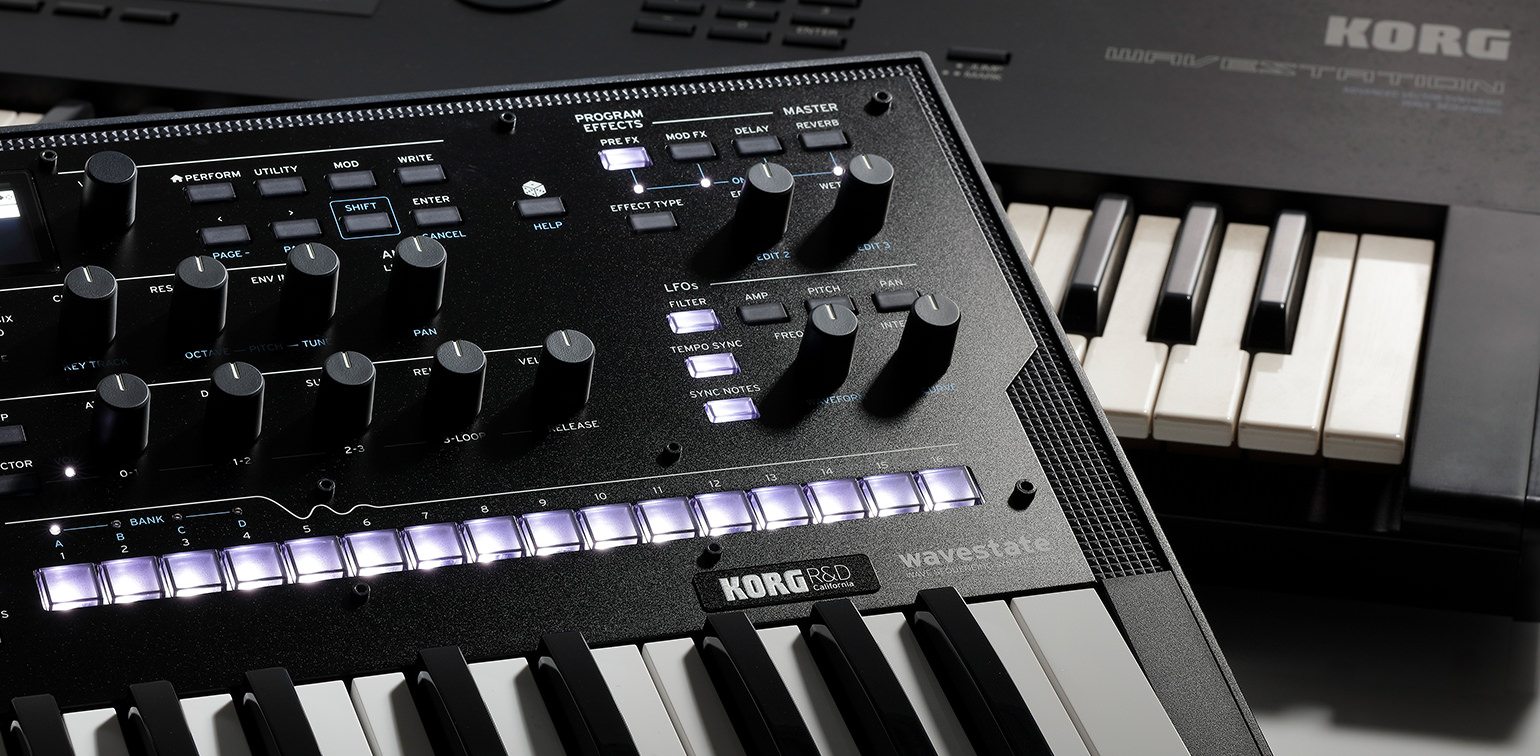 Free bundle of music software
The wavestate comes with a diverse variety of music software from Izotope including "Ozone Elements" which lets you not only create songs but also master them using AI, "Skoove" which will help you improve your keyboard playing skills, as well as software synths from KORG and other brands.

In other words, the moment you get your hands on this synthesizer you'll have a variety of tools to help you take your music to the next level.

Special crossgrade to wavestate native (software)
Owners of the hardware wavestate are eligible for a crossgrade license to wavestate native at the special price of US $49.99, via a coupon code tied to the wavestate hardware's unique ID. Using the hardware and software versions together, you can have the best of both worlds: a physical instrument that responds to your touch, and complete DAW integration. To generate the coupon:

1. Download wavestate system version 2.1.0 or later and wavestate Editor/Librarian 1.1 or later.
2. Update your wavestate hardware, and install the new Editor/Librarian.
3. In the Editor/Librarian, open the File menu and select "Get Plug-in Coupon…"
4. A dialog will appear, with the coupon code; follow the on-screen instructions to use the coupon in the KORG Shop.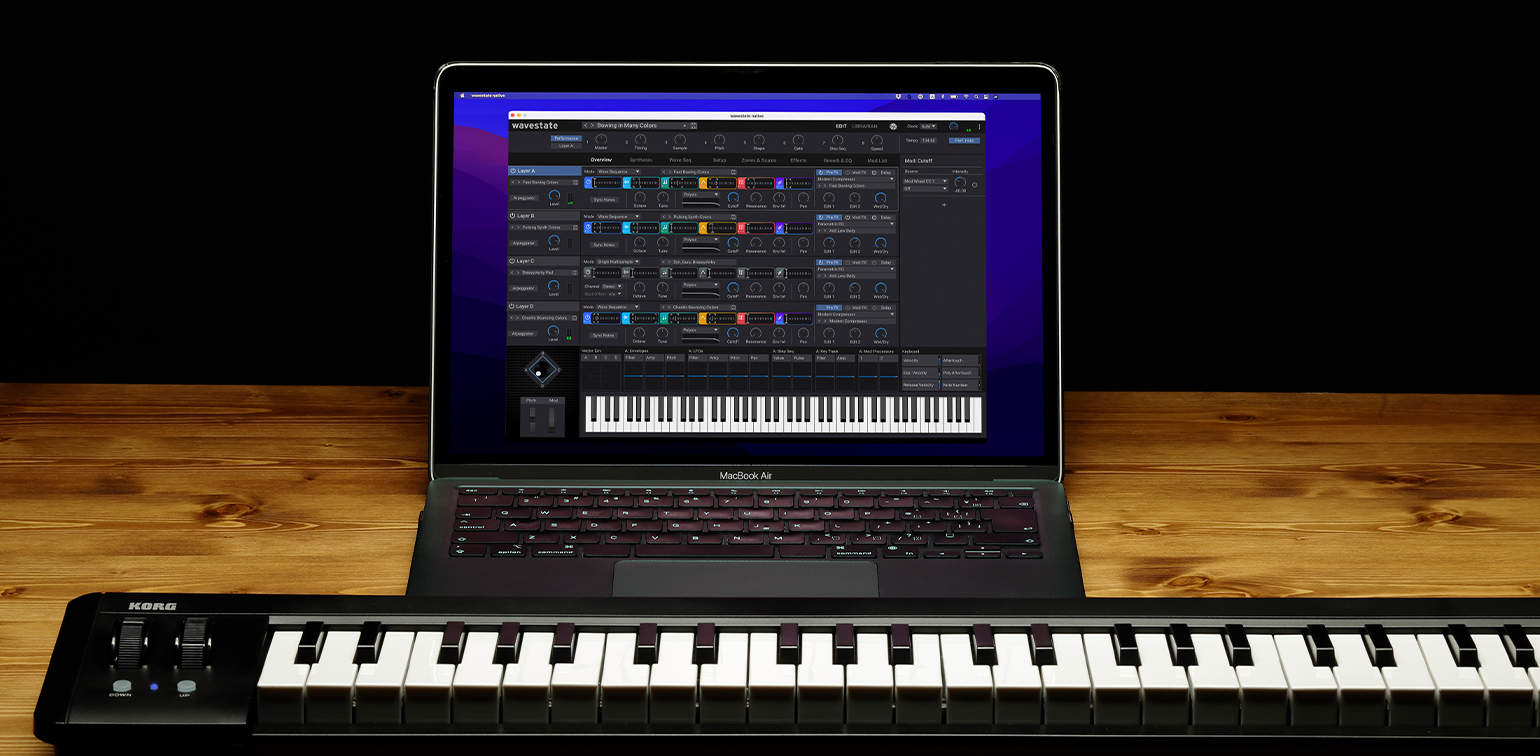 KORG's legendary Wavestation introduced the world to Wave Sequencing, transforming raw samples into sounds that no-one had ever heard before. The flagship OASYS and KRONOS keyboards developed Wave Sequencing even further, expanding on its unique palette of lush, evolving pads and driving rhythms.

In 2020, the acclaimed wavestate brought Wave Sequencing to the next level. Featuring the radically re-imagined Wave Sequencing 2.0, the wavestate delivers astonishing, ever-changing sounds with extensive hands-on control. Far from a nostalgic reissue, the wavestate is designed from the ground up for a new generation of musicians, producers, and composers, taking cues from sources as diverse as modular synths, groove boxes, and algorithmic composition.

Now, Korg is proud to present wavestate native, the fully-compatible software counterpart to the hardware wavestate synthesizer. wavestate native is available in VST3, AAX, and standalone formats on both macOS and Windows, as well as AU on macOS. You can seamlessly exchange sounds between hardware and software. Produce in your DAW with wavestate native, and then play the same sounds onstage using the wavestate hardware. Create sounds with the hardware's hands-on interface, and then share them with a computer-based collaborator. Plus, you can use any of the many third-party sound and sample libraries available for the hardware wavestate.
We use cookies to give you the best experience on this website.
Learn more
Got it