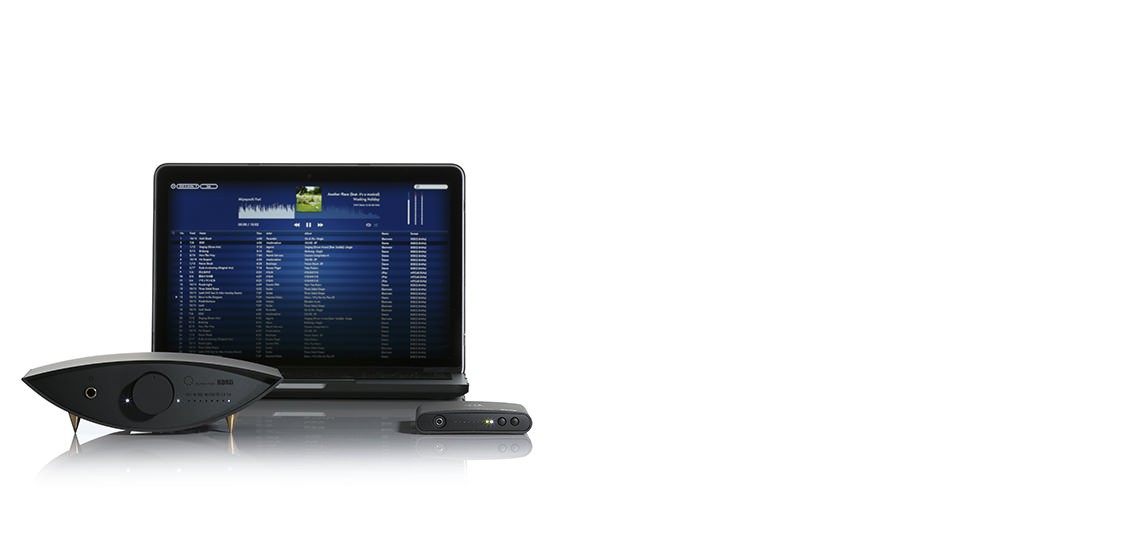 The AudioGate v3.0.4 is now available for free download.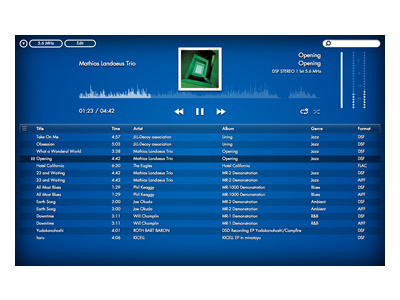 AudioGate3
HIGH DEFINITION AUDIO PLAYER SOFTWARE
Learn More
Related Sites
Related Products
Uncompromising design for high audio quality
KORG's products are developed by world-class audio engineers with an exhaustive knowledge of digital audio. The design of the sample rate conversion filter built into AudioGate takes into account the tonal character heard via the final playback from the hardware, including the characteristics of the A/D and D/A converters themselves. For each combination of sampling rates, filter coefficients have been carefully designed with optimal values and have already earned a high degree of respect in the professional mastering workplace.
In many cases, dither processing is an important factor in determining the quality of digital audio. In addition to the "TPDF dithering" commonly used to minimize distortion components, AudioGate also provides the proprietary "KORG AQUA" dithering algorithm developed by KORG to match the response characteristics of human hearing. The perceptual result far surpasses the theoretical S/N ratio based on the quantization bit depth, and has the potential to capture the spatial character of a high-quality master and preserve it even in the down-converted file.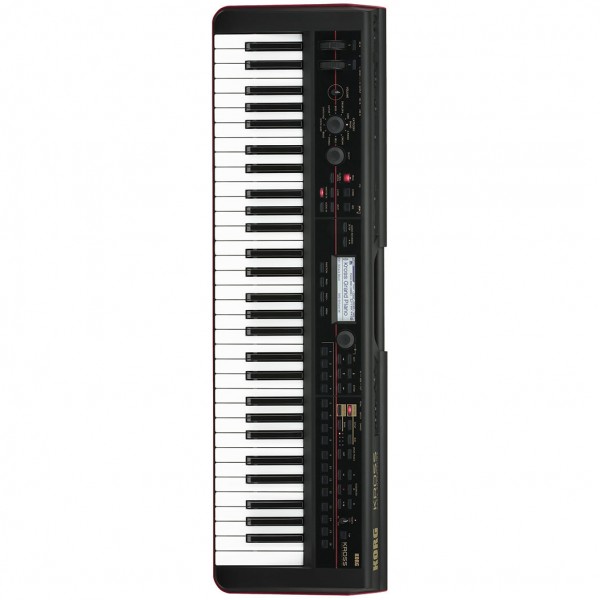 KORG KROSS
The high-speed response that you expect from a musical instrument manufacturer
No matter how high its audio quality might be, a system with slow processing is not going to become part of your workflow. In the field of electronic musical instruments, KORG is a leader in ground breaking efforts to reduce latency. We already know that many musicians may experience it as unnatural if there is even the slightest delay between when a key is struck and when the sound is heard.
Through its many years of experience, KORG has pioneered technology that allows quality and processing speed to co-exist, and this experience is also reflected in AudioGate. In addition to newly optimized signal processing algorithms, we also fine-tuned the assembly language code for AudioGate to take advantage of the CPU's parallel processing (SIMD) instructions, achieving high-speed processing without compromising high audio quality. AudioGate draws a clear line between itself and other solutions that sacrifice quality to high speed.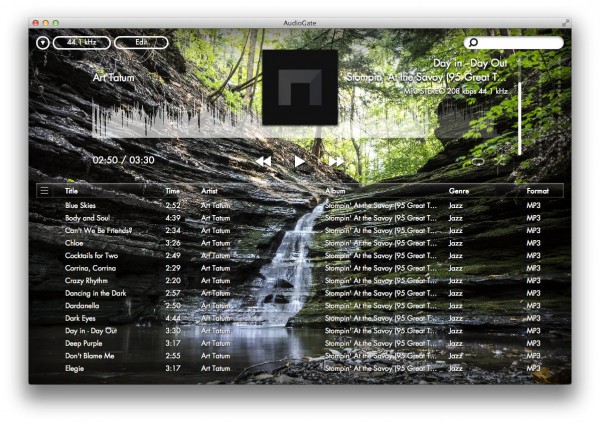 Preview playback functionality makes it an attractive audio player
AudioGate's high-speed technology transforms it from a simple file-based converter application to a revolutionary audio player. AudioGate can play back songs via a Direct Sound/ASIO (Windows) or Core Audio (Mac OS X) device that's connected to your computer. Thanks to AudioGate's powerful real-time conversion engine, you can now enjoy formats that were difficult to play on most audio devices, such as 1-bit DSD or high-resolution PCM such as 24/192, without having to be aware of differences in format.
In addition to standard functions such as repeat play and shuffle play, AudioGate also provides numerous functions for enhanced usability as a player, such as a "direct locate" function which lets you change the playback location from the keyboard.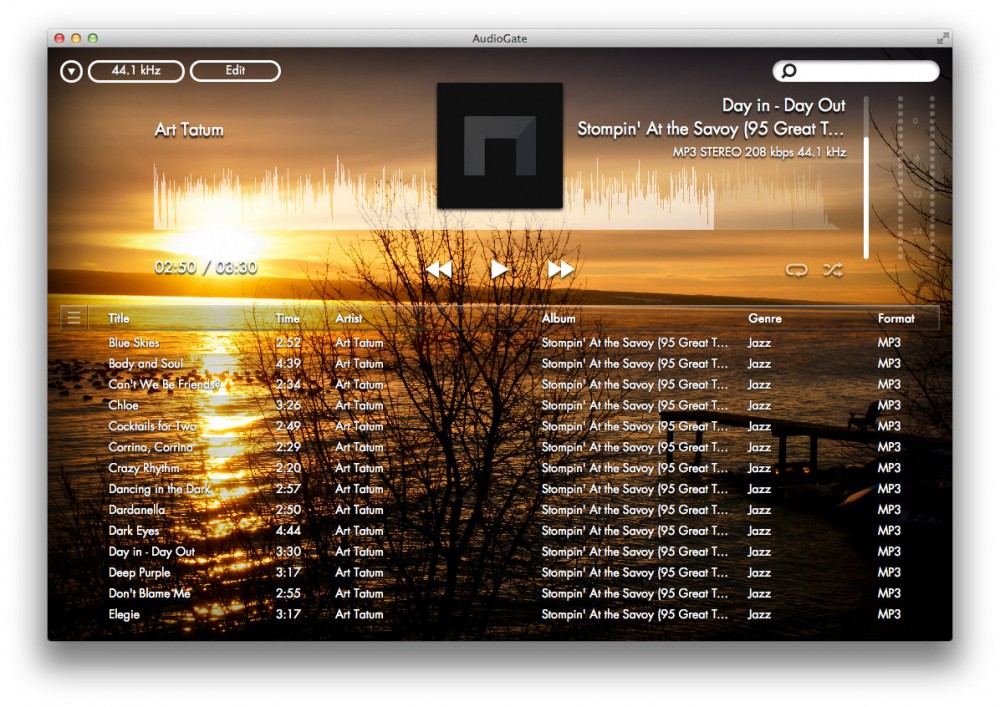 A fresh new user interface for improved usability
Released as version 3 at the same time as the DS-DAC-100/100m, the AudioGate 3 application that was originally an audio format conversion program, now features a dramatically revised user interface designed for ease of use as an audio player. Here are some of the most important functions that have been added in this version.
- New user interface.
- The size of the player screen can be adjusted. Full-screen display (*1) is also supported.
- "Album," "Artist," and "Genre" have been added to the play list. Sorting is supported.
- iTunes songs can be imported.
- Improved visualization with cover art and waveform display.
In addition, your choice of background can be easily selected from several provided images.
- Support for editing "album artist," "track number," and "disc number" (*2)
- Master volume has been added
- Playback volume adjustment function has been added
- High-quality/Low-load has been added for file conversion

(*1) Mac OS X 10.7 or later
(*2) Supported items will differ according to the audio format.

Why does the AudioGate system sound better?

AudioGate + DS-DAC series
The AudioGate software uses the power of the computer to perform the calculations necessary for D/A conversion, as opposed to slower external hardware. This allows for ideal processing, retaining the audio's original quality.

With a decade's experience developing DSD recorder products, Korg's DSD signal processing and DSD/PCM bidirectional conversion technology yields painstakingly accurate audio reproduction without any degradation.

By developing both the application and the USB-DAC, Korg is able to ensure comprehensive audio quality, even on up-converted file formats.
PHONON SMB-02 DS-DAC EDITION FOR KORG 1Bit DS-DAC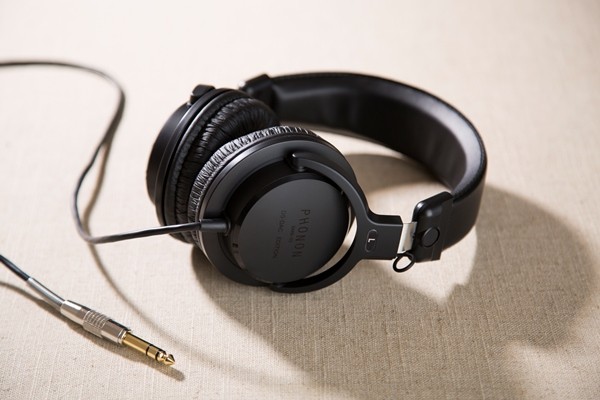 PHONON SMB-02 (Option)
Phonon has developed these headphones exclusively for the KORG 1bit DS-DAC products.
- Tuning of the pro studio-use SMB-02 for the KORG DSD sound
-The very best playback experience possible by the excellent space definition, frequency and phrase characteristics of the DSD
- High precision monitoring from phonon's original know how.
- Thick but lightweight ear pads that remain comfortable even after long hours of use.
We use cookies to give you the best experience on this website.
Learn more
Got it