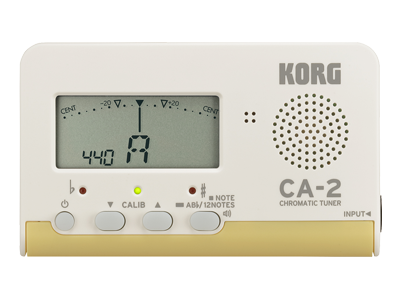 CA-2
CHROMATIC TUNER
Support pour votre achat
En savoir plus
Sites connexes
A large note name display for even better visibility.
The ideal compact tuner for brass band or orchestra, now with a stylish new look.
Having become a popular standard in tuners and an indispensable item for brass band or orchestra thanks to its superior basic functionality and convenient functions, the CA series now has a fresh new look. Carrying on the stylish design with its simple layout of the basic functions, the note name display has been enlarged and the meter made even more visible. This is a must-have item not only for beginners but also for a wide range of musical instrument performers. The CA-2 delivers the high precision, sensitivity, and simple ease of use that you expect from KORG tuners, providing stable tuning functionality in any situation from personal practice to ensembles and concert practice.
CA-2 - Introduction Movie
The CA-2 compact tuner, with its stylish design and excellent basic functionality, is now available in a color variation. Reduced reflectance and a sophisticated silver single-tone color scheme give the body a cool appearance. With a restfulness that bespeaks a higher level of quality, this limited-edition model will become a favorite unit of both beginners and veteran players.
A needle-style meter with large high-visibility note name and string name
A compact body that's slim and lightweight
Tuning function suitable for a variety of instruments
Approximately 200 hours of continuous use
A needle-style meter with large high-visibility note name and string name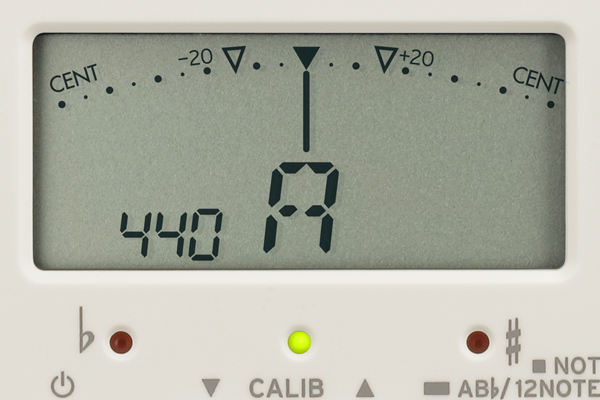 KORG's needle-style meter that shows you the pitch quickly and accurately now has a note name and string name display area that's approximately four times larger, making it easier than ever to read. Red and green LEDs to indicate the pitch discrepancy are also provided for even smoother tuning.
A compact body that's slim and lightweight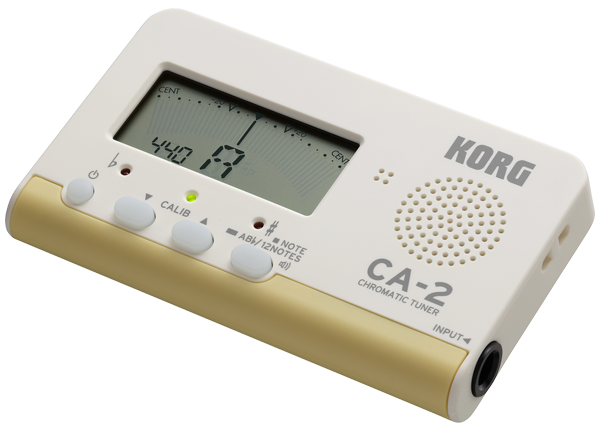 The CA-2 is a pocket-sized card-type tuner that's easy to carry anywhere. The rounded body is comfortable to hold in your hand, and now has an even more stylish design that accents the battery compartment. It uses a new mechanism that lets you replace the battery by sliding the entire body, so there's no risk of losing the battery compartment cover.
Tuning function that is suitable for a variety of instruments
Wide range of pitch detection covers any instrument
The CA-2 supports a broad range of A0-C8, allowing speedy and high-precision tuning of wind, string, keyboard, and other instruments. In addition to the high-sensitivity built-in microphone, a separately sold CM-200 contact microphone can be used to send the vibrations directly to the tuner for even more accurate tuning.
Pure major third and minor third markings
Inaccuracies of the harmonies in a triad are particularly easy to notice when played by an ensemble such as a brass band or orchestra. By slightly adjusting the pitch of a major or minor third relative to the equal-tempered interval, a beautiful-sounding pure third can be obtained. The meter scale of the CA-2 includes markings to indicate pure major and minor thirds relative to a specified pitch. Simply by tuning your instrument to these markings, you can perform beautiful, pure harmonies when playing in an ensemble.

* The choice of note to adjust when tuning to a pure major or minor third will depend on the music you're performing.
Adjustable calibration for a wide range of concert pitches
The calibration function (410-480 Hz) can be adjusted in 1 Hz steps for accurate and flexible tuning to any song or key.
Sound mode emits a reference tone from the built-in speaker
In addition to tuning visually with the meter, you can also tune by ear using a Sound Out mode that's chromatically adjustable in the range of C4–C5.
Approximately 200 hours of continuous use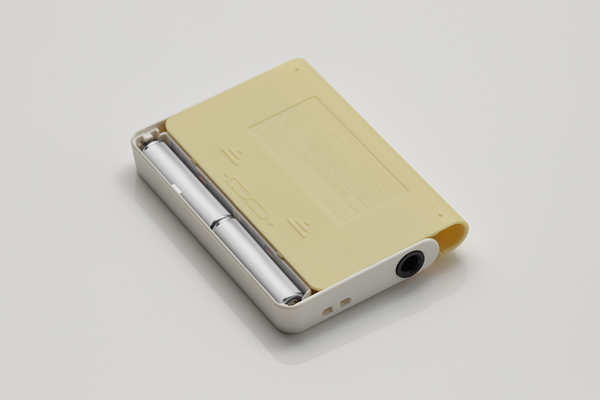 The high-efficiency long-life design allows approximately 100 hours of continuous operation on two AAA zinc-carbon batteries or approximately 200 hours on alkaline batteries.
We use cookies to give you the best experience on this website.
Learn more
Got it