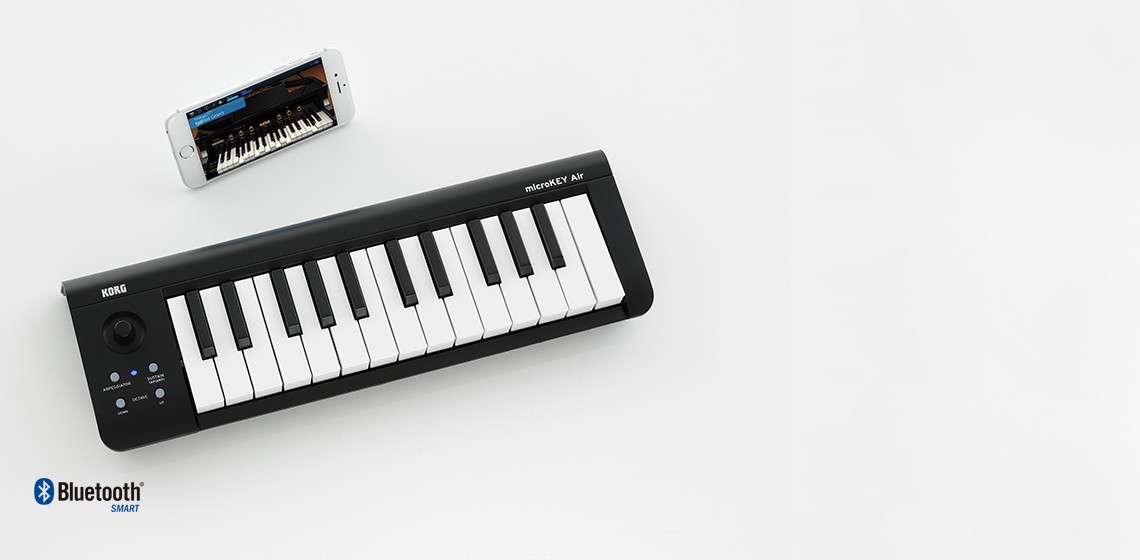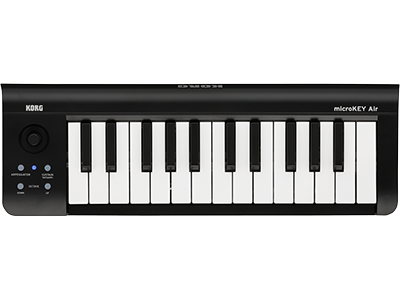 microKEY Air
MINI CLAVIER BLUETOOTH
Support pour votre achat
En savoir plus
Sites connexes
Produits correspondants
Clavier

Mini clavier au toucher naturel

microKEY Air-25 : 25 touches

microKEY Air-37 : 37 touches

microKEY Air-49 : 49 touches

microKEY Air-61 : 61 touches
Contrôleurs

microKEY Air-25: Joystick, bouton arpégiateur, boutons Sustain/TAP, boutons Octave Shift

microKEY Air-37/49/61: molette Pitch bend, molette Modulation, bouton Octave Shift
Octave Shift

microKEY Air-25/37 : -4 – +4
microKEY Air-49/61 : -3 – +3
Connexions

microKEY Air-25 : USB Type B (x1)

microKEY Air-37/49/61 : prise interrupteur assignable, USB Type B (x1)
Type sans fil :

Bluetooth Low Energy (conforme aux spécifications d'Apple Bluetooth Low Energy MIDI)
Alimentation

Deux piles AA (en connexion sans fil ; utilisez des piles alcalines ou NiMH)

Alimentation en bus USB (en connexion en USB)
Consommation d'énergie

Moins de 100mA
Autonomie des piles

Environ 30 heures (avec piles alcalines)
Dimensions
(L x P x H)

microKEY Air-25 : 395 x 131 x 52 mm

microKEY Air-37 : 565 x 139 x 54 mm

microKEY Air-49 : 709 x 139 x 54 mm

microKEY Air-61 : 850 x 139 x 54 mm
Poids (sans les piles)

microKEY Air-25 : 670 g

microKEY Air-37 : 1,0 kg

microKEY Air-49 : 1,4 kg

microKEY Air-61 : 1,71 kg
Éléments inclus

Câble USB, code KORG Software Bundle
Exigences opérationnelles (connexion sans fil):

Mac

Mac that supports Bluetooth 4.0 or later, and has OS X10.10 Yosemite or later installed
MacBook (Early 2015 or later)
MacBook Air (Mid 2011 or later)
MacBook Pro (Mid 2012 or later)
Mac mini (Mid 2011 or later)
iMac (Late 2012 or later)
Mac Pro (Late 2013 or later)

iOS

iPad/iPhone that Supports Bluetooth 4.0, and has iOS8 or later installed
iPhone SE, iPhone 6s, iPhone 6s Plus, iPhone 6, iPhone 6 Plus, iPhone 5s, iPhone 5c, iPhone 5, iPhone 4S,
iPad Pro, iPad Air 2, iPad Air, iPad fourth generation, iPad Third generation, iPad mini 4、iPad mini 3, iPad mini 2, iPad mini,
iPod touch sixth generation, iPod touch fifth generation

Windows

Windows supportant le Bluetooth 4.0 ou plus récent, et disposant de Windows 8.1 ou plus récent (32-bit / 64-bit)

[Le pilote KORG BLE-MIDI est nécessaire]
Exigences opérationnelles (connexion en USB):

Windows

Microsoft Windows 7 SP1 ou plus récent (32-bit / 64-bit)

Mac

MacOS 10.8 Mountain Lion ou plus récent

iOS

iOS8 ou plus récent
*
Nous ne garantissons pas que l'appareil fonctionne avec tous les ordinateurs satisfaisant ces exigences.
*
Bluetooth est une marque déposée de Bluetooth SIC, Inc.
*

Tous les noms de produits et/ou de sociétés sont des marques et/ou des marques déposées par leurs propriétaires

respectifs.

*
L'apparence et les spécifications des produits sont susceptibles d'être modifiées sans préavis.
*
We have detected some power supply issues occurring when using a USB-C to USB adapter on Mac's Thunderbolt3 ports.