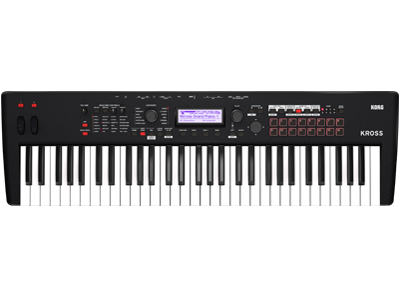 KROSS
SYNTHESIZER WORKSTATION
Saber mas
Sitios relacionados
Productos relacionados
Accesorios
Teclado
KROSS 2-61

661 Teclas (sensible a la Velocidad; no soporta aftertouch)

Normalmente C2 ─ C7 (ajustable en el rango [C1…C6] ─ [C3…C8])
KROSS 2-88

88 Teclas NH (Acción Natural contrapesada) teclado (sin aftertouch)

Normalmente A0 ─ C8 (ajustable en el rango A-1…C7) ─ [A1…C9])


* El teclado NH reproduce el tacto y sensación de un piano acústico, con una sensación más pesada en el rango grave y más ligera en el rango superior.
Sistema
EDS-i(Enhanced Definition Synthesis - integrated)
Motor de Sonido
Polifonía Máxima

120 voces (120 osciladores), Modo single
60 voces (60 osciladores), Modo doble

* La polifonía máxima simultánea variará dependiendo de la configuración del oscilador tal como multimuestras estéreo y fundidos de velocidad.
Memoria Preset PCM

Aproximadamente 128 MB (calculada como 48 kHz / 16-bit Lineal PCM equivalente)
496 multimuestras (incluyendo siete estéreo), 1014 muestras de batería (incluyendo 49 estéreo)
Memoria de Expansión PCM

Aproximadamente 128MB (*cuando se convierte a 48 kHz 16-bit lineal PCM)
* Usada cuando se carga PCM opcional
Programa

Oscilador

Oscilador: OSC1 (Single), OSC1+2 (Doble): compatibles con Multisamples estéreo, y cuatro niveles de velocidad con conmutación, transición y capas.

Filtros

Filtros: Cuatro tipos de enrutamiento de filtro (single, serial, paralelo, 24 dB)

Dos filtros multimodo por voz (paso bajo, paso alto, paso banda, rechazo de banda)

Modulación

Para cada Oscilador: dos generadores de envolvente (filtro & Amp), dos LFOs, dos generadores de seguimiento de teclado (filtro & Amp), dos mezcladores AMS, Pitch EG, LFO común, dos generadores de seguimiento de teclado comunes
Combinación

Timbres

Hasta 16 timbres, conmutables mediante la Configuración de las zonas de Teclado y velocidad puede utilizarse para cambiar los sonidos, y la función de ajuste de tono permite modificar los ajustes de programas

Funcionalidad como Teclado Maestro

Premite el control de dispositivos MIDI externos
Kits de Batería

Muestras de Batería Estéreo y mono. 4 zonas de conmutador de velocidad con fundidos y formas ajustables (Linear, Power, Layer).
Nº de Combinaciones / Programas / Kits de Batería

Combinaciones de Usuario

896 Combinaciones (384 Precargadas)

Programas de Usuario

1280 Programas (768 Precargados)

Kits de Batería de Usuario

58 Kits (42 Precargados)

Programas Preset

265 Programas (256 GM2 Programas + 9 Programas de Batería GM2)
* Número total de programas precargados y programas Preset: 1,075 (810 programas precargados, 265 programas Preset




*Haz click

aquí

para el KROSS 2-88-MB.
Favoritos
Número de memorias

128 (16 favoritos × 8 bancos)
Efectos
Efectos de Inserción

5 Efectos de Inserción procesado en línea; estéreo in - estéreo out.
Efectos Master

2 Efectos Master, dos envíos a Efectos; estéreo in - estéreo out.
Tipos de Efectos

Total 134 tipos (selección de 74 tipos de Efectos de inserción, 101 tipos de Efecto master 1, y 120 tipos de Efecto master 2)
Modulación

Modulación Dinámica
Bus de Control de Efectos

Cadena Estéreo para limiter, gates, vocoders, etc.
Arpegiadores Polifónicos
Modo Programa

Un Arpegiador
Modo Combinación

Dos Arpegiadores
Modos de Secuenciadores

Dos Arpegiadores
Patrones de Arpegio Preset

UP, DOWN, ALT1, ALT2, RANDOM
Patrones de Arpegio de Usuario

Número de patrones de Arpegiador: 1280 (1024 Precargados)
Número de tonos: 12 tonos,
Número de pasos: hasta 64 pasos
Secuenciador por pasos
Modo de Programa
Modo de Combinación
Modo de Secuenciador

Una unidad
Número total de tonos: 12 tonos + 1 tono de acento
Número de pasos: hasta 64 pasos

* Se puede crear para cada Programa, Combinación y canción.
Pista de batería
Patrones Preset

772 patrones (En común con patrones de Secuenciador.)
Otros

Ajustes Trigger Mode / Sync / Zone se pueden especificar
Secuenciador
Pistas

16 pistas MIDI
Número de Canciones

Hasta 128 Canciones
Resolución

1/480
Tempo

40.00–300.00 (1/100 BPM resolución)
Memoria Máxima

Hasta 210.000 eventos MIDI
Contador

Compás/Tiempo/Tick
Plantilla de Canción

16 preset/16 usuario, Plantillas de canción
Patrones Preset

772 patrones (En común con patrones de Pista de Batería)
Formato

KORG (KROSS) formato, SMF formato 0 y 1
Pad sampler
Especificaciones

16 pads × 8 banks
Automatically saved on the SD card, and automatically loaded
Up to four pads can play simultaneously
Recording format

PCM audio format 48 kHz/16-bit
Recording time

Up to approximately 14 seconds of stereo sample for each pad
Import

WAVE format, file name extension: .wav, 44.1 kHz/16-bit, 48 kHz/16-bit, stereo

* 44.1 kHz is automatically converted to 48 kHz/i>
Edit

Waveform display editing functionality, start address and looping settings etc., normalize and other editing operations
Audio Recorder
Recording Format

PCM audio format 48kHz/16bit
Import

WAVE format (file name extension: wav ) 44.1kHz/16bit, 48kHz/16bit stereo

* 44.1 kHz is automatically converted to 48 kHz/i>
Export

WAVE format (file name extension: .wav) 48kHz/16bit, stereo
Recording Time

Maximum continuous recording time: 3 hours
Depends on the SD card used; approximately 90 minutes per 1 GB
Number of Songs

Up to 200 songs
Number of overdub recordings

Depends on the remaining capacity of the SD card
Counter

Hour/Min/Sec
Pad audio play


16 pads × 8 banks
Directly play back data from SD card
Multiple pads cannot be played simultaneously
Media
File, Utility, Information, additional PCM data management functionality
Controllers
General Control

Pitch bend wheel, Modulation wheel, SW1, SW2
Realtime Control

SELECT button, SWITCH button, KNOB1 knob, KNOB2 knob
Step Sequencer/Favorite/Pad Sampler/Pad Audio Play


Pads 1–16
STEP SEQ ACTIVE button, Run button
FAVORITES ACTIVE button
SAMPLER ACTIVE button, HOLD button
AUDIO PLAY ACTIVE button
BANK LEDA/B/C/D/E/F/G/H (also used by Step sequencer, Favorite, Pad Sampler, and Pad Audio Play)
Drum Track

DRUM TRACK button
Arpeggiator

ARP button
Audio Recorder

AUDIO REC button
User Interface
Display

240 × 64 pixel LCD backlight
Adjustable contrast (hold the EXIT button and turn the VALUE dial)
Category

CATEGORY dial, VALUE dial
MODE

COMBI button, PROG button, SEQ (GLOBAL/MEDIA) button
Value Controllers

Cursor buttons, EXIT,ENTER, FUNCTION, PAGE-, PAGE+, MENU buttons
Sequencer

REC button, START/STOP button
Quick Layer Split

LAYER/SPLIT button
Other

VOLUME knob
Control Input
DAMPER (Supports piano-style half-damper pedals as well as standard foot switches)
ASSIGNABLE SWITCH
ASSIGNABLE PEDAL
Audio Outputs (Analog)
AUDIO OUTPUT L/MONO, R

Connectors: 6.3 mm (1/4") phone jacks(TS unbalanced)
Output Impedance: 1.1k ohm stereo, 550 ohm mono (L/Mono only)
Maximum Level: +10.0 dBu
Load Impedance: 10k ohm or greater
Controllable by the VOLUME knob
HEADPHONE OUTPUT

Connectors: 3.5mm (1/8") stereo mini phone jack
Output Impedance: 33 ohnm
Maximum Level: 40 + 40 mW
Controllable by the VOLUME knob
Audio Inputs (Analog)
LINE IN

Connectors: 3.5 mm (1/8") stereo mini phone jack
Input Impedance: 1.1k ohm
Maximum Input Level: -42 to 0 dBu
MIC IN

Connectors: 6.3 mm (1/4") phone jacks(TS unbalanced)
Input Impedance: 33 ohm
Maximum Input Level: -48 to -6dBu
Phantom power or plug-in power is not supported.
Others
MIDI

IN, OUT
USB

USB connector TYPE B x 1, USB-MIDI interface, USB audio interface
SD Card Slot

One card slat

* Capacity recognized: SD memory cards up to 2 Gigabytes (GB). SDHC memory cards up to 32 Gigabytes (GB). SDXC memory cards are not supported.
Main Specifications
Power

AC adaptor power supply DC 9V
AA alkaline batteries x 6, or nickel-metal hydride batteries x 6
Battery Life

AA alkaline batteries x 6: Approximately 6 hours
AA nickel-metal hydride batteries (1900mAh) x 6: Approximately 7 hours

* Varies depending on the batteries used and the conditions of use.
Power Consumption

5 W
Dimensions (W x D x H)

KROSS2-61: 935 mm × 269 mm x 88 mm / 36.81" × 10.59" × 3.46"
KROSS2-88 1,448 mm × 383 mm × 136 mm / 57.01" × 15.08" × 5.35"
Weight

KROSS2-6: 3.8 kg / 8.38 lbs (excluding batteries)
KROSS2-88: 12.3 kg / 27.12 lbs (excluding batteries)
Included Items

AC adapter, Quick Start Guide
Accessories (sold separately)
Keyboard stand

KROSS2-61: Standard-S-ABK61
KROSS2-88: Standard-L-SV88
Soft case

KROSS2-61: SC-KROSS 2 61
KROSS2-88: SC-KROSS 2 88 / KROME 88
Expression/Volume Pedal

XVP-20
XVP-10
Foot Controller

EXP-2
Damper Pedal

DS-1H
Pedal Switch

PS-1
PS-3
| | |
| --- | --- |
| * | All products names and specification names are trademarks or registered trademarks of their respective owners. |
| * | Appearance and specifications of products are subject to change without notice. |
We use cookies to give you the best experience on this website.
Learn more
Got it