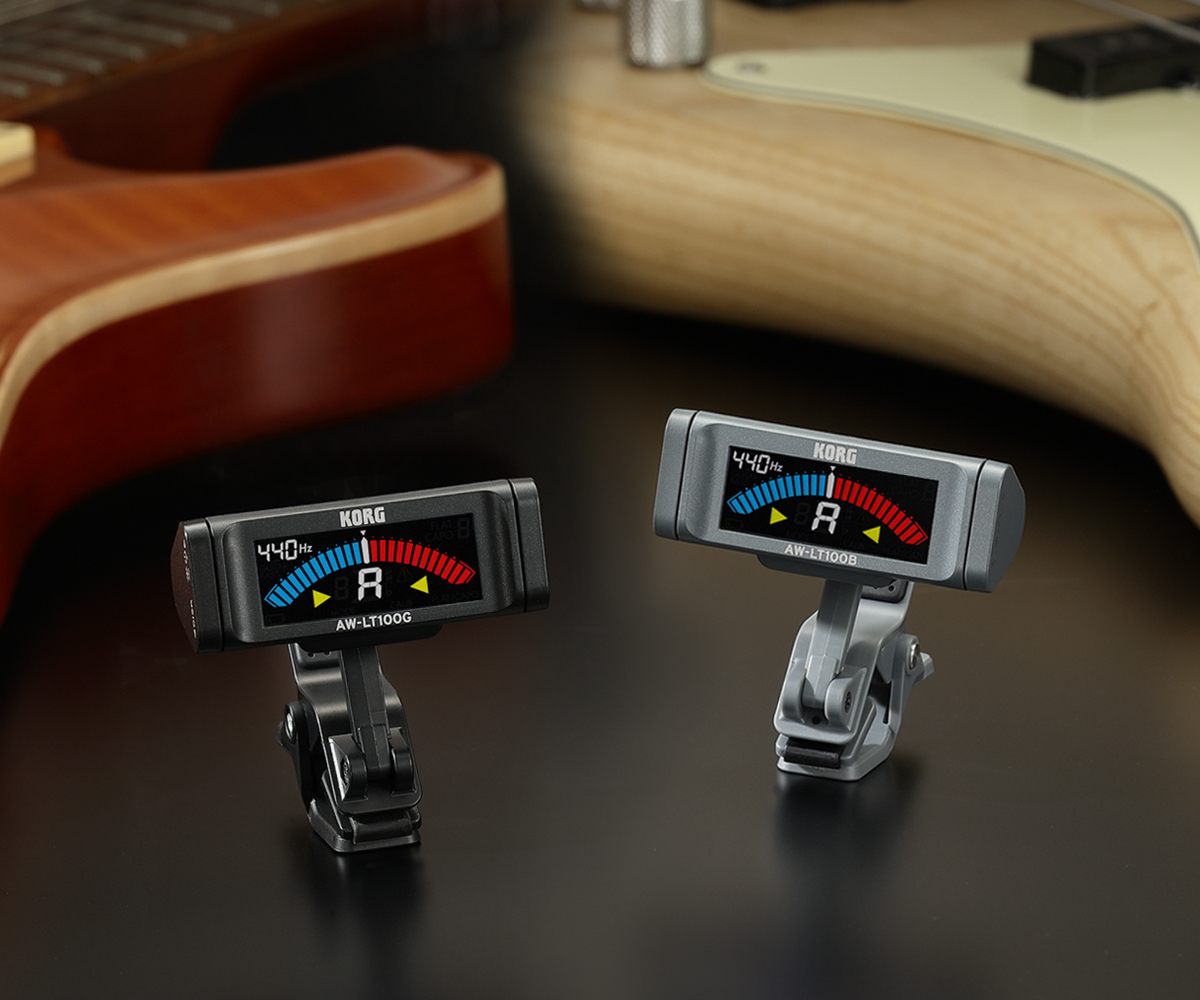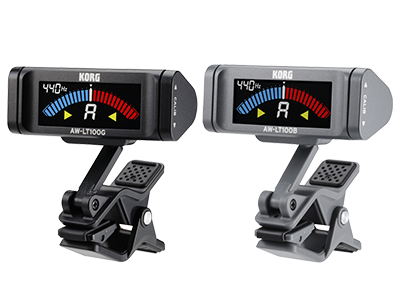 AW-LT100G / AW-LT100B
CLIP-ON TUNER
Learn More
Related Sites
Related Products
Clip-type tuners featuring 100 hours of continuous operation,
with dedicated models for guitar and bass.
KORG's clip-type tuners can be attached directly to your instrument for easy tuning. The new lineup now consists of the AW-LT100G specifically for guitar, and the AW-LT100B specifically for bass.

The AW-LT100G / B provide stunning battery life with approximately 100 hours of operation using a single AAA battery. The body's lightweight design features triangular shuttle switches that allow intuitive operation. In a first for KORG tuners, the lineup includes a dedicated model for guitar and a dedicated model for bass. Each uses a specific circuit that's been pared down to the essentials, delivering even faster meter response. In addition, the AW-LT100B features enhanced sensitivity for detecting the low-frequency range, perfectly covering your tuning needs even for basses that have a larger number of strings. KORG's rich lineup of tuners gives you choices that will satisfy every need, and has now been extended by two new models.
AW-LT100 - Introduction Movie
Long battery life; a single AAA battery provides 100 hours of operation.
Even more lightweight than ever.
The AW-LT100G is a dedicated model for guitar, with increased meter speed.
The AW-LT100B is a dedicated model for bass, with response extending to the ultra-low pitch range.
Bright color LCD ensures excellent visibility.
Switch between three types of meter display mode.
Supports ultra-high-precision tuning with an accuracy of ±0.1 cent.
Easy operation with left/right shuttle switches.
A clip mechanism with high holding power and flexibility.
Calibration, auto power-off, and memory backup functions.
Long battery life with 100 hours of continuous operation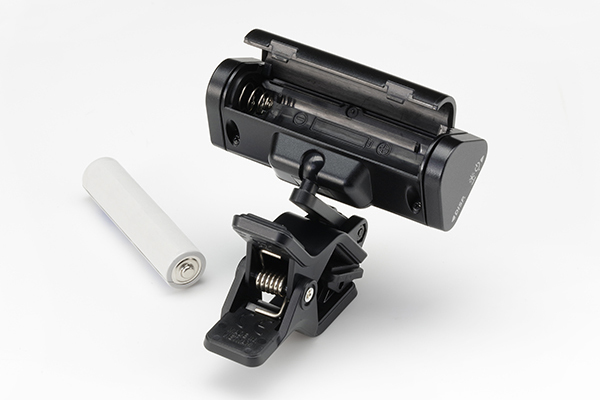 Instead of the button cell battery used in many previous clip-type tuners, the AW-LT100G / B uses a single AAA battery that's easy to obtain and has a higher capacity. An alkaline battery allows an amazing 100 hours of continuous operation. This is several times the operating life of models that use a button cell, and provides excellent cost-effectiveness. You can use the unit for an extended time without having to replace the battery.
Even more lightweight in spite of using a AAA battery
Even though these tuners use a AAA battery, which is much heavier than a button cell battery, the body of the tuner itself has been made even lighter, providing an addition reduction in weight. Together with the battery, the tuner weighs a mere 32g (1.13 oz.), allowing it to be left attached to your guitar or bass and used without any sense of unnaturalness.
The AW-LT100G, a dedicated guitar model with faster meter response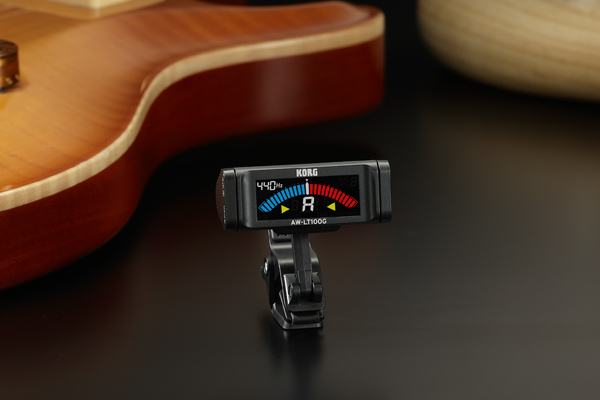 The AW-LT100G is designed specifically for guitar, and uses a chromatic mode like the Sledgehammer Pro / Sledgehammer Custom 100. Circuit design that's optimized for use specifically as a guitar tuner allows further improvements in the meter's tracking, stability, and response speed.
The AW-LT100B, a dedicated bass model that responds even to the ultra-low range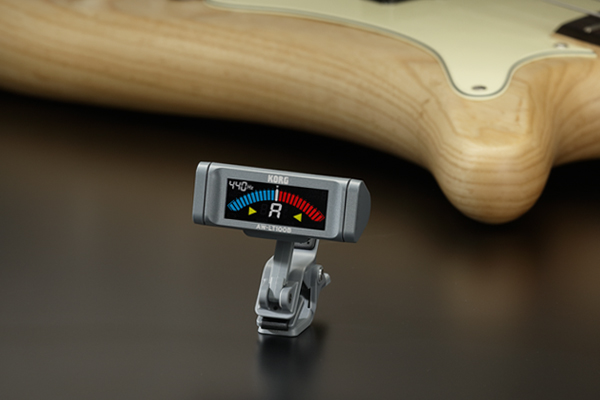 The AW-LT100B is designed specifically for bass. It uses a chromatic mode with dedicated circuitry that boosts the detection sensitivity in the ultra-low range below 100 Hz. The capability of this tuner is particularly apparent when tuning the 5-string or 6-string basses for which stable tuning has been difficult until now.
Bright color LCD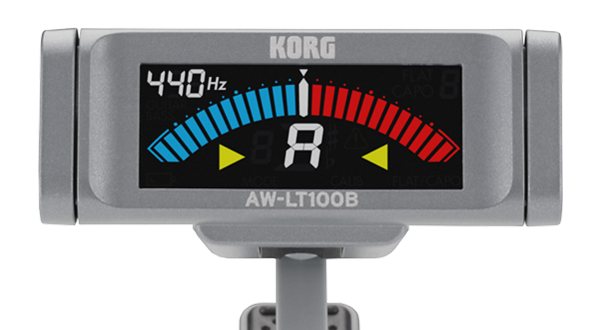 The VA-type color LCD display provides excellent visibility. With a high-brightness white backlight and a color LCD meter, you'll enjoy high contrast and a wide viewing angle, ensuring that the tuning status is always shown clearly.
Ultra-high-precision tuning with ±0.1 cent accuracy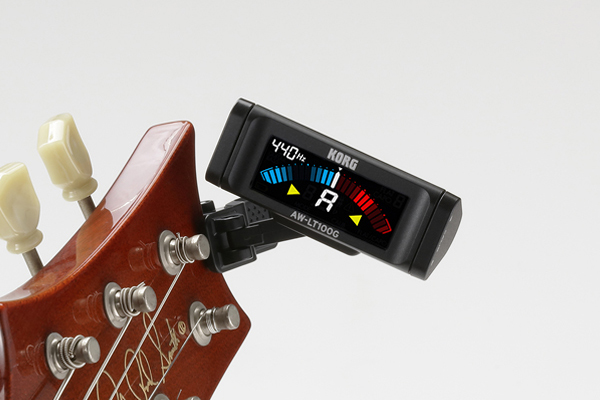 When in strobe mode, the AW-LT100G / B allow ultra-high-precision tuning as accurately as ±0.1 cent. Whether you're performing for a recording that demands perfect tuning at all times, or on stage playing live, you'll be able to zero-in on minute pitch discrepancies, making these units an ideal choice for professional needs.
Three different meter display modes
You can choose from three different meter display modes to suit your style. In addition to the standard "regular" mode, these tuners also offer "strobe" and "half-strobe" modes that make it easy to visualize even slight pitch change by showing the direction and speed in which the meter flows.
Shuttle switch for simple operation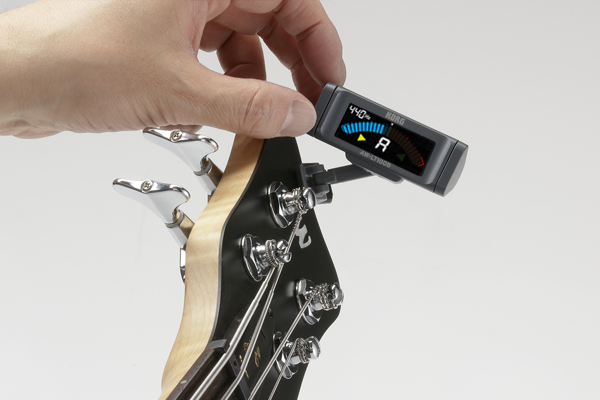 The AW-LT100G / B feature an easily understandable interface that can be intuitively operated with one hand. A triangular shuttle switch is placed at left and right, and simply by rotating it a click up or down, you can perform all operations smoothly and without stress, from turning the power on/off to switching the display mode or setting the calibration.
Clip mechanism provides flexibility and high holding power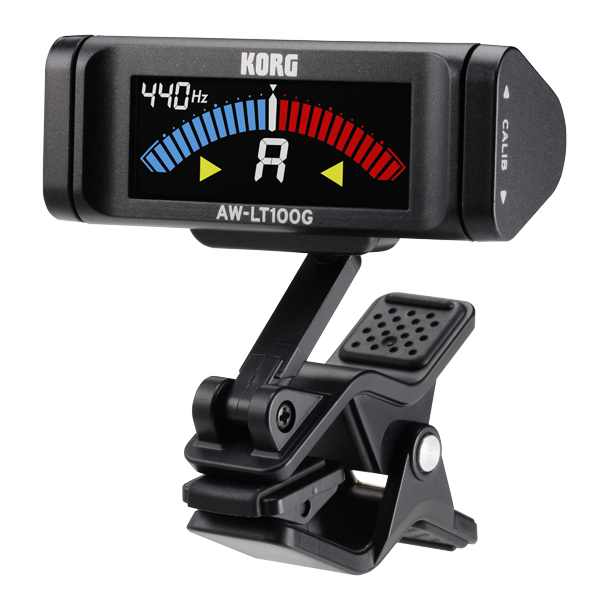 The contact surface ratio of the clip has been increased to the maximum possible, ensuring high holding power. It will fit securely on guitar or bass headstocks of a variety of thicknesses. The double mechanism of a movable arm and a ball joint simultaneously provides both free angle adjustment and durability. You can position the tuner to suit your preference.
Calibration, auto power-off, and memory backup functions
With a calibration function that supports a variety of concert pitches, an auto power-off function, and a memory backup function, these units support your tuning needs in a variety of ways.
We use cookies to give you the best experience on this website.
Learn more
Got it