A piano for new beginnings.
Packed with features for beginners through experts.
The B2 is a new generation of digital piano from KORG focused on accessibility and ease of use. Perfect as a first piano for a new player, we've paid special attention to the experience of playing a real piano. B2 is packed with carefully selected sounds, starting with legendary grand pianos from around the world. Software and a variety of connectors come standard for a truly modern piano experience.

B2 is in keyboard format and can be placed on a stand, the B2SP has an easily assembled stand and a three-pedal unit, and the B2N features a light-touch 88-note keyboard. This three-model lineup gives users the ability to pick the perfect piano for their needs. B2 is a piano for anyone from beginners to seasoned players looking for something comfortable to practice on.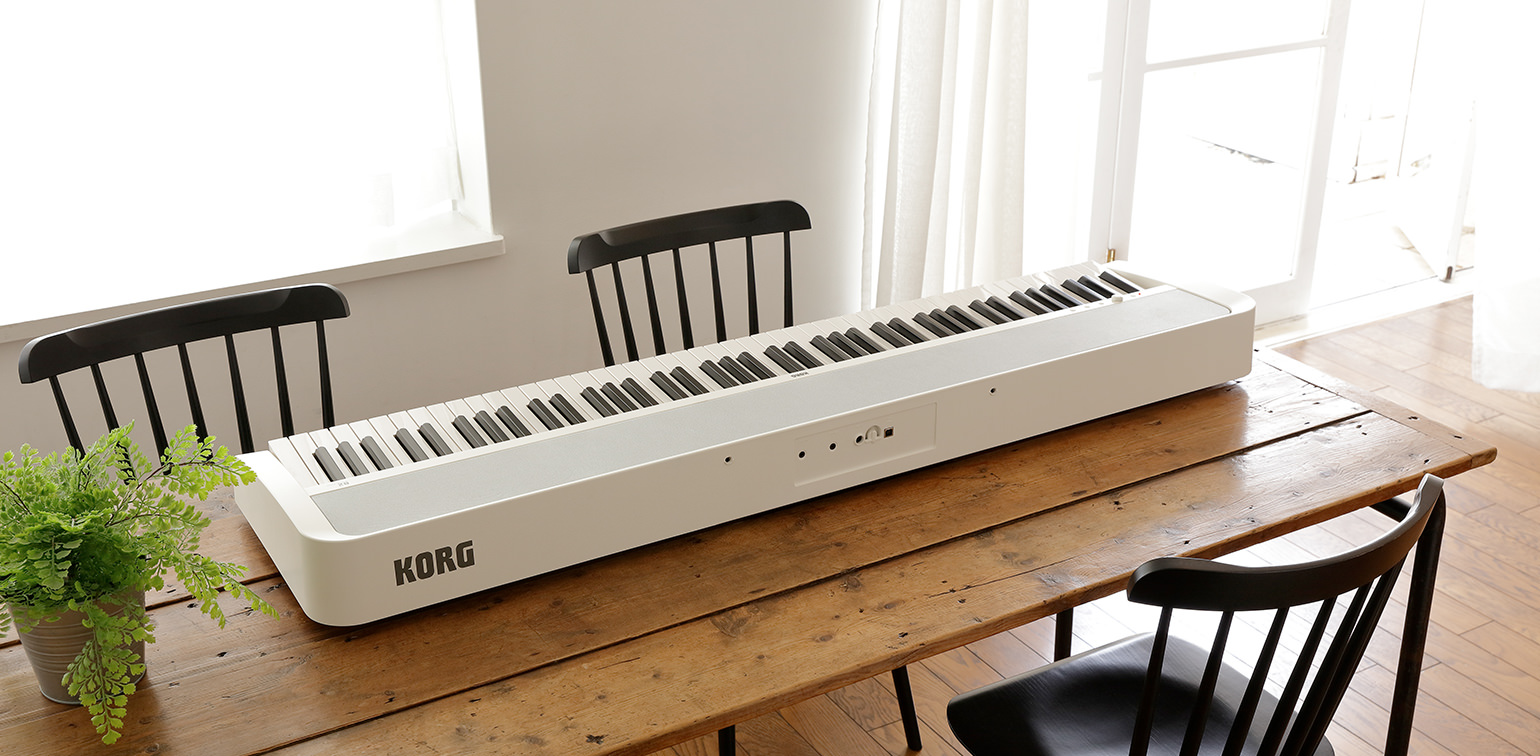 New piano sound engine with
12 carefully selected sounds.
The B2 provides a total of 12 sounds that cover a diverse range of genres, starting with five pristine piano sounds from its new piano engine, and also providing richly distinctive electric piano, organ, harpsichord, and strings. In addition to capturing the enormous tonal range of a grand piano, the meticulously-sampled sounds created for the B2 Digital Piano also reproduce the sympathetic string vibrations and damper resonances that give the piano its character.

German piano
This world-famous German-made piano is beloved by countless pianists for its diverse range of expressive power. With stunning sonic dynamism and vibrance, its palette ranges from brilliant highs to chillingly detailed lows. The provided sounds include the majestic "German concert piano" and a "Classic piano" noted for its delicate and complex tone.
Italian piano
An Italian-made piano with beautifully bright expression and satisfying sustain. Pianists around the world are enraptured by its rich resonance and sensitive responsiveness. The sounds provided are "Italian concert piano," a bright-toned "Jazz piano," and a beautifully resonant "Ballad piano."
Electric piano
An e-piano that reproduces the differences in tone that arise from your playing dynamics and even simulates the sound of a key-off. Conjure electric piano sounds that are instantly recognizable from decades of great music.
Organ
Sounds appropriate for rock and jazz are provided, as well as the sublime sound of a real recorded pipe organ.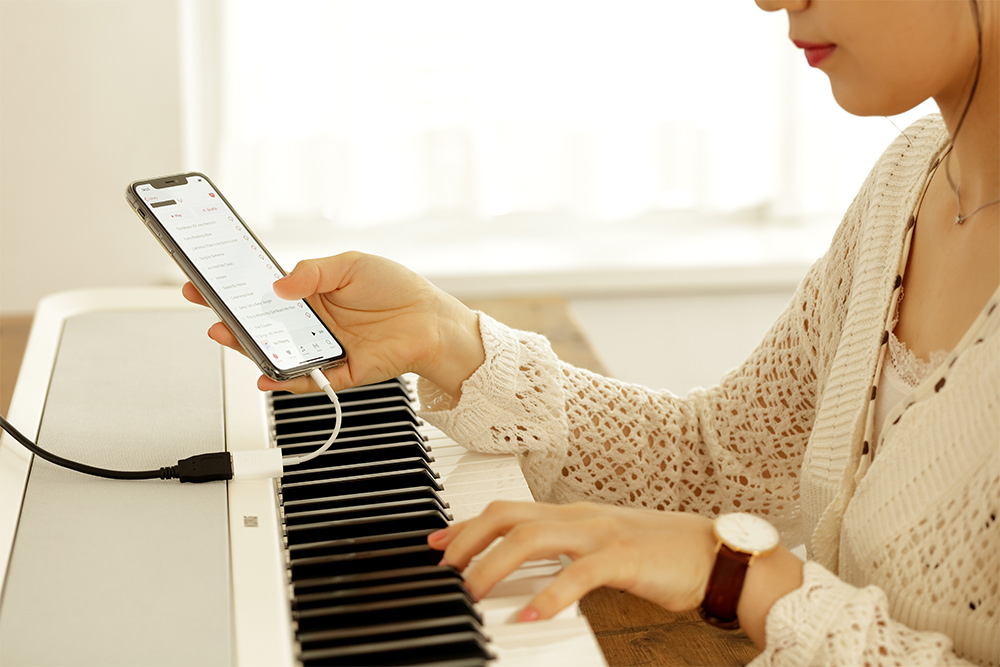 Keyboard that reproduces the touch of an acoustic piano.
This instrument uses a Natural Weighted Hammer Action (NH) keyboard that reproduces the same feel that results from the hammers on a real acoustic piano, where the low register is heavier and the high register is lighter. The keybed is sensitive and responds to nuanced touch at the tip of your fingers.
Equipped with versatile i/o for a range of connectivity.
The B2 provides connectors that allow using the instrument in conjunction with a variety of software and music hardware. This opens new possibilities for enjoying a digital piano that helps users create great music.
USB MIDI/AUDIO
You can use a USB cable* to connect this instrument's USB port to your smartphone, tablet, or computer, and use the B2 as a MIDI keyboard to play an external sound module. Your performance on the B2 can be recorded as music data on your smartphone, and sound from your smartphone can be heard through the speakers of the B2.
*USB cable sold separately for connection to your PC, and a USB cable + Lightning-USB camera adaptor (both sold separately) for connection to your iPhone or iPad.
AUDIO IN
By connecting your smartphone's headphone jack or your music player, you can output your favorite music through the speakers of the B2 and enjoy playing along. Even when you're not playing the piano, you can use the B2 as a home speaker system for enjoying music.
"FAQ" about B2, USB connection and apps.
Generous bundle of software that's convenient for practicing or for creative work.
The B2 is bundled with software that will take your music to the next level, including "Skoove" which will help you improve your keyboard performance ability, the "KORG Module" piano keyboard sound module app, and the "KORG Gadget 2 Le" DAW music production app.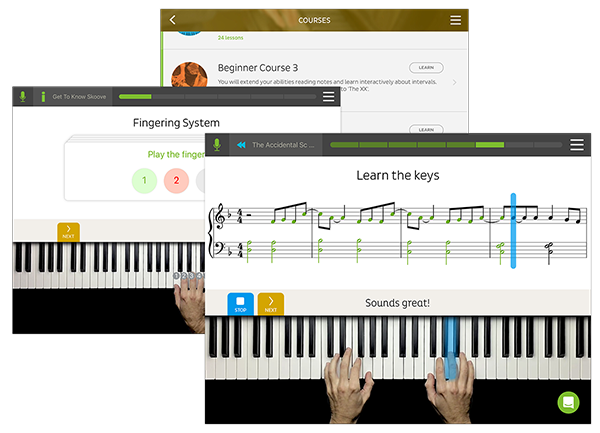 Three-month premium plan trial for "Skoove" online piano lessons
Skoove is the fastest and most broad-based platform for learning piano performance. Through the three steps "hear, learn, perform" you'll acquire performance skills and musical ear training. More than ten courses and more than 300 songs are provided, and others are constantly being added. Skoove provides lessons that are appropriate for the needs and skill levels of those who are just starting piano as well as those who can already play.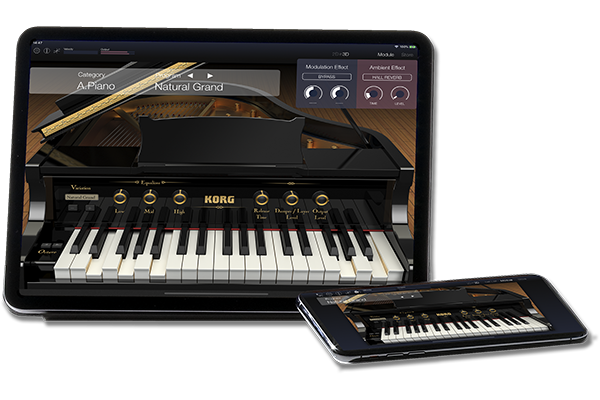 "KORG Module" piano keyboard sound module app
This is a high-quality mobile sound module app that provides a pro-quality sound library that's ideal for both performance and music production, available only for iOS. It lets you enjoy top-notch grand piano sounds as well as studio-quality sounds of widely used keyboards.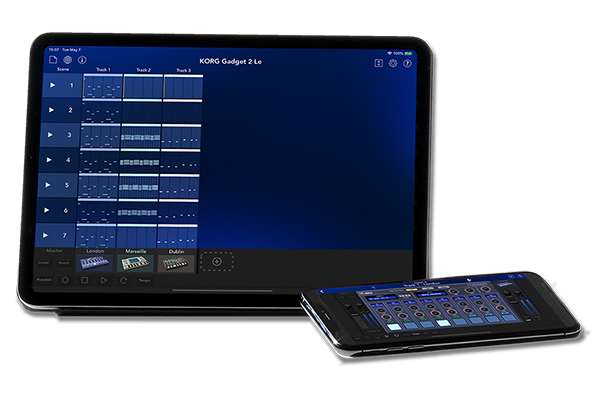 "KORG Gadget 2 Le" DAW music production app with built-in sound module
This is a mobile music production app for iPad/iPhone that provides miniature synthesizers and drum machines called "gadgets," and allows you to freely combine these to enjoy producing music with an intuitive interface.

*"KORG Module" and "KORG Gadget 2 Le" can be used to expand the sounds and functionality when they are connected to the B2. (Connection to your PC requires a USB cable (sold separately), and connection to your iPhone or iPad requires a USB cable + Lightning-USB camera adaptor (both sold separately).)
Please visit "KORG Software Bundle"
to use these software and applications.
*STB1 Optional Stand, PC-300 Piano Bench sold separately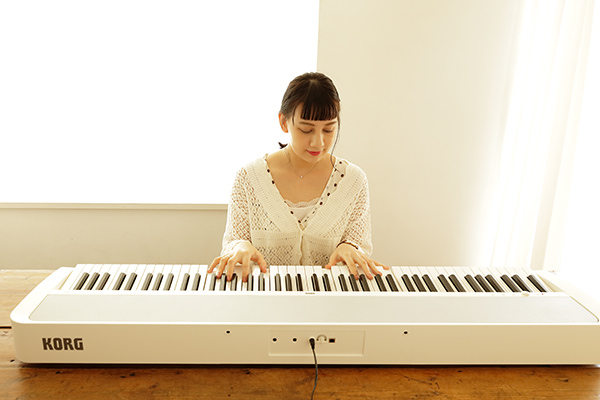 The metronome can be turned on/off with one touch. There's a touch control function that gives you three levels of adjustment for how your playing dynamics affect the sound (light, normal, heavy), letting users perform with a response that suits their own style. Also provided are settings for two effects: reverb and chorus.
Multiple keyboard configurations
to meet your needs.
The B2 is the perfect platform for piano practice and performance. For even more serious players, we recommend the B2SP which also packages a stand and a three-pedal unit as standard. Also available is the B2N, which is equipped with the same functionality as the B2 but features a lighter-touch keyboard. Select the model that fits your playing style. A full range of options such as the dedicated STB1 stand for the B2/B2N and the PU-2 three-pedal unit are also available.

*STB1 Optional Stand, PC-300 Piano Bench sold separately

The CONCERT series is a line of pianos that are designed to provide the same performance experience as listening or playing in a concert hall, in every aspect of sound, touch, and musical experience. This lineup lets you enjoy playing in any situation, from home use to performances on stage.
We use cookies to give you the best experience on this website.
Learn more
Got it