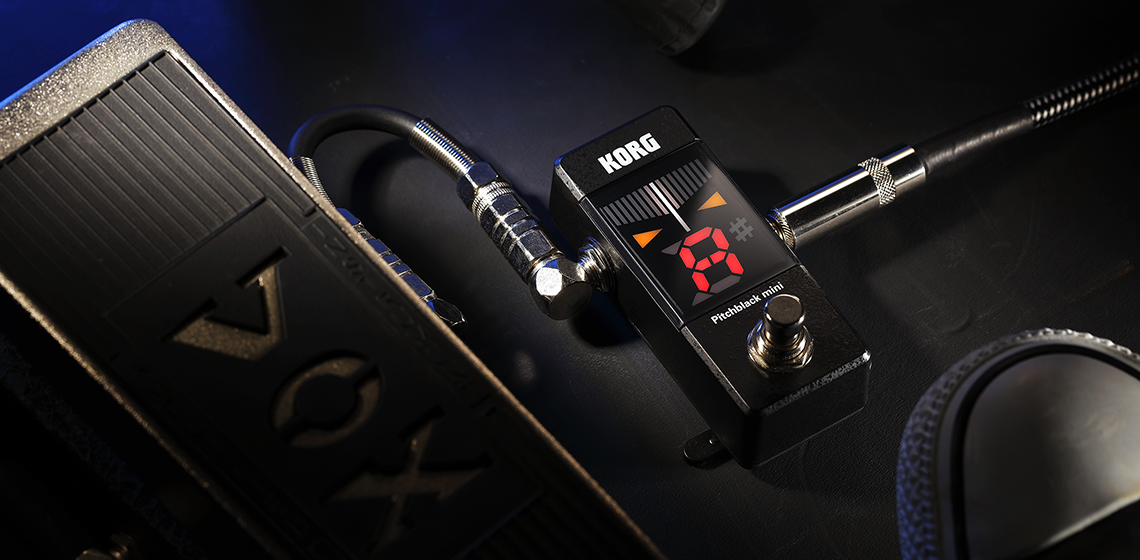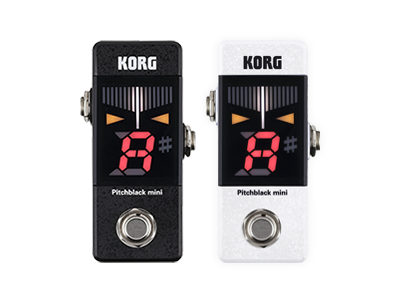 Pitchblack mini
PEDAL TUNER
Learn More
Related Sites
Related Products
Related Accessories
Small size, huge visibility!
A compact pedal tuner that's ideal for any effect board.
Korg's Pitchblack pedal tuners have earned the trust of guitarists and bassists worldwide for their quality, design and durability. The Pitchblack mini is the latest addition to the renowned tuner series, now available in a smaller, sleek size.

The Pitchblack mini appears smaller in size, yet embodies all of its superior tuner functionality. Featuring a large LED display with excellent visibility, it supports battery operation in spite of its compact size. The unit is also equipped with stabilizers to prevent it from overturning. Small but powerful, this is a high-quality pedal tuner that will meet the needs of any player.
Pitchblack mini - Introduction Movie
Now available in an all-new white finish!
The compact size of the popular Pitchblack mini pedal tuner is available in a newcolor! The Pitchblack mini lineup has been supplemented by a stylish white model that joins the existing model in bold black, allowing you to choose a Pitchblack mini in the color that suits you.
Mini-size for easy installation in your effect board
Large high-visibility display with easily readable note name indication
Battery operation is supported
Stabilizers prevent overturning
Three meter display modes
Ultra-high tuning accuracy of +/- 0.1 cents
Adjustable calibration
True bypass has absolutely no effect on the sound
Mini-size for easy installation in your effect board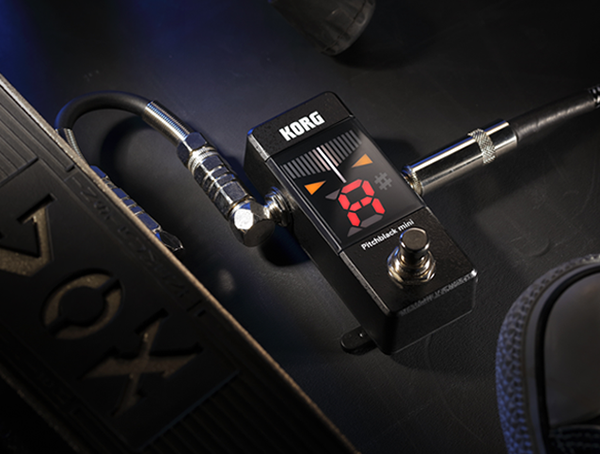 The Pitchblack mini is a size smaller than the previous Pitchblack, allowing for easy installment, even with a full effect board. The weight is also minimal at 129 grams, so handling is easy.
Large high-visibility display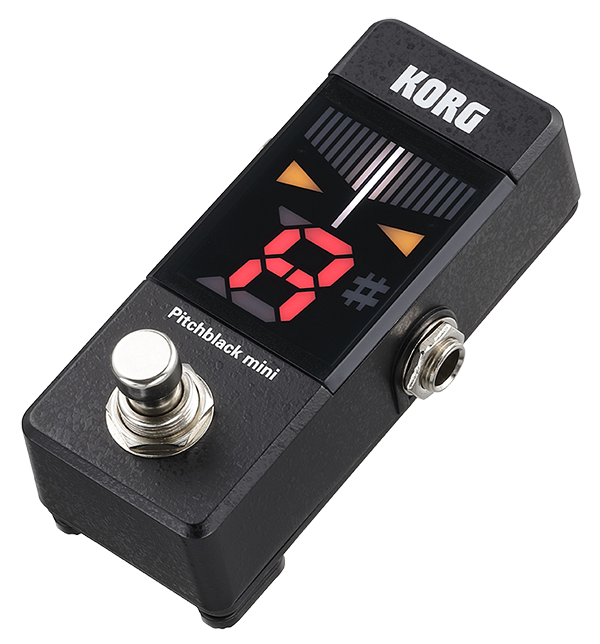 Despite its small size, the display is large and easy to read. Equipped with a large 7-segment color LED, the large note indication and the smooth moving meter indicator deliver excellent visibility even on a dark stage.
Battery operation is supported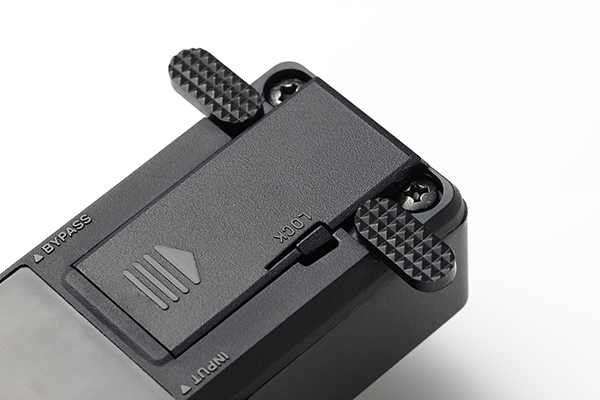 The Pitchblack mini supports battery operation that has been a long-awaited feature for miniature pedal tuners. In conjunction with the high mobility provided by its compact form, battery operation allows you to use this unit smoothly in any situation, whether in your effect board or on the floor. Additionally, you can also use DC9V power designed for effect units.
Stabilizers prevent overturning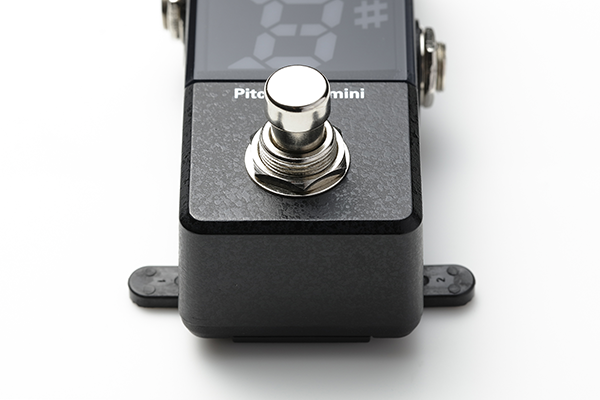 Compactness, light weight, and convenience are important, but they're a trade-off with stability. Other units tend to turn over more easily when placed on the floor, however, the Pitchblack mini is equipped with slide-type stabilizers on the underside of the body, eliminating this concern.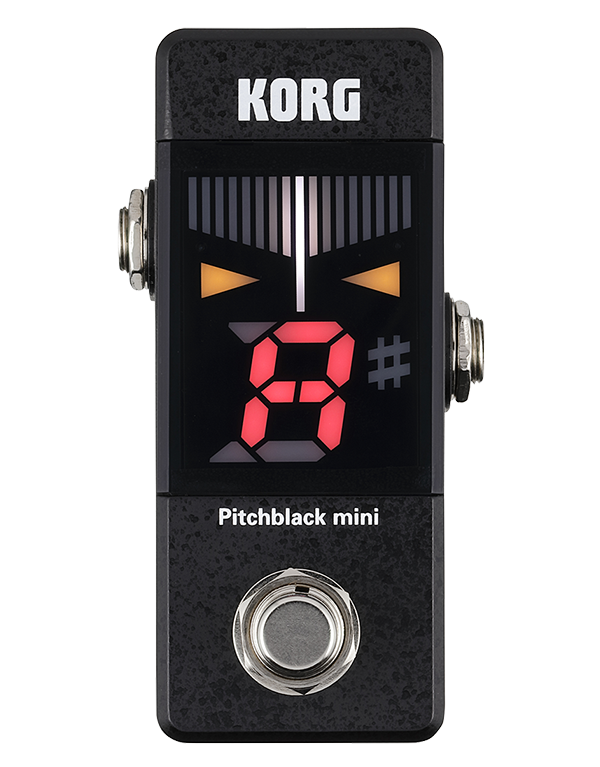 Three meter display modes
Choose from three meter display modes to suit your playing style. In addition to the standard "Regular mode," you can choose "Strobe mode" or "Half-strobe mode" in which the direction and speed of meter movement indicate the pitch change for easy visualization of even minute differences.
Ultra-high tuning accuracy of +/- 0.1 cents
When using strobe mode, the Pitchblack mini allows ultra-high-precision tuning with ±0.1 cent accuracy. It's a great choice for exacting situations where even slight errors cannot be tolerated, such as in professional recordings or stage performances.
Adjustable calibration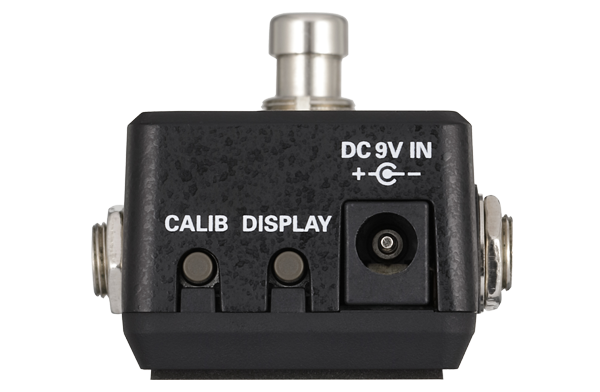 In spite of its compact size, the Pitchblack mini has the same high-quality design as the other units of the Pitchblack series. It inherits the accuracy and amazing ease of use that you expect from Korg tuners, and also allows the calibration to be adjusted to a variety of concert pitches.
True bypass has absolutely no effect on the sound
The true bypass design allows for the input sound to become output with absolutely no change (when the tuner is off). In other words, the tuner circuit does not change, degrade, or modify your sound in any way. Since the input sound is completely muted when the tuner is on, this unit is ideal for use on stage.
We use cookies to give you the best experience on this website.
Learn more
Got it