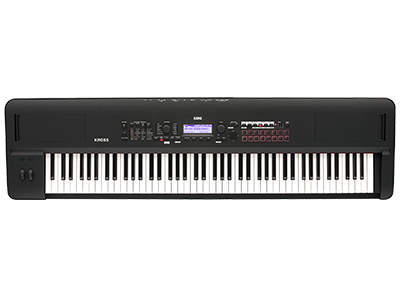 KROSS 88 MB
SYNTHESIZER WORKSTATION
Support for Your Purchase
Learn More
Related Sites
Updated and expanded, introducing the new KORG KROSS2-88MB Synthesizer Keyboard.
Keys, drums, sequences, sampling, and a performance powerhouse. The 88-key model of KROSS 2 is now available in a sublime "super matte black" finish. Packed with all the same sounds and features of the current KROSS2-88, the new model adds additional PCM, including a beautifully resonant acoustic piano sample, and an additional 128 cutting-edge sound programs.
The KROSS2-88MB excels in both live or studio environments, designed to be your main keyboard and featuring everything a performer needs.
KROSS 88 MB - Introduction Video
Rubberized matte black finish is sleek and uniquely durable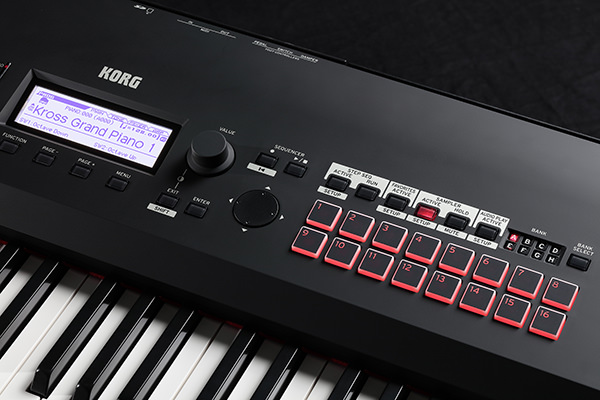 The KROSS 2-88-MB features a great-feeling rubberized finish in "super matte black," simultaneously sleek and elegant, but also durable and comfortable.
Rich sounds powered by added PCM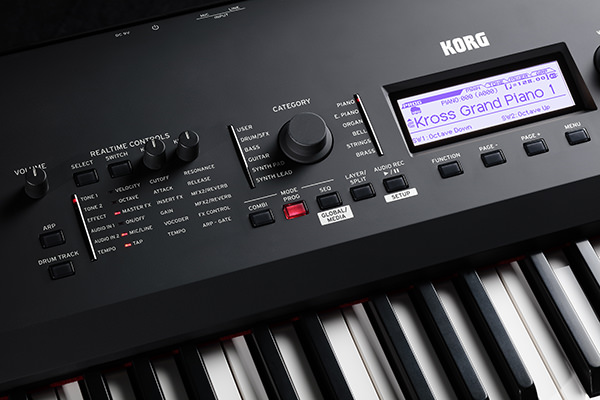 A diverse array of more than 1,000 preset sounds has been supplemented by additional PCM with 128 new programs that include piano and electric piano, and also fulfill your needs for cutting-edge EDM with synth and drum sounds plus 27 drum track patterns.
EXPCM001 : OASYS Piano


EXPCM002 : E.P. Collection


EXPCM004 : Future Synth Collection

Piano weight keybed for natural performance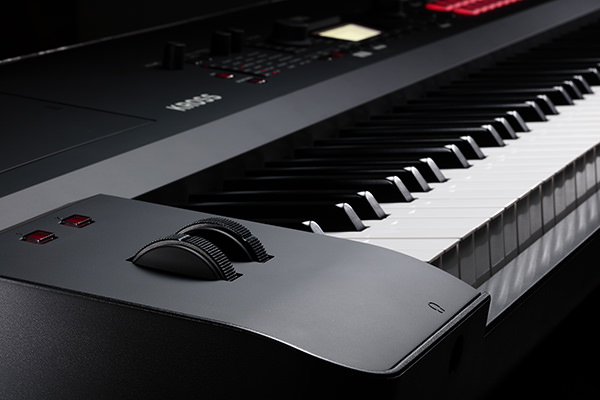 The KROSS 2-88-MB features KORG's NH (Natural Weighted Hammer Action) keybed. The NH keybed has a realistic and comfortable piano-style hammer, with a heavier feel in the lower register and a touch that becomes lighter as you move into the high register, allowing the subtle nuances of your fingertips to show through in your performance. This keybed is perfect for playing piano and electric piano sounds while being light and portable for bringing KROSS 2 to your gigs!
Keyboard
88 keys NH (Natural weighted hammer action, no aftertouch) keyboard.
Normally A0–C8 (adjustable in the range [-A-1…C7]–[A1…C9])

* The NH keyboard delivers a playing feel similar to that of an acoustic piano, with low notes being heavier and high notes being lighter.
Sound Engine
The Number of Combinations/Programs/Drum Kits:

User Combinations

896 Combinations (384 Preload)

User Programs

1280 Programs (768 + 128 Preload)

User Drum Kits

58 Drum Kits (42 + 5 Preload)

Preset Programs

265 Programs (256 GM2 Programs + 9 GM2 Drum Programs)

Total number of preload programs and preset programs

1,208 (943 preload programs, 265 preset programs)
Main Specifications
Dimensions (W x D x H)

1,448 mm × 383 mm × 136 mm / 57.01" × 15.08" × 5.35"
Weight

12.3 kg / 27.12 lbs (excluding batteries)
Accessories (sold separately)
Keyboard stand

Standard-L-SV
Soft case

SC-KROSS 2 88/KROME 88
| | |
| --- | --- |
| * | All products names and specification names are trademarks or registered trademarks of their respective owners. |
| * | Appearance and specifications of products are subject to change without notice. |
Other specifications are the same as the KROSS 2-61.
We use cookies to give you the best experience on this website.
Learn more
Got it