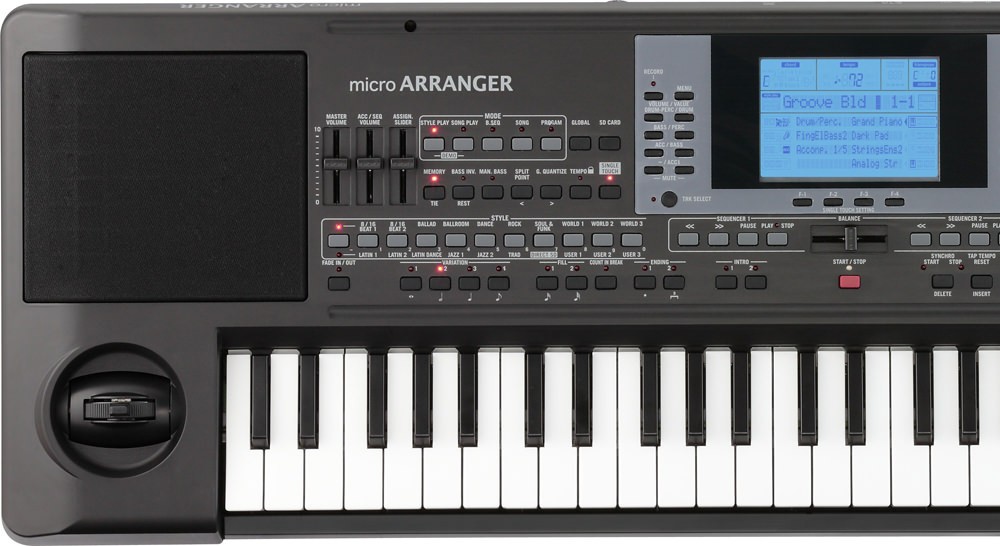 Download the free Country Rock style, and expand the capabilities of your microARRANGER.
This compact keyboard can quickly turn your ideas into songs, and also allows you to play your favorite songs with a full backing arrangement – instantly! The Korg microARRANGER turns the hit songs in your head into reality.
Your New Composing Assistant
Each time an original melody or tune comes to mind, it may often require substantial expertise, equipment, and time to turn that idea into a complete song in the same way that a professional musician or arranger might do. Korg's microARRANGER offers an easier way for you to enjoy the satisfaction of composing original music.

Even with modest keyboard skills, you can simply choose a musical Style to match your idea, tap in the tempo, hold down the chords with your left hand and pick out the melody with your the right hand, and listen as your musical idea takes shape! From the keyboard novice to the seasoned professional, the microARRANGER can transform your ideas into a more complete, fully realized, and more impressive song than you might ever imagine.
Compact composing/performing keyboard that acts as your musical arranger
Built-in stereo speaker system, 61-key Natural Touch mini keyboard; Velocity sensing
304 Styles; each is a complete and interactive musical environment for capturing your inspirations
Styles follow your chords, voice leading, and tempo settings – you are always in control!
Each Style includes Intros, Endings, Fills, and four Variations, all are completely editable
660 Preset Sound Programs and 128 User Programs provide excellent Korg sounds
32 Drumkits; 64 User Drumkits;
SD/SDHC card slot for data storage, importing Styles, sharing data with a computer DAW, etc
We use cookies to give you the best experience on this website.
Learn more
Got it