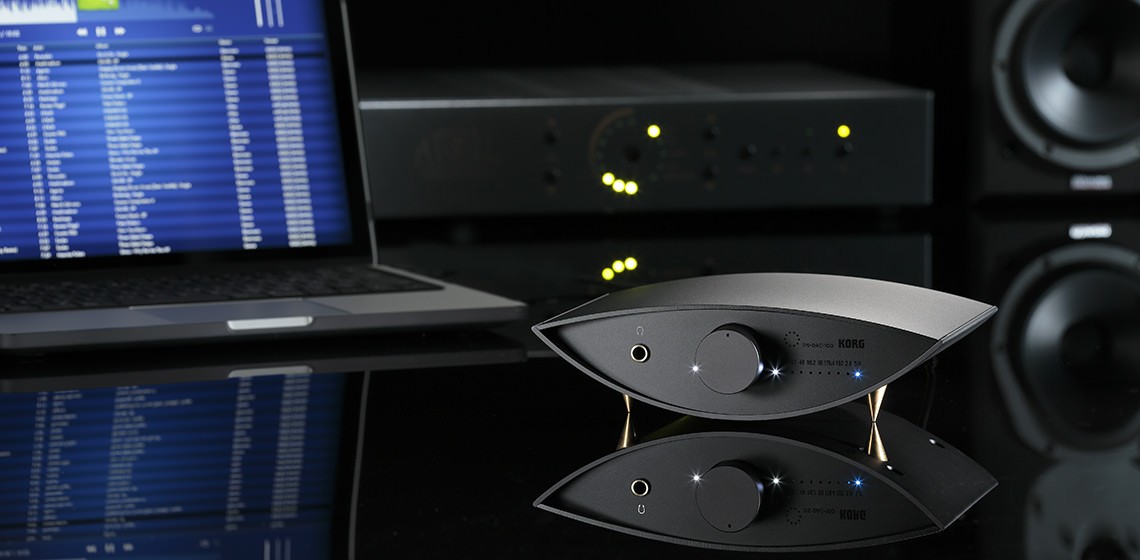 "AudioGate 3" and "DS-DAC series" --- the simplest high-quality audio playback system
Simply connect the DS-DAC-100/100m to your computer via USB cable, and you have a high-quality audio playback system. The system consists of AudioGate 3 software that plays back audio material from your computer with the best possible quality, together with the DS-DAC-100/100m which converts the data from AudioGate 3 into an analog signal for playback through your headphones or speaker system. When it comes to high-quality playback of computer audio, the software and hardware are equally important; if either is lacking, you can't expect optimal audio quality. With its long history of developing both software and hardware that meets professional demands for quality, KORG was uniquely able to create this ideal music playback environment.
Realtime DSD conversion for ideal sound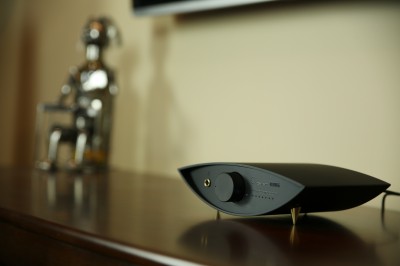 Accurate real-time DSD-analog conversion is the secret to high-quality audio playback through headphones or your high-end audio system. Audio files such as MP3 and WAV from your computer (even a CD!) can be converted to 5.6448 MHz/DSD data in real time and played back by the dedicated AudioGate 3 software. Since conversion to ultra-high quality DSD data is impractical for stand-alone hardware due to the enormous amount of processing power that is required, the power of your computer is used to perform this task, extracting the maximum information from the musical source before sending it to the DAC. The DS-DAC-100/100m, takes the audio optimally designed for DSD, then converts the data to an analog signal for the ideal audio playback scenario. You might even start hearing new details in your familiar CD or MP3 collection that had previously been hidden in the mix.
DSD native playback of 2.8224 MHz and 5.6448 MHz DSD files

KORG was among the first audio companies to focus on the high sound quality benefits of DSD, using DSD as the recording format for the highly acclaimed MR series of studio and field recorders. Now that major music distribution sites such as Blue Coast Records and Channel Classic Records have started distributing data in the DSD format, and major audio manufacturers have also started to release USB DAC units, the DSD format has become acknowledged by audio fans as a synonym for the utmost in high-quality playback. The quality of this DSD data is fully realized by the "DSD native playback of DSD data" offered via these USB DAC units, the DS-DAC-100/100m. These units support playback not only of 2.8224 MHz DSD data but also the still higher-resolution of 5.6448 MHz, which is even more faithful to the original source.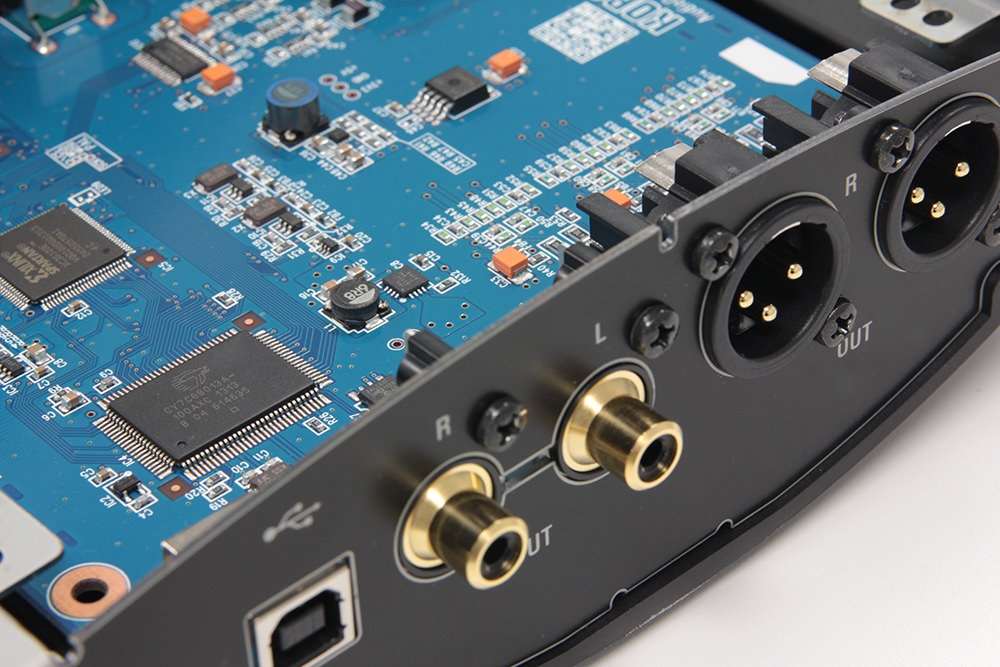 Pro-quality hardware design that builds on the achievements of the MR series DSD recorders
The data is conveyed via "asynchronous transmission," which does not synchronize with the USB clock of the computer, thus allowing high-quality playback with minimal jitter.

The power supply section is driven from USB bus power, thus avoiding any noise component that might enter via the power cable, ensuring high quality audio playback.

The DA converter uses the CS4398 made by Cirrus Logic, the same reliable and ultra-high-quality component that can be found on the MR series devices. It provides performance equivalent to that of the MR-1000, an acclaimed standard in professional studios and as a field recording device, providing high quality that exceeds other units in its class.

In this way, the DS-DAC-100/100m has been designed with painstaking detail and with the highest specifications for every part of the system.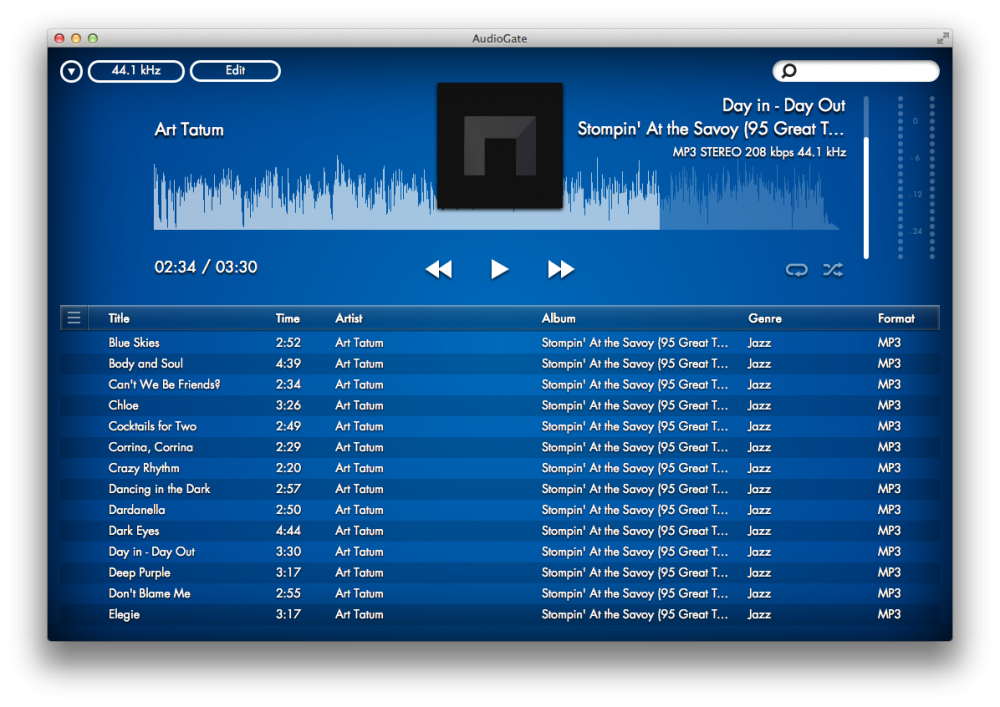 Stable, dedicated Win/Mac drivers developed specifically for AudioGate 3 and the DS-DAC series
The data on the computer must be conveyed to the DS-DAC-100 unit with as little loss as possible. KORG has developed native drivers to implement truly native playback of DSD data, where the data is conveyed via the USB cable while still in DSD format and then DA-converted within the converter unit itself. To ensure trouble-free compatibility between the playback software and the DAC, we have taken advantage of our many years of experience with DSD data to create drivers that deliver stable operation and the highest-quality playback on both Windows and Mac.


[System configuration examples]

< DSD (native) playback >
PC (AudioGate 3)-(USB)- DS-DAC-100/100m - Headphone or Audio Set
Supported audio drivers: ASIO, CoreAudio
(for both Win/Mac, when using the KORG USB Audio Device Driver)

< DSD (PCM conversion) / PCM playback >
PC (AudioGate 3/Other Player*)-(USB)- DS-DAC-100/100m - Headphone or Audio Set
Supported audio drivers: ASIO,WDM, CoreAudio.
*The system can be used with media players other than AudioGate 3.
Why does the AudioGate system sound better?

AudioGate + DS-DAC series
The AudioGate software uses the power of the computer to perform the calculations necessary for D/A conversion, as opposed to slower external hardware. This allows for ideal processing, retaining the audio's original quality.

With a decade's experience developing DSD recorder products, Korg's DSD signal processing and DSD/PCM bidirectional conversion technology yields painstakingly accurate audio reproduction without any degradation.

By developing both the application and the USB-DAC, Korg is able to ensure comprehensive audio quality, even on up-converted file formats.
PHONON SMB-02 DS-DAC EDITION FOR KORG 1Bit DS-DAC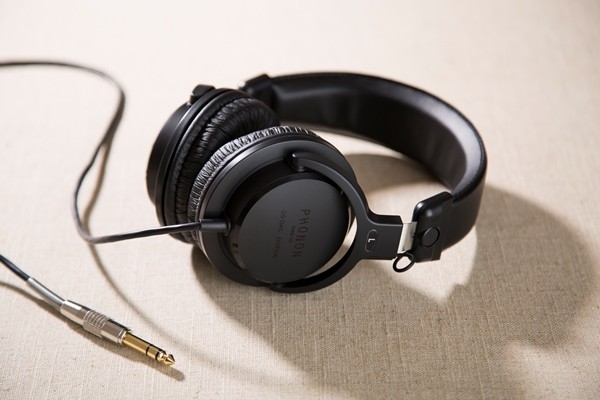 PHONON SMB-02
Phonon has developed these headphones exclusively for the KORG 1bit DS-DAC products.
- Tuning of the pro studio-use SMB-02 for the KORG DSD sound
-The very best playback experience possible by the excellent space definition, frequency and phrase characteristics of the DSD
- High precision monitoring from phonon's original know how.
- Thick but lightweight ear pads that remain comfortable even after long hours of use.
Download AudioGate and DS-DAC Setup
We use cookies to give you the best experience on this website.
Learn more
Got it