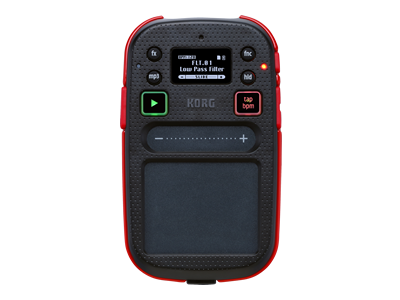 mini kaoss pad 2
DYNAMIC EFFECT PROCESSOR
Support for Your Purchase
Learn More
Related Products
Programs

100
Program Categories

Filter (15), Modulation (15), LFO (20), Delay (10), Reverb (5), Looper (20), Vocoder (5), Synthesizer (10)
Audio demo sample

6 preset loops (House, HipHop, Electro, Breaks, Dubstep, D&B)
Sampling Frequency

48kHz
AD/DA Conversion

24-bit linear
Input Connectors

Line Input (stereo mini jack type)
Output Connectors

Headphone Output (stereo mini jack type)
Data Storage

microSD card (512MB - 2GB), microSDHC card (2GB - 16GB) *SDXC card cannot be used.
Power Supply

AA batteries (alkaline battery or Nickel-Metal Hydride battery) x 2, Optional AC adapter-ready (DC4.5V – available from Korg)
Battery Life

Approx. 5 hours (POWER SAVING : ON, with Nickel-Metal Hydride battery)
Dimensions
(W x D x H)

76 mm x 128 mm x 25 mm / 2.99" x 5.04" x 0.98"
Weight

105 g / 3.75 oz. (without batteries)
Accessories

AA batteries x2 (for verifying operation)
Options

AC adapter-ready (DC4.5V – available from Korg)
* In this product installed are MP3 decoder "ISC-MP3 BF523 d Korg" developed by Institute of Super Compression Technologies, Inc. (ISCT), Japan.
* All product, company, and standard names are trademarks or registered trademarks of their respective holders.
* Appearance and specifications of products are subject to change without notice.
microSD cards confirmed to work with mini kaoss pad 2
Sandisk

2GB

SDSDQ-002G-*

4GB

SDSDQ-004G-*

8GB

SDSDQ-008G-*

16GB

SDSDQ-016G-*
Panasonic

2GB

RP-SM02GF*

4GB

RP-SM04GF*

8GB

RP-SM08GF*

16GB

RP-SM16GF*
Toshiba

2GB

SD-MF002G

4GB

SD-MF004G

8GB

SD-MF008G

16GB

SD-MF016G
Lexar

4GB

LSDMI4GB*

8GB

LSDMI8GBB*

16GB

LSDMI16GB*
Kingston

4GB

SDC4/4GB

8GB

SDC4/8GB

16GB

SDC4/16GB
Transcend

8GB

TS8GUSDHC4

16GB

TS16GUSDHC2
"*" denotes the product code extension indicating country or area.
* Manufacturers are subject to change details of operation for microSD/SDHC cards sold under any given product code. This guide does not guarantee every possible operation with regards to using microSD/SDHC cards.
* Under intense memory access (during, for example, simultaneous use of mp3 playback and MASTER RECORDER), users may experience display and or audio glitches.
* microSD/SDHC cards are subject to reduced access speed during extended use of large file numbers. This may lead to display and/or audio glitches.
* Problems may arise from microSD/SDHC cards that have not been formatted with the mini KAOSS PAD 2. Always format with mini KAOSS PAD 2 for proper operation.
* Using a higher speed class microSDHC card will not result in faster memory access when using mini KAOSS PAD 2.
Program List
Filter(15)

FLT.01 Low Pass Filter, FLT.02 High Pass Filter, FLT.03 Band+ Filter, FLT.04 72dB LPF, FLT.05 Morphing Filter, FLT.06 Vowel Filter, FLT.07 Mid Cut Filter, FLT.08 Isolator, FLT.09 Dist Isolator, FLT.10 Center Cancel, FLT.11 Radio, FLT.12 Telephone, FLT.13 Reverb Filter, FLT.14 LPF Delay, FLT.15 HPF Delay
Modulation(15)

MOD.16 Vinyl Break, MOD.17 Break Reverb, MOD.18 Jet, MOD.19 Manual Phaser, MOD.20 Talk Filter, MOD.21 Digi Talk, MOD.22 Ducking Comp, MOD.23 LowBoost Comp, MOD.24 Hard Limiter, MOD.25 Decimator, MOD.26 Fuzz Distortion, MOD.27 Bass Distortion, MOD.28 Ring Mod HPF, MOD.29 Pitch Shift HPF, MOD.30 Mid Pitch Shift
LFO(20)

LFO.31 LFO LPF, LFO.32 LFO HPF, LFO.33 Infinite Filter, LFO.34 Jag Filter, LFO.35 Yoi Yoi, LFO.36 Flanger, LFO.37 Flanger Filter, LFO.38 Infinite Flanger, LFO.39 Phaser, LFO.40 Mid Phaser, LFO.41 Step Phaser, LFO.42 Auto Pan, LFO.43 Mid Auto Pan, LFO.44 Slicer, LFO.45 Mid Slicer, LFO.46 LPF Slicer, LFO.47 HPF Slicer, LFO.48 Grain Shifter, LFO.49 Mix Grain, LFO.50 Beat Grain
Delay(10)

DLY.51 Delay, DLY.52 Smooth Delay, DLY.53 Ping Pong Delay, DLY.54 Multi Tap Delay, DLY.55 One Delay, DLY.58 Feedback Echo, DLY.59 Phaser Delay, DLY.60 Flanger Delay
Reverb(5)

RVB.61 Hall Reverb, RVB.62 Room Reverb, RVB.63 Spring Reverb, RVB.64 Pump Reverb, RVB.65 Freeze Reverb
Looper(20)

LOP.66 F/R Looper, LOP.67 Slice Looper, LOP.68 LPF Looper, LOP.69 HPF Looper, LOP.70 Iso Looper, LOP.71 Flanger Looper, LOP.72 Phaser Looper, LOP.73 Pitch Looper, LOP.74 Deci Looper, LOP.75 Break Looper, LOP.76 RwDelay Looper, LOP.77 Freeze Looper, LOP.78 High Looper, LOP.79 Backing Looper, LOP.80 OverDub Looper, LOP.81 Shuttle Looper, LOP.82 Weird Looper, LOP.83 KP2 Looper, LOP.84 KP3 Looper, LOP.85 KP3 RwLooper
Vocoder(5)

VOC.86 Unison Vocoder, VOC.87 Pulse Vocoder, VOC.88 Chord Vocoder, VOC.89 Lofi Vocoder, VOC.90 Noise Vocoder
Synthesizer(10)

SYN.91 Rez Noise, SYN.92 Pump Noise, SYN.93 Bubble SE, SYN.94 Electric Perc, SYN.95 Disco Siren, SYN.96 Kaoss Drone, SYN.97 Uni Saw Synth, SYN.98 Uni Squ Bass, SYN.99 Metallic Synth, SYN.100 SayYay Synth
Demo Loop list
1 House [120]
2 HipHop [100]
3 Electro [127]
4 Breaks [130]
5 Dubstep [140]
6 D&B [170]