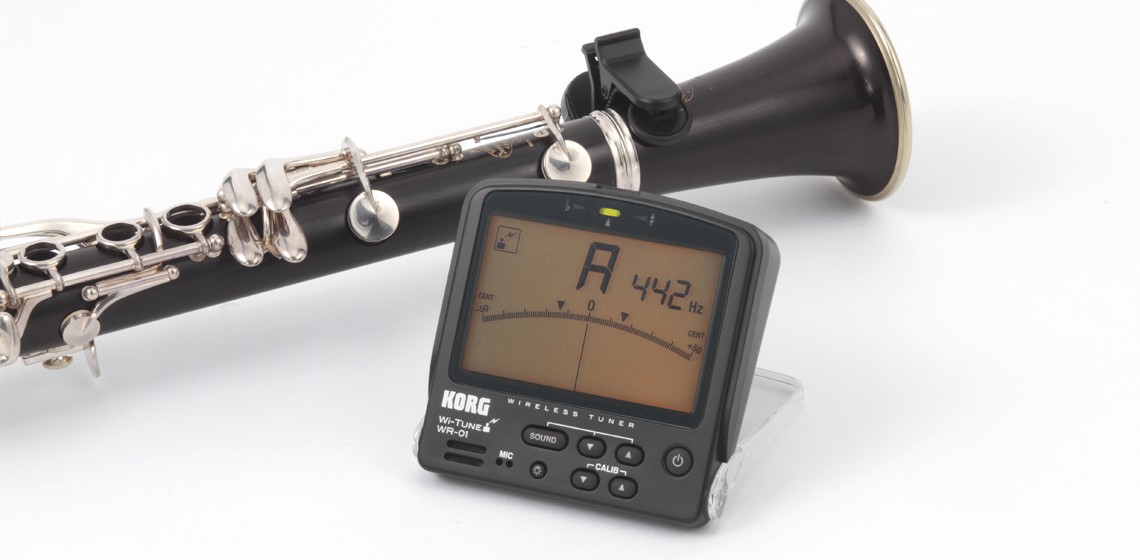 Announcing the world's first wireless tuners: The Korg Wi-Tune
Korg created the world's first hand-held tuner back in 1975. Since then, tuners have become a widely used item among musicians. Korg has continued to lead the way, creating a succession of revolutionary tuners featuring new technology and new ideas. Now, KORG announces the world's first wireless tuning system; the Wi-Tune. Using Korg's Wireless Tuning System, the Wi-Tune allows you to tune any instrument in any situation, unobtrusively, accurately, and easily. Our Wi-Tune systems are ideal for instruments such as sax, clarinet, flute, horn, or tuba; instruments where using a traditional tuner could be problematic. Wi-Tune eliminates these obstacles, allowing new avenues for practicing. Wi-Tune wireless tuning is also discreet, and can be used in nearly any musical environment.
Wireless tuning – no cable required! The transmitter clips to your instrument and sends the signal wirelessly to the tuner!
The large backlit LCD offers excellent visibility, even at a distance. The newly designed meter follows even slight changes in the sound, and provides a large note name display.
The integrated cover/stand allows the tuner to be placed on a music stand, table, or on the floor to accommodate any situation.
Two Wi-Tune packages are available:
o WR-01: Regular & small clips for guitar, brass and woodwinds o WR-01S: Includes strap for use with Saxophone, clarinet, etc.
Sound Out mode produces a reference tone from the internal speaker for tuning by ear
Internal mic allows tuning using the main unit alone
Markings indicate pure major third and minor third intervals for exceptional ensemble harmonies.
Designed to provide environmentally-friendly extended battery life.
We use cookies to give you the best experience on this website.
Learn more
Got it