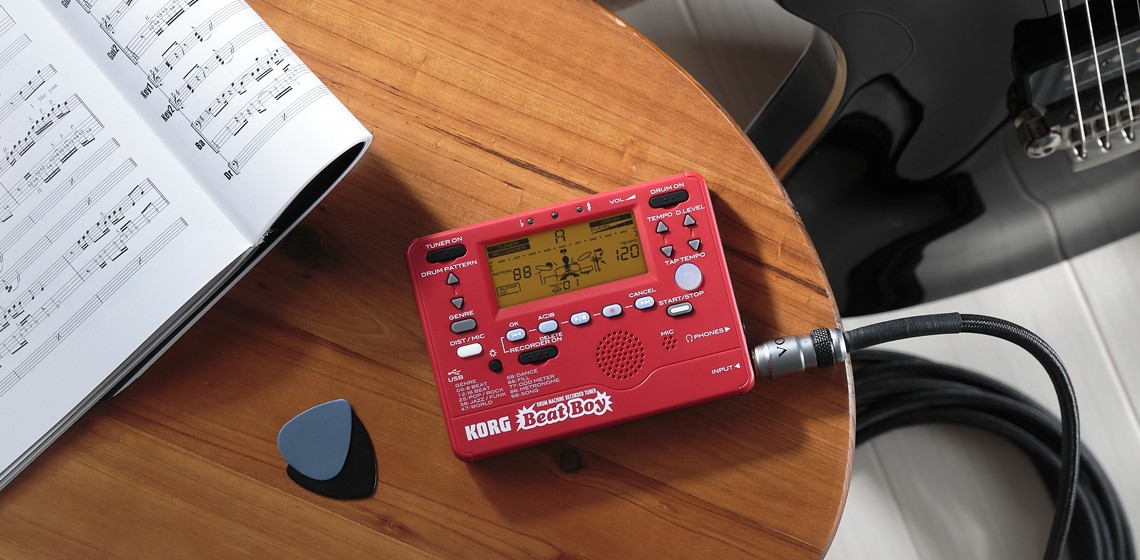 Improve your abilities easily, enjoyably and reliably!
Tuner, rhythm, effects and a recorder, all in one compact package - the new Beat Boy!
Beat Boy is packed with features that allow a guitarist or bassist to improve their abilities easily and reliably while having fun playing their instrument. The functionality of four products is packed into this single unit; in addition to a tuner, there's a rhythm machine covering 100 diverse styles, an effect section for adding sonic variation to your guitar tone, and a recorder that allows 16-bit/44.1 kHz recording of your performances. So compact that it fits easily into the pocket of your gig bag, it's the ideal partner for any guitarist or bassist.
Don't wait; let Beat Boy help you outplay your rivals!
Korg Beat Boy
Rhythm, effects, recorder, and a tuner, all in one compact package!
Perform backed by 100 full-fledged rhythm patterns
Use the tap tempo feature to adjust the tempo intuitively, or use the tempo adjustment buttons to make fine adjustments
Adjust the volume of the drum machine to fine tune the mix balance with your guitar sound
Tuner function ensures that your pitch is accurate
Overdrive/distortion effect for electric guitar
Recorder allows 16-bit/44.1 kHz PCM recording and playback
Approximately 20 minutes of recording, with a maximum of 100 tracks
USB port allows your recorded phrases to be easily backed-up to your computer
Internal mic supports acoustic instruments
Built-in speaker lets you immediately listen back to recorded sounds