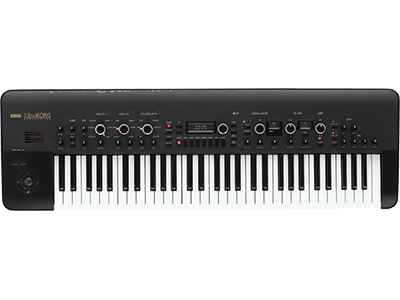 KingKORG
SYNTHESIZER
Support for Your Purchase
Learn More
Related Products
A new generation of modeling synthesizer that covers all synth sounds.
How you do imagine the synth sounds you want to use in a live performance or a recording? Do you think of favorite songs or admired artists, or freely imagine sounds within yourself? And can you create those sounds using your synth?

The KingKORG faithfully reproduces the ways in which the oscillator and filter of an analog synthesizer can change, giving you freedom to shape your sound. A diverse range of synth sounds can be covered by this single instrument.


The long-awaited black model arrives.
A stylish black model has arrived. The black panel with its array of parameter knobs expresses a reverence for classic instruments of history, and awakens the instincts of the keyboardist who wants to control the sound to their heart's content.
A full-fledged, 61-key analog modeling synthesizer designed for live performance
Powerful oscillators that are understandable to the beginner, yet satisfying for the expert
Modeling filters that reproduce the sound of classic instruments
Three master effect sections (each with six effect types) add the finishing touch to your sound
Vacuum tube driver circuit adds rich overtones and powerful distortion
New panel layout designed for intuitive operation
CV/GATE OUT jack lets you control a Korg monotribe or MS-20
Support for librarian software that lets you manage programs
We use cookies to give you the best experience on this website.
Learn more
Got it