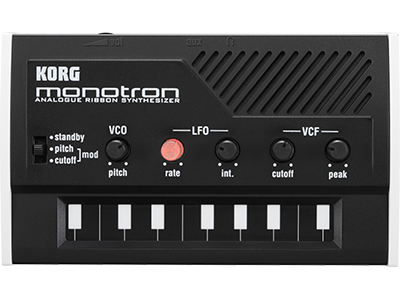 monotron
ANALOGUE RIBBON SYNTHESIZER
¿Dónde comprar?
Saber mas
Productos relacionados
Artistas relacionados
2015.05.22
Show All
Señal de audio

VCO, VCF, LFO
Controladores

VCO Pitch; LFO Rate; LFO Intensity; VCF Cutoff; VCF Peak
Conmutador LFO

Asignable al tono del oscilador o al corte del filtro
Controlador

Controlador de cinta
Volumen

Volumen de auriculares
Entrada auxiliar

1/8" Jack estéreo
Salida de Auriculares

1/8" Jack estéreo
Altavoz

Interno en miniatura; se desactiva cuando se usan auriculares.
Alimentación

Baterías alcalinas AAA (x2)
Duración de la batería

Aproximadamente 8 horas (con pilas alcalinas)
Dimensiones
(An) x (Pr) x (Al)

120 mm x 72 mm x 28 mm
Peso

95g (sin baterías)
Accesorios

pilas AAA x2
* All product, company, and standard names are trademarks or registered trademarks of their respective holders.
* Appearance and specifications of products are subject to change without notice.