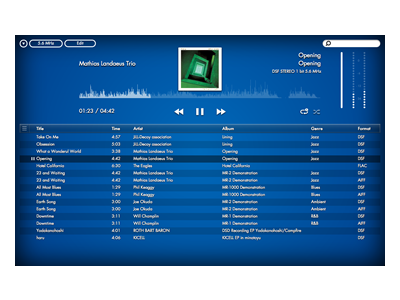 AudioGate3
HIGH DEFINITION AUDIO PLAYER SOFTWARE
¿Dónde comprar?
Saber mas
Sitios relacionados
Productos relacionados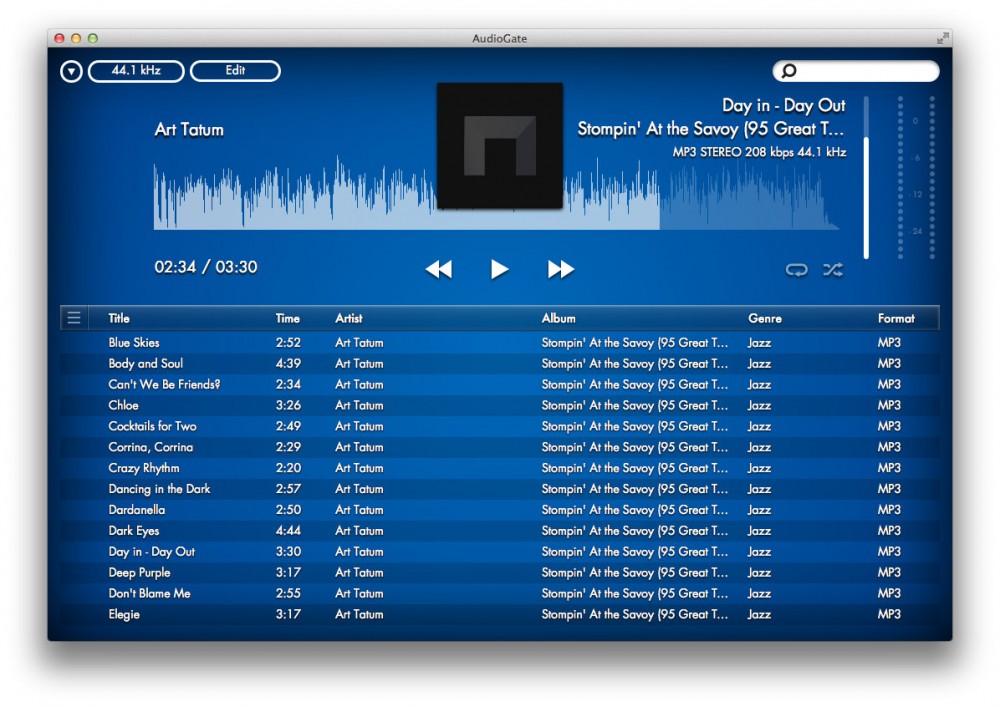 Powerful, proprietary software for handling DSD format and other high-quality files
Nacida como una aplicación de conversión de formato de audio, AudioGate fue desarrollado originalmente para convertir las grabaciones hechas en grabadores de la serie MR de KORG, para luego gestionarlas y reproducirlas en ordenadores. Hoy, ha crecido más allá de su origen como software incluido en productos de KORG y se ha ganado el apoyo de muchos usuarios de todo el mundo. AudioGate 3 ha sido completamente actualizado; añade numerosas funciones y también aumenta su funcionalidad con la serie DS-DAC de KORG. Ha vuelto a nacer como el software que está en el núcleo de la solución de la reproducción de audio HD de KORG
*After downloading AudioGate 3, connect the DS-DAC series or MR series unit and perform the license verification procedure so that you can use the software as a licensed version.

An "AudioGate 3 Lite version" optimized for playing various types of audio data is newly available for free download without authentication requirements. The lite version can be upgraded to the full version by connecting a DS-DAC series or MR series unit for license authentication, so you'll be able to smoothly take advantage of the full functionality when you purchase one of these products after trying the lite version. For details on the models supported by the lite version and for more about authentication, refer to the separate "Read Me" document.

*DSD playback via the lite version will be converted to 44.1 kHz or 48 kHz PCM for playback.
AudioGate 3 soporta la reproducción de una amplia gama de formatos de audio como 24 bits (192 / 96 kHz), 16-bit WAV, FLAC, MP3 y mucho más. AudioGate 3 es compatible con una amplia gama de formatos de archivo, desde MP3, y formatos AAC, 44.1/48 kHz WAV, así como de alta resolución como 24 bit (96/192 kHz) WAV y FLAC, además de, por supuesto, a DSD. Puedes manejar listas de reproducción que contienen varias resoluciones de bits, velocidades de muestreo e incluso diversos formatos de archivo. Además del propio DAC, el hardware USB DAC requiere un software que gestiona y reproduce los archivos de audio. Aunque el software tiene una gran influencia sobre la calidad del audio y la facilidad de uso del sistema, los productos anteriores han utilizado típicamente software desarrollado por otras empresas, o incluso freeware. El software KORG AudioGate 3* desempeña este papel para la serie DS-DAC. La instalación es fácil, y no hay ninguna preocupación sobre compatibilidad. Con KORG AudioGate 3 puedes experimentar lo mejor del sonido DSD.