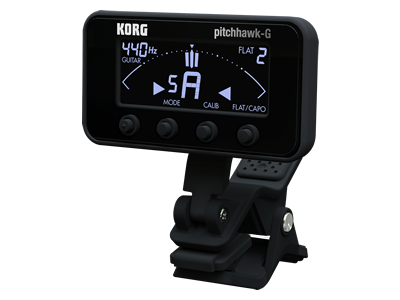 PitchHawk-G
CLIP-ON TUNER
¿Dónde comprar?
Saber mas
Productos relacionados
Noticias relacionadas
El afinador con el que puedes contar para mantener un tono perfecto
Ha llegado el afinador más reciente en gama alta de afinadores Korg: presentamos el PitchHawk-G (AW - 3G) para guitarra/bajo. La alta precisión y sensibilidad que esperas de Korg, un nuevo tipo de clip que ofrece un agarre más firme y una mayor durabilidad. También hay un brazo ajustable y rótula que proporciona flexibilidad y almacenamiento compacto, además de un nuevo tipo de pantalla que está diseñada para una alta visibilidad, una función que advierte del exceso de tensionado de la primera cuerda y una selección de versátiles modos de afinación. El PitchHawk es el nuevo estándar para todo tipo de afinadores clip.
Durante los 38 años desde el desarrollo del primer afinador del mundo de medidor tipo aguja, Korg continúa con su pionera tecnología de afinador, aplicando nuestros conocimientos a nuevas maneras de generar lo mejor para el intérprete. Este espíritu continúa con el primer afinador de tipo clip, el AW-1 (2004), seguido por su sucesor el AW-2 (2009) y ahora el AW-3 "PitchHawk". Gracias a su posición de líder en el mercado en el campo de Afinadores, Korg se compromete a seguir brindando afinadores tipo clip dignos de tu confianza.
Korg PitchHawk Clip-On Tuner: Destacando algunas características principales del afinador con clip Korg PitchHawk!
A clip-on tuner that you can attach directly to the head of your instrument.
- PitchHawk-G features dedicated guitar and bass modes and also provides flat/capo settings
Main features that deliver unprecedented ease of use
- The high precision and sensitivity that you expect from Korg
- New type of clip provides a firm hold
- Movable arm with ball joint that allows free adjustment of the angle
 - New type of display providing superb visibility that's both bright and readable from any angle
- High durability that stands up to impact and aging
- Folds up compactly for easy transport
- Easy-to-understand operation, with buttons placed on the front
 
Other features for tuning
- A limited edition PitchHawk pick holder is included (PitchHawk-G)
- Warning function helps the beginner avoid over-winding the first string (PitchHawk-G, when in guitar mode)
- Calibration function that supports all concert pitches
- The Auto Power-off function saves the battery even if you forget to turn off the unit.
- Memory backup function
Korg PitchHawk Clip-On Tuner: Don't get caught out-of-tune!
We use cookies to give you the best experience on this website.
Learn more
Got it