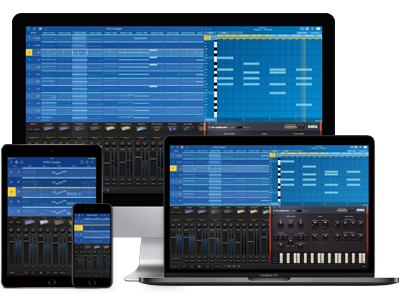 KORG Gadget
MUSIC PRODUCTION SOFTWARE
Support
Learn More
Related Sites
Related Products
The ultimate mobile instruments collection
- the all-in-one music production studio app.
KORG Gadget for iOS is a completely new mobile music production app that has won numerous awards. In conjunction with the long-awaited appearance of KORG Gadget for Mac which brings support to the desktop environment, the iOS version has also advanced to its next stage. In version 3, newly added gadgets bring audio support, elevating this iOS software to the level of a complete all-in-one production environment. In addition to interoperation with the Mac version via iCloud, and powerful functions for export to Ableton Live, new technologies have been successively included to further expand the functionality and enjoyability. It goes without saying that universal support is provided for iPad, iPhone, and iPad Pro, making this a mobile music production studio that fills all your music production needs.
KORG Gadget v2.0 - Introduction Movie
KORG Gadget v2.5 - Introduction Movie
A rich collection of Gadgets. It can be expanded by in-app purchases and via interoperation with other apps.
Long-awaited audio track support is provided, allowing you to record vocals, acoustic instruments or electric guitar.
Intuitive user interface with a dual-window two-way split that you can switch horizontally or vertically.
Universal design supports iPad / iPhone / iPad Pro.
Shared projects can be synchronized between the Mac version and iOS version via iCloud.
Powerful interoperation with Ableton Live. Data can be exported completely, including the sound settings of the gadgets. Ableton Live Lite is bundled.
Lite version "KORG Gadget Le" is included at no extra charge.
A rich collection of Gadgets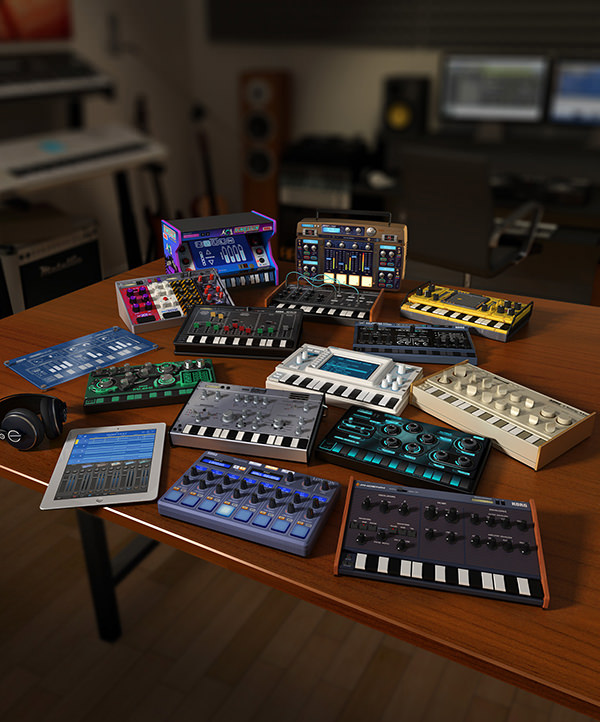 KORG Gadget for iOS comes with 15 gadgets that are indispensable for music production. In addition to numerous synthesizers that each have their own strong personality, these gadgets also include a production-ready drum machine that is ideal for producing powerful electronic music. You can also obtain expansion gadgets to update your collection, including a sampler that will accelerate your inspiration, realistic acoustic drums and bass, and video game sounds developed in cooperation with Bandai Namco Studio. In addition, users who own KORG iOS apps such as KORG Module, iM1, iWAVESTATION, and ARP ODYSSEi can use these audio sources within KORG Gadget for iOS via inter-app communication. All of these gadgets provide carefully selected parameters that let you quickly create any type of sound. KORG Gadget is the fastest way to obtain the sounds and the inspiration that you need.
Audio tracks let you include vocals, acoustic instruments and electric guitar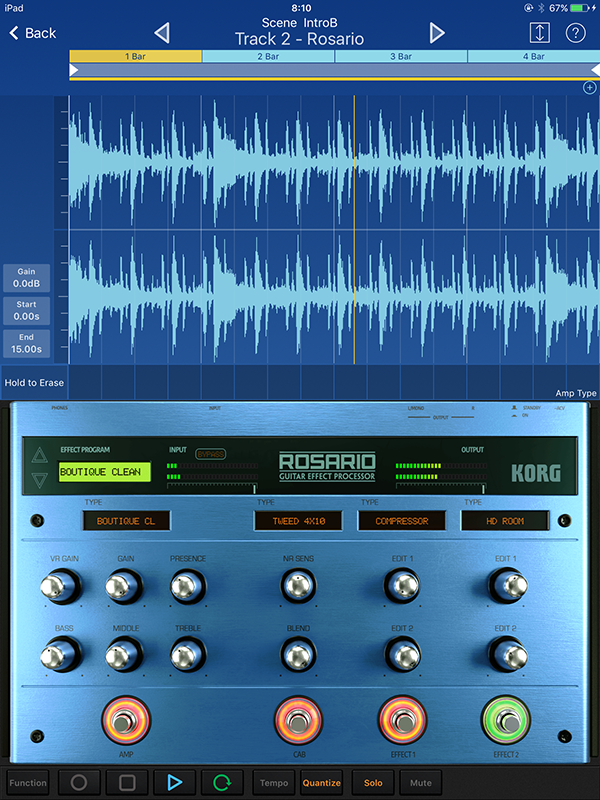 Support for audio tracks is a new and long-awaited step for KORG Gadget. There are two new audio track gadgets: the general-purpose Zurich can be used for recording sources such as vocals and acoustic instruments, and Rosario is optimized for guitar recording with a variety of effects and amp types provided. These gadgets elevate KORG Gadget into the realm of a true all-in-one production studio. In addition to recording audio, you can also import existing audio files.

Also provided is Recife, a new type of drum machine gadget with high-quality samples and 16 pads. For both audio and preset sounds, it features a high degree of freedom and widens your creative potential.
Design tracks in portrait or landscape
Intuitive workflow draws out new talents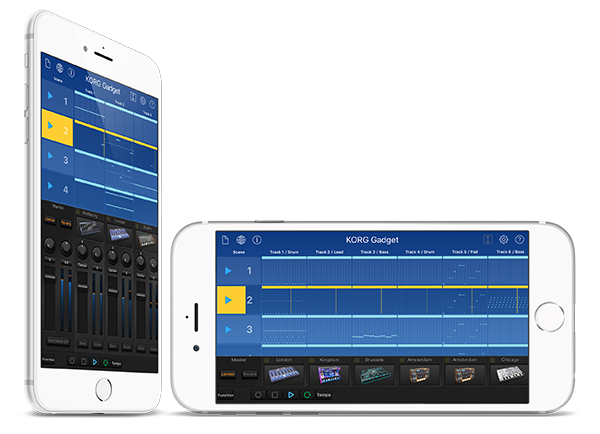 The characteristic user interface of KORG Gadget for iOS gives you an ideal music production workflow based mainly on the portrait orientation that you're familiar with. When you want to focus on specifics, you can smoothly switch to landscape orientation. This app perfectly supports either preference on the iPad, iPhone, or iPad Pro. From song production to sound design, effects, and mixing, all the steps are intuitive and seamless.

Choose a gadget, produce sounds, and combine them. This intuitive interface is what lets KORG Gadget put you in touch with the qualitative core of music production as quickly as possible, making new talents blossom within you. With a workflow that lets you flexibly move between various platforms such as Mac, iOS, and the plug-in collection, every creative artist can now complete their songs without losing inspiration or motivation.
Produce music more freely without location limitations
An ideal choice as a second DAW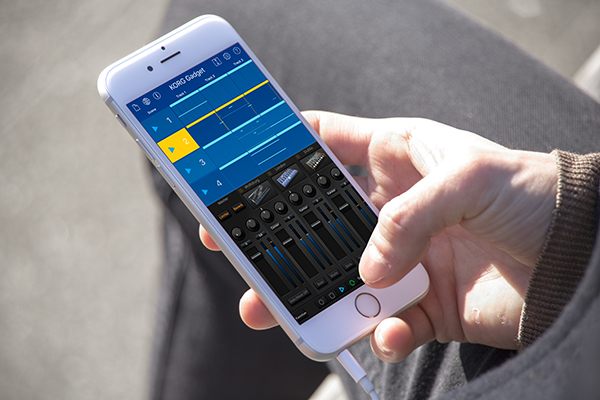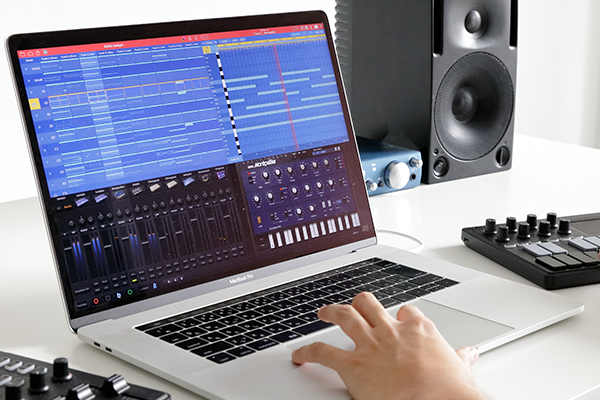 If you run out of ideas while producing a song, try taking KORG Gadget for iOS somewhere that you find inspirational. KORG Gadget for iOS liberates you from limitations of location, allowing you to create and capture song ideas anywhere. These ideas can be saved as MIDI or as audio. And the working project can be synced seamlessly with Mac version through iCloud to allow a smooth transition to your desktop system. Wherever you go, take KORG Gadget for iOS along as the ideal partner for inspiration.
Finish your demo sketches in Ableton Live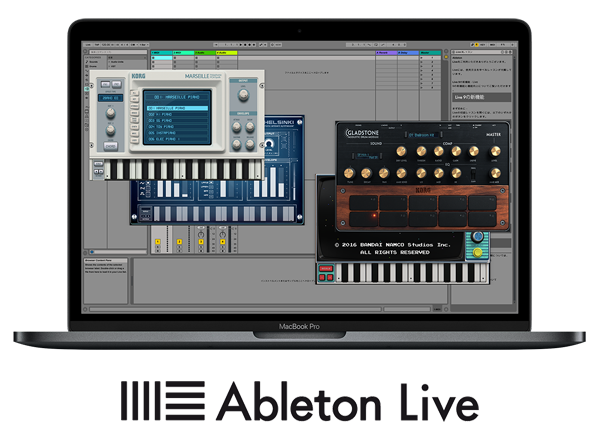 Among the numerous export functions provided by KORG Gadget, special mention goes to the high degree of interoperability with Ableton Live. You can export data as a project file specifically for Ableton Live, so that each of KORG Gadget's tracks can be loaded into the appropriate tracks and scenes of Live. Data can be exported not only in audio file format as before, but now also in a MIDI file format that includes the sound settings of each gadget. If you also own the Mac version, unification via the plug-in collection means that your KORG Gadget sequences will be perfectly reproduced in Live. By seamlessly transitioning between production environments, you can shape your ideas into a finished composition. Even if you don't own Ableton Live, "Ableton Live Lite" is bundled with KORG Gadget for iOS at no extra charge.
Share songs to connect with users around the world
Expect the birth of new collaborations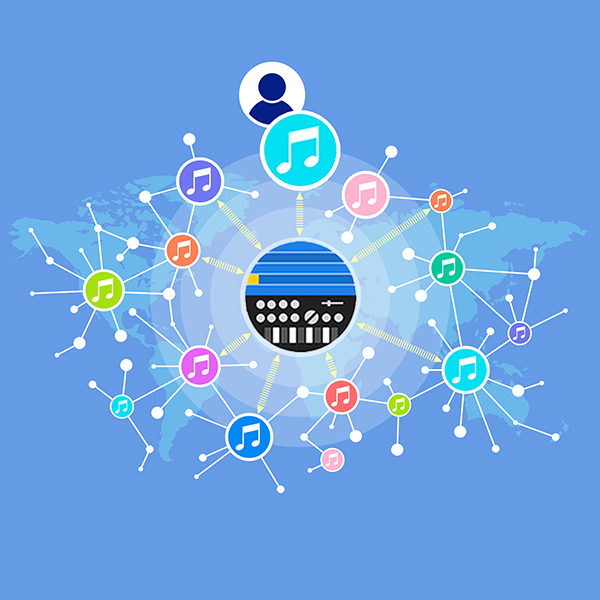 Songs that you create using KORG Gadget can be shared using a variety of music sharing services around the world. "GadgetCloud (*1)" provides numerous opportunities for you to test your skill as a musical creator; you can submit your tracks for recommendation by KORG or enter them in contests, and there's also a ranking system. You can also directly upload your tracks anywhere, including to SoundCloud, Facebook, or Twitter.

*1 GadgetCloud is based on SoundCloud, the cloud service that's supported by creative artists worldwide. You will need a SoundCloud account.
Digital jam session with Ableton Link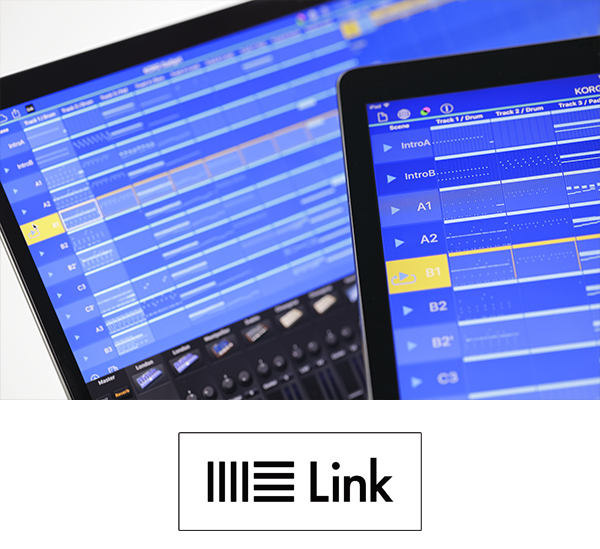 KORG Gadget gives you even more ways to communicate via music. Since it supports Ableton Link, you can enjoy playback and jam sessions that are synchronized between your software, compatible apps, and multiple devices connected via a network. Sessions using your favorite sounds and songs can be shared with your friends.
Close interoperation with MIDI controllers
Accelerate the pace of your music production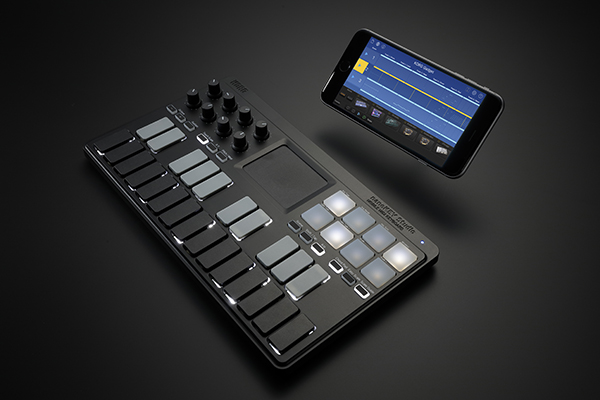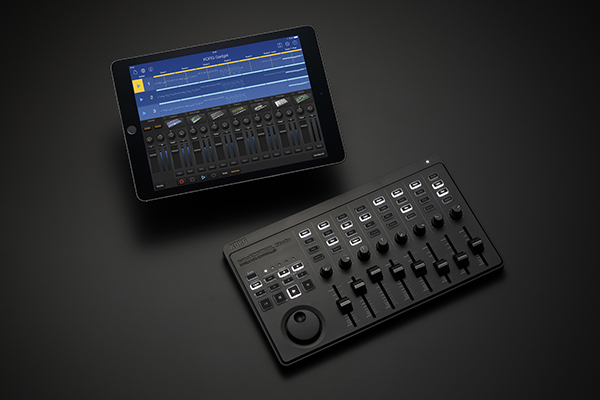 Take advantage of a lineup of MIDI controllers that fully exploit the potential of KORG Gadget. The wirelessly-connected nanoKEY Studio or nanoKONTROL Studio will further speed up your step recording and mixing. Native support is provided, so you can enjoy perfect interoperation from the moment it's connected, and utilize its wide range of inspiration-expanding functions. Additional choices include the microKEY Air, a full-fledged mini-keyboard that also allows wireless connection, the compact and convenient nano series, and plugKEY as mobile MIDI/audio interface. You're sure to find the MIDI controller/interface that's perfect for your production style.
A fusion of cutting-edge iOS technology;
The music production revolution starts with mobile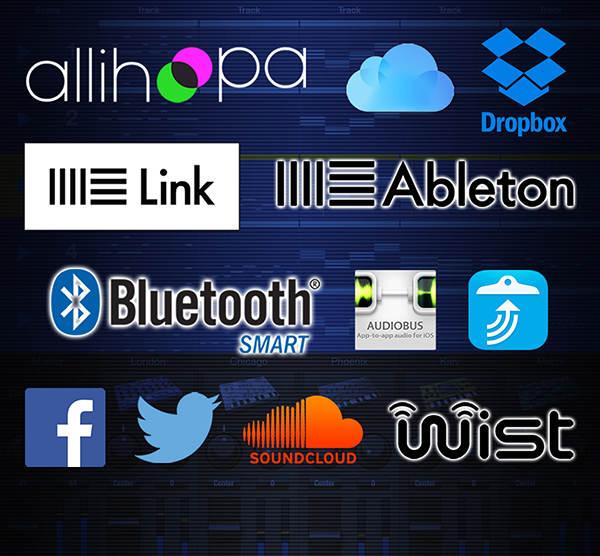 KORG Gadget links with numerous cutting-edge technologies, continuing to evolve so that you can enjoy an ever-more convenient and ideal music production environment. With KORG's MIDI controllers you can connect wirelessly via Bluetooth and synchronize for performance via Ableton Link. Audiobus and Inter-App Audio also allow audio routing between apps. AudioCopy, AudioShare and Dropbox transfer audio materials. Ableton Live Lite is bundled, allowing you to export your project to Ableton Live at no additional cost. Completed songs can be uploaded to SoundCloud, or other social network services. Next-generation music technology has always been part of iOS which is the world's most cutting-edge platform, and KORG is going to stay an essential part of iOS.
Experience KORG Gadget with a free, lite version
Unlock functionality with a KORG MIDI controller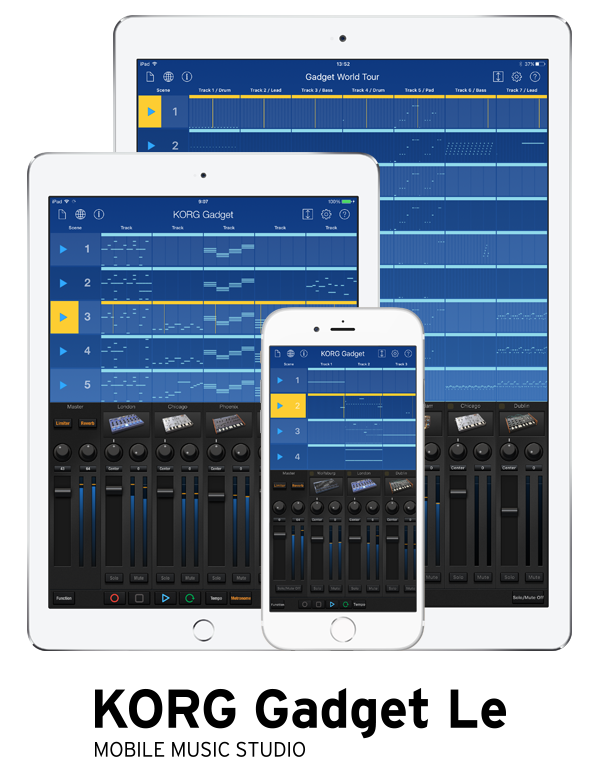 To give a glimpse into the amazing power of KORG Gadget, we have provided KORG Gadget Le - a lite version of iOS app available free of charge. Although there are limitations to the number of gadgets and tracks that you can use, it's the easiest way for you to experience our amazing mobile music production for yourself. Connecting KORG Gadget Le to a KORG MIDI controller (*1) or interface such as the nano series, nano Studio series, microKEY series or plugKEY will expand some of the functionality that's available for you to use (*2). For details, refer to the comparative table of functionality.

*1 Please refer to KORG Software Bundle page for the products list.
*2 Please refer to the Specifications page for a comparison of KORG Gadget features.
KORG Gadget for iPad - Introduction Movie
KORG Gadget for iPad - Performance Movie
KORG Gadget for iPad - Image Movie

KORG Gadget for iOS is available for download purchase from the App Store.