News FREE Gifts with selected KORG products in May & June 2021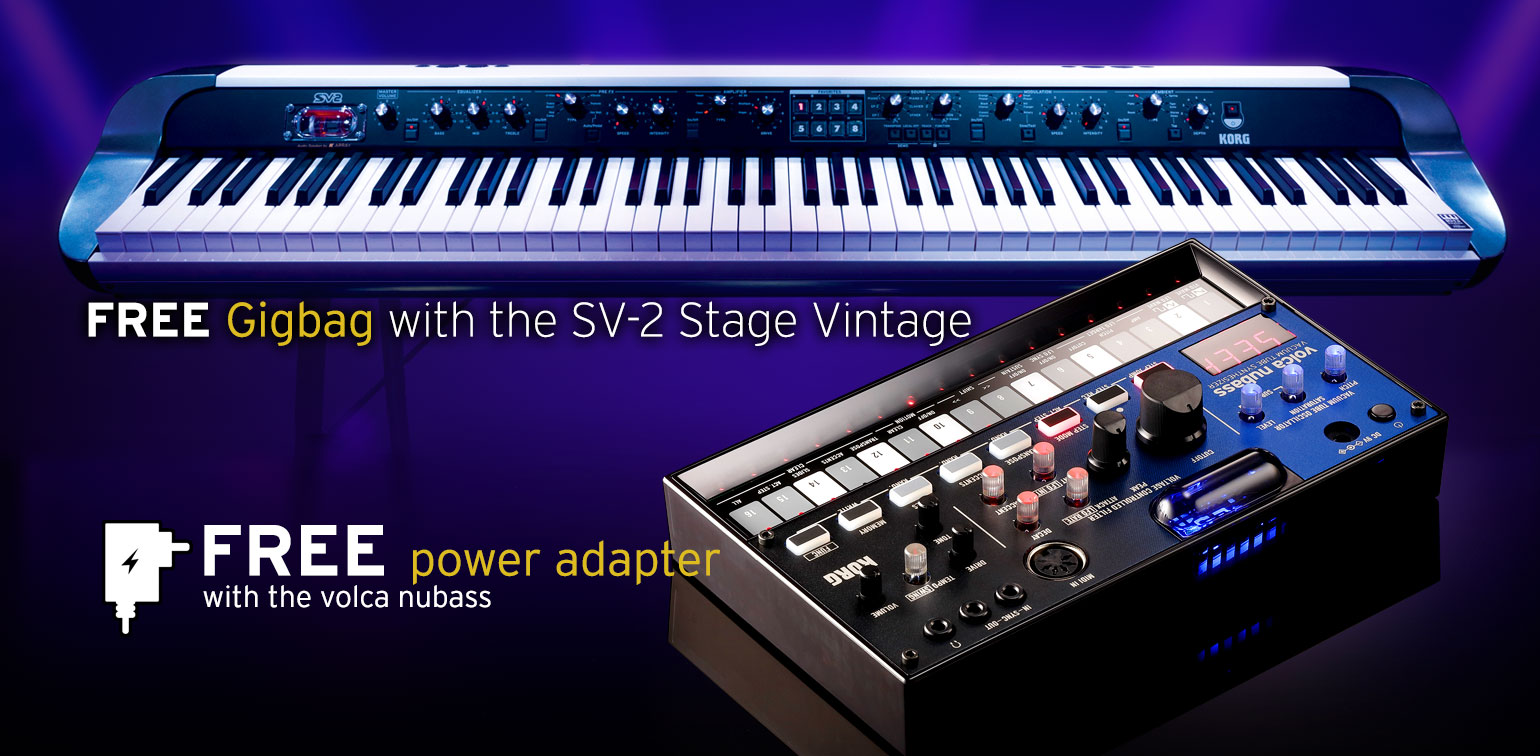 FREE GIFTS WITH SELECTED KORG PRODUCTS
During May and until June 25th we're giving away some free stuff when you purchase either the volca nubass or any of our SV-2 stage pianos. With the SV-2 you can claim a free bespoke rolling soft case for either the 73 or 88 key model, worth £135 and £145 respectively. And, with the nubass there is a free KORG power adapter to keep it running without the need for batteries. Just purchase from a KORG UK retailer then submit the online
claim form
. Or if you buy from shop.korg.co.uk, there's no need to claim as your order will automatically include the free item.
Qualifying Product: volca nubass, SV-2 or SV-2S (both 73 & 88 notes models)
Promotion Period: Purchase a new qualifying KORG product from a participating authorised KORG (UK) LTD dealer*, between 1st May 2021 and 25th June 2021.
To qualify for the offer, please ensure that you:
1. Purchase a new qualifying KORG product within the promotion period from a participating KORG UK dealer in the UK or Ireland
3. Complete and submit
this form
together with an attached scan/picture of the dated itemised sales receipt for the KORG qualifying product from your dealer.
Please submit your entries no later than 30th July 2021.
T&C apply
.
If you experience any issues, you may also download a
claim
form and send it to KORG UK Ltd.
The free item can only be sent to addresses in the UK or Ireland and will be dispatched within 28 days upon receipt of a qualifying claim.
* Only valid on purchases from a participating and authorised KORG (UK) LTD dealer* in the UK or Ireland.

Please be aware that buying online from a site with a .co.uk domain ending does not necessarily confirm that the dealer is a genuine UK based dealer authorised by KORG UK LTD.
If there is any uncertainty, please don't hesitate to contact KORG UK for verification (Tel 01908 304600 /
info@korg.co.uk
).