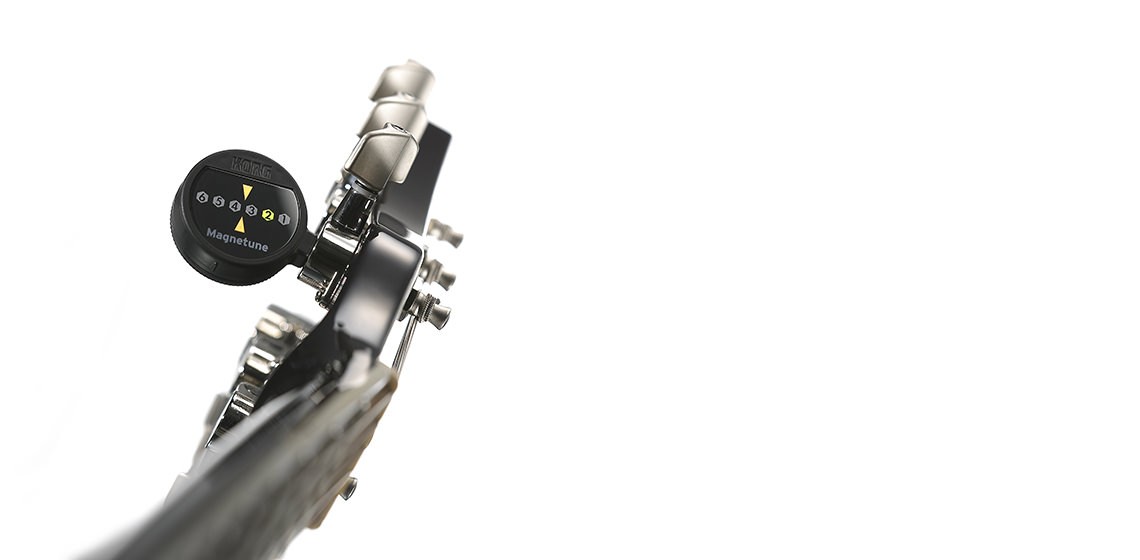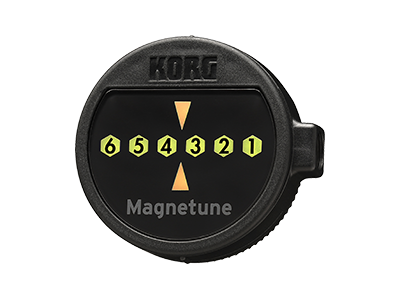 Magnetune
GUITAR TUNER
Learn More
Related Products
No clips needed, Magenetune magnetically attaches to your guitar!
Turn it on and magnetically attach Magnetune directly to your guitar's tuning pegs or strap button and tune your instrument. Leave it on your guitar to easily tune while performing, attach it to your music stand, or just throw it in your pocket. Magnetune is the most straightforward guitar tuner ever.
Its magnet rotates 360 degrees to support any viewing angle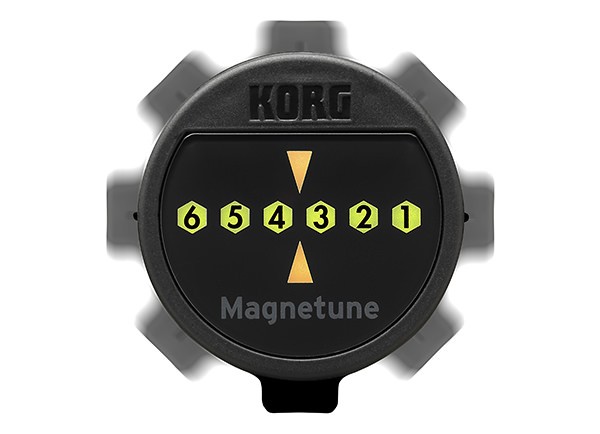 A movable ring allows the magnet to be rotated 360 degrees. This allows you attach the unit not only to left-handed guitars, but also to any metallic portion of your guitar, so you can tune with the conveniently at any angle.
LEDs indicate the string number, tuning direction, and amount of discrepancy
An LED indicates the string number that's closest to the string you play, letting you know at a glance which string is being tuned. When you've reached the precise pitch, the upper and lower LEDs will both illuminate. The upper LED blinks if you're sharp, and the lower LED blinks if you're flat. The LED will blink more rapidly as the string gets farther from the correct pitch, and will slow down as you approach the correct pitch.

Compact size and lightweight body
The diameter is just 1.3 inches (33 mm), just slightly larger than a soda bottle cap and about the size of a wristwatch. When attached to the back of the tuning pegs, it's virtually invisible from the crowd, so it won't take away the natural aesthetic of your instrument. Since the clip has been eliminated, the weight with battery installed less than an ounce (Just 11 g)! It is easy and quick to attach Magnetune to your guitar, it is so light that you won't even feel its weight. The display is easy to read while you are playing!
Simplicity allows for long battery life
The Magnetune's simple design focusses on the essentials, enabling it to provide continuous operation of approximately 30 hours! After three minutes of silence, the auto power-off function turns off the power automatically, so you'll hardly ever have to think about changing the battery.
We use cookies to give you the best experience on this website.
Learn more
Got it