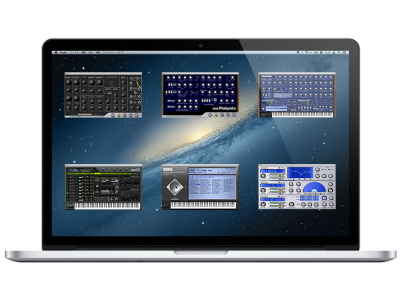 KORG Legacy Collection
Support for Your Purchase
Learn More
Related Products
Mono/Poly software synthesizer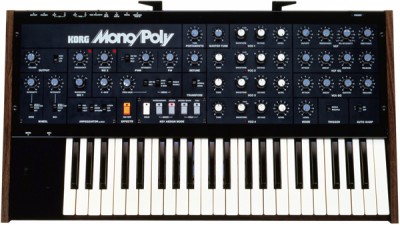 Mono/Poly(Introduced in 1981)
The Mono/Poly is Korg's four-VCO monophonic/polyphonic synthesizer that went on sale in 1981 and was considered the culmination of Korg's experience building analog synthesizers. It was released at the same time as the Polysix, and because of their capabilities as well as their price, these two instruments caused a revolution in the synthesizer world. Many musicians acclaimed the Mono/Poly as Korg's best synthesizer yet, with a number of unique characteristics. It provided four VCOs, each providing adjustable pitch, waveform, octave, and level, which could be stacked together for massive sounds, or cycled through one at a time for constantly shifting timbres. Together with one VCF, one VCA, two EGs, and two MGs it provided a powerful yet accessible programming structure. But by far, its most signature characteristic was the Synchro and Cross Modulation functions that could run dual, or four-way cascaded modulation routings for creating revolutionary and aggressive tonal effects. It also featured the same futuristic Chord Memory and Arpeggiator functions as the Polysix. This diversity of parameters could be used to create an incredible universe of sounds ranging from thick and rich to sound-effect-like.
Along with being a complete reproduction of the original Mono/Poly, this new software version extends the Mono/Poly to its ultimate form. It features an amazing 128-voice polyphony with up to 16-voice unison, and a powerful eight-way virtual patching matrix. The virtual patch functionality lets you use 159 different modulation sources such as MG, EG, velocity, and keyboard tracking to modulate 35 different destinations such as oscillator pitch, level, filter, MG, or EG, giving you an awesome capability for creating complex and diverse sounds. Two integrated multi-effects provide 19 effects including compressor, limiter, overdrive, chorus, delay, reverb and more. All effects are editable and many provide dynamic modulation possibilities. 128 effects presets are included to speed up your sound creation and music production fun.

All of this means that the Mono/Poly software synthesizer succeeds in establishing its own unique sound that cannot be produced by any previous analog synthesizer or any current analog modeling synthesizer.

256 new Mono/Poly sounds developed by a worldwide team of synth programmers and remix artists are included, and will spark your imagination and become the sounds of a new era.