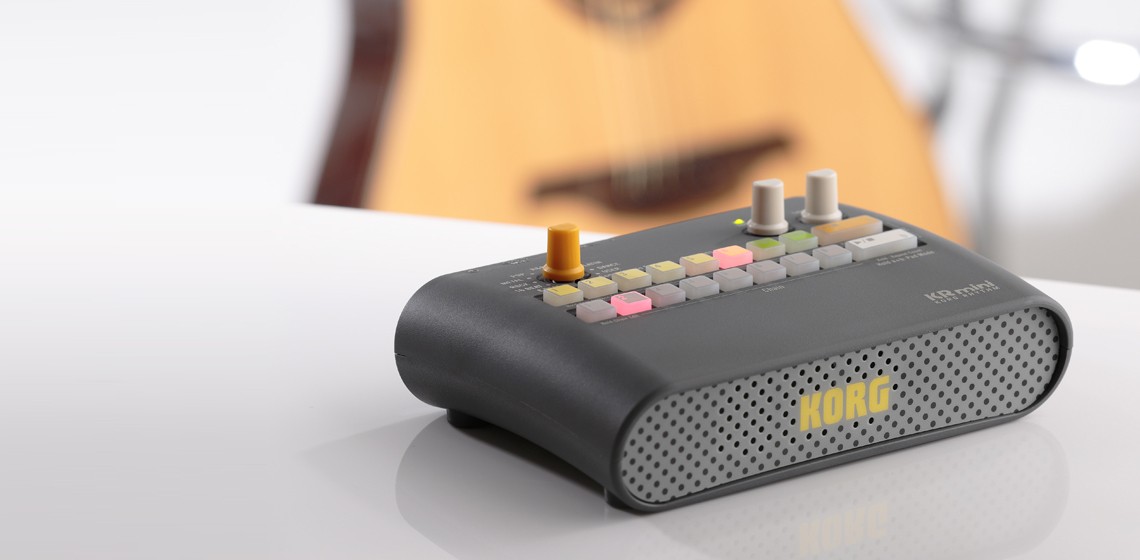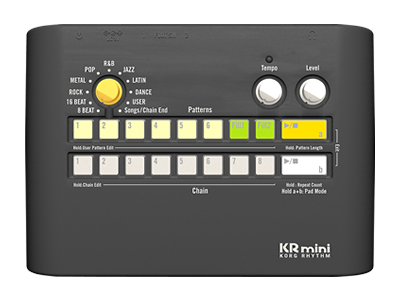 KR mini
KORG RHYTHM
Support for Your Purchase
Support
Related products
Your trusted rhythm partner
Power-up your practicing with diverse rhythm patterns!
A great companion for practicing guitar, bass, acoustic guitar, winds, or any type of instrument!
The KR mini - an easy, simple and compact rhythm machine with a built-in speaker and optional batter power for play-anywhere convenience!

Too many of today's rhythm machines are too complex to use. Many musicians wish that they could enjoy casually performing while being backed up by real rhythm patterns rather than just a metronome.
Korg has responded to these wishes with the KR Mini rhythm machine. It features a simple design that eliminates all complex functions, looks that overflow with nostalgia and analog-like controls. Playing a rhythm pattern is easy and intuitive; just press or strike the pads and turn the knobs. Although operation is simple, there's no compromise with the sound. A total of 60 diverse rhythm patterns are ready to accompany you. Easy, simple and compact, the KR mini can play its role anywhere; it's the rhythm machine that many musicians have been waiting for.
KR Mini: Energize your practices and performances with diverse rhythm patterns!
Easy and simple design; just select a rhythm pattern and press the play button
Chain function lets you arrange your favorite rhythm patterns and fill-ins to create complete songs
Optional foot switch lets you control fill-in/start/stop hands-free
Tap the 16 pads for finger drumming or recording your own performances
Built-in speaker with 2W output helps you jam anywhere without the need for an additional monitor
Headphone/speaker jack for quite practice or connection to an external monitoring system
Two-way power; use the AC adaptor or batteries (AA alkaline batteries x 3)