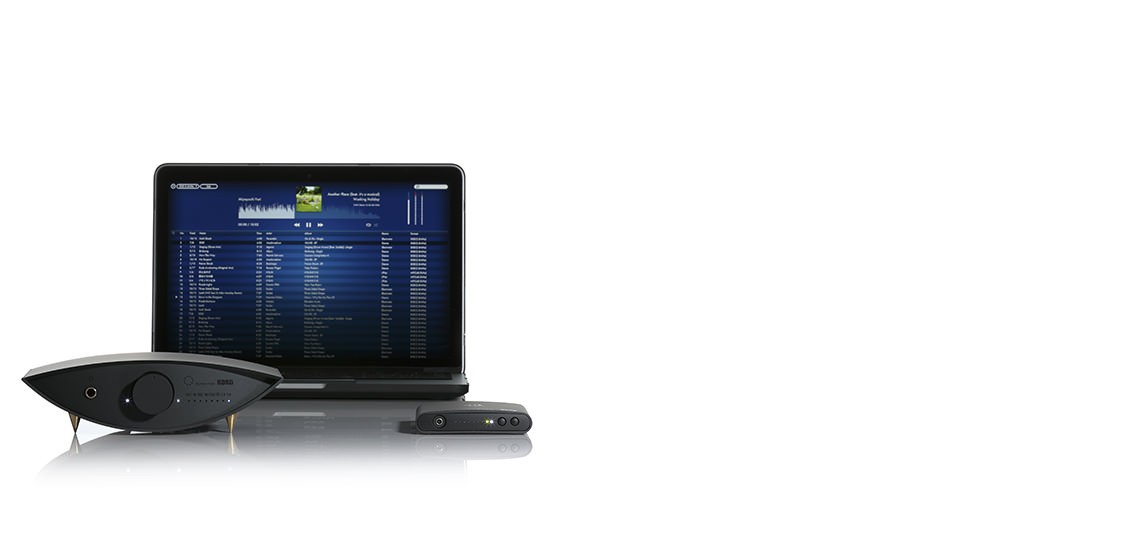 The AudioGate 3 Player v3.0.1 is now available for free download here.
AudioGate 3 will be available on May, 2014.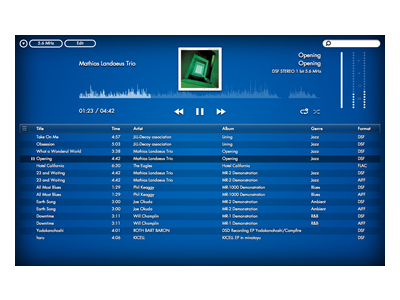 AudioGate3
HIGH DEFINITION AUDIO PLAYER SOFTWARE
Support
Related products
1. The AudioGate 3 Player software can be used by anyone, but a "KORG DS-DAC or MR series product" is required in order to activate the software.
*Users who do not own a KORG DS-DAC or MR series product can only use the lite version. Please refer to the Activation section below for more info.
2. Please install the DS-DAC Driver first.
3. Also, please read
the latest AudioGate System requirements
before you install the software.
4. If you need to use functions such as file editing, please keep using AudioGate v.2.3.3 until version 3 is completed and available for download.
KORG Inc. and KORG distributors in other countries are not responsible in any way for accidents or problems with KORG products or other peripheral devices that may arise as a result of a download.
The Licensed Program contains copyrighted information. For the purpose of protecting such copyrights, you may not decompile, disassemble, reverse engineer, or otherwise reduce the Licensed Program to a human-perceivable form (save as may be permitted by law). You may not duplicate, alter, modify, rent, lease, resell, assign, loan, sublicense, distribute the whole or part of the Licensed Program, or make derivative works based on what is contained in the Licensed Program. You may not transfer the Licensed Program to another computer through a network. You may make only one backup copy of the Licensed Program, which you are only allowed to use for the purpose of restoring the Licensed Program.
KORG, in no event, will be liable for the direct, derivative, collateral or consequential damage caused by the use of or the inability of using the Licensed Program (including but not limited to damage of data, lost commercial profit, interruption of work, lost commercial information), regardless of the degree of damages, and even if KORG was aware of the possibility of such damages or the possibility of a claim for damage from a third party in advance.
By downloading the software, you are agreeing to the terms set out in the agreement above. It is therefore important that you read this licensing agreement with care before using the software.
■Changes and revisions in v3.0.1 from v3.0.0 (as of March 31, 2014)

Improvements:
- "Eject Disc" has been added to "Control" menu.
- "Add iTunes songs" function adds songs into not only "Library" but also a current playlist.
- Artwork is always displayed without being trimmed regardless of its shape.
- The actions of the scroll bar of the song list or playlist have been improved.

Bug fixes:
- The following problems have been fixed.
- If you add the symbol for inverted commas or quote marks (") to the name of a playlist, title or genre, they may not be displayed, or the software may quit unexpectedly, which can lead to additional problems.
- When you add a large number of songs to a playlist, the software may quit unexpectedly when you delete the target playlist.
- When a large number of songs (more than 2,000) are registered in the library or a playlist, operation of the software slows down dramatically, and its overall performance will degrade.
- Changes to the Disc name on the sidebar were not reflected on the album title in the song list.
- Certain shortcut keys did not respond correctly.
*When you use shortcut keys on a Windows based computer, please set the keyboard input mode to "half-width alphanumeric".

Some minor bugs have also been fixed.
Install
Prior to installing the AudioGate 3 Player software, please install the DS-DAC Driver. Do not connect the DS-DAC/MR product until after the driver is installed. Please install AudioGate 3 Player as per the installer's instructions.
Install on Mac OS X Lion/Mountain Lion/Mavericks
If you have a problem installing AudioGate 3 Player on those Operating Systems, please refer to
the FAQ.
Activation
For activating the AudioGate 3 Player software, a KORG DS-DAC or MR series product is necessary.
Please read the ReadMe document that's included with the downloaded files.

*Users who do not own a KORG DS-DAC or MR series product can use only the lite version. They are also subject to the following limitations.
1) User support will not be available from Korg Inc. nor from its regional and international Distributers.
2) Output Sample Rate will be limited to only 48 kHz and 44.1 kHz.
3) Real-Time Conversion will be limited to light load only.