News Free KRONOS Masterclasses
Free KRONOS Masterclass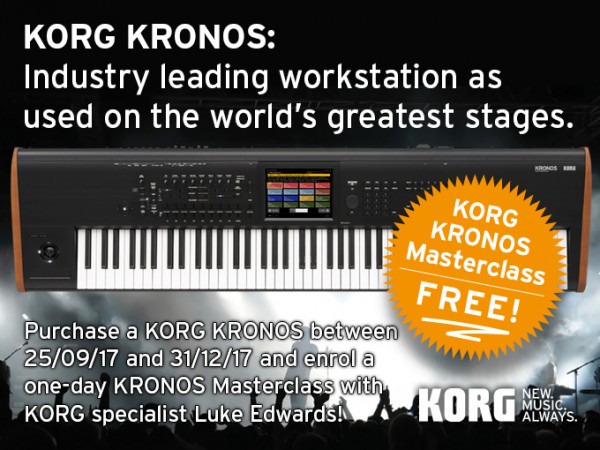 Purchase a new KORG KRONOS Workstation from a participating authorised KORG (UK) dealer between September 25th 2017 and December 31st 2017 and you can enroll on a Free KRONOS Masterclass worth more than £100
As a new owner of a KORG KRONOS you will want to explore the seemingly endless capabilities that this workstation has to offer. The KRONOS Masterclasses help you achieve this and are the ideal way to get the most form your KRONOS.
These hands-on training sessions are with KORG specialist Luke Edwards and are one-day events available on a choice of several days.
The Masterclasses are suitable for all playing abilities and will cover areas such as sound editing, sampling, programming, sequencing, using the Set List live & working with the KRONOS Editor. There will also be a Q&A session.
The Masterclasses take place at KORG's UK headquarters in Milton Keynes and have been specially arranged for new KRONOS owners who have purchased their keyboard between September 25th 2017 and December 31st 2017. The dates available to attend are Tues 15th, Wed 16th & Thurs 17th January 2018 and must be pre-booked online.

Sessions are limited and the demand can be high, so please book early to avoid disappointment.

Please use our online form to claim your FREE KRONOS Masterclass place.
CLICK HERE
.