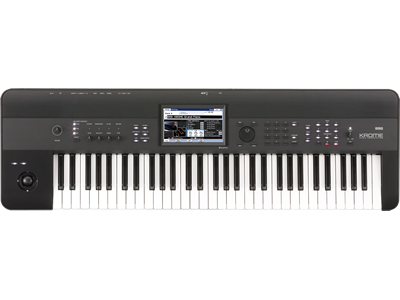 KROME
MUSIC WORKSTATION
Supporto per il suo acquisto
Per saperne di più
Siti correlati
Prodotti correlati
On Stage. On the Go. On Top.
Grazie all'implementazione di un nuovo suono di pianoforte gran coda da concerto accuratamente campionato nota per nota, senza ricorrere a Loop sui campioni, questa nuova tastiera KORG ridefinisce lo standard qualitativo per gli strumenti di questa classe.
KROME prende il nome da una parola greca che significa "colore", e rappresenta il nuovo riferimento d'eccellenza sonora per le tastiere utilizzate dal vivo, fornendo una gamma illimitata di suoni e viva ispirazione alla vostra musica!
The KROME, KORG's premium standard in music workstations, is now available in a new eagerly-awaited color. With superb sound that overturns expectations for its class and a stylish new platinum color, this model is the perfect way for you to stand out in your music production or on stage.

A limited number of KROME Platinum units will be sold.

* All specifications other than color are identical to the KROME model with the corresponding number of keys.
Memoria PCM ad alta capacità 3.8GB
Suoni di piano acustico e batteria derivati da KRONOS, con campioni senza Loop, nuovi suoni di piano elettrico di grande impatto dinamico.
La Workstation Korg ideale per ogni tipo di stile ed esecuzione pianistica
Pianoforti elettrici con 8 livelli di controllo dinamico (velocity switching), per una intensità espressiva senza pari.
Suoni di Batteria con suoni di qualità da studio, con la possibilità di regolare l'ambiente naturale di ripresa.
Drum Track per la riproduzione di Groove ritmici, realistici e di grande utilità musicale.
640 Program, 288 Combi, già a bordo sapientemente realizzati dai Sound Designer KORG
Pannello dal design esclusivo realizzato in alluminio d'alta qualità.
Controllo chiaro ed intuitivo tramite Display a colori Touch View™ da 7''.
Porta USB per il collegamento al computer, Slot SD Card per la memorizzazione dei dati
KROME Software Editor per l'editing dei suoni da computer.