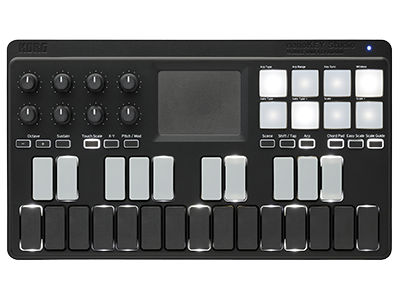 nanoKEY Studio
MOBILE MIDI KEYBOARD
Per saperne di più
Siti correlati
Prodotti correlati
Un controller "An all-in-one" di grande ispirazione, collegabile via MIDI, USB o Wireless
nanoKEY Studio mette a vostra disposizione una tastiera, manopole, Pads, Touch Pad, e permette di trasformare immeditatamente le idee musicali in suono. Funziona a batterie, e può essere collegato Wireless ad iPhone/iPad, o ad un computer Mac/Windows, è estremamente compatto e leggero, può essere usato in viaggio o ovunque ne abbiate bisogno.
Rende praticissimo lo Step Record, con 25 tasti retroilluminati!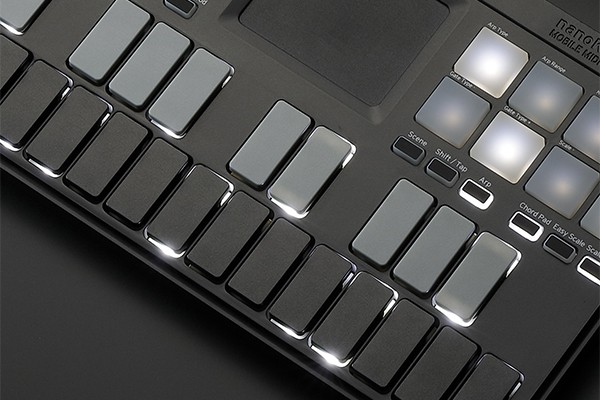 Questo controller è concepito in modo molto intelligente, e dispone di alcune interessanti funzioni per aiutare il musicista neofita, come: "Scale Guide" che illumina i tasti in corrispondenza delle note consigliate di una scala, rendendone più semplice l'esecuzione, oppure "Easy Scale" che consente la riproduzione di frasi musicali usando qualsiasi tasto. Inoltre i 25 tasti sensibili alla Velocity sono di grande aiuto nella registrazione "Step by Step", anche se non siete tastieristi esperti.
Maggiore libertà nel produrre musica via USB o Wireless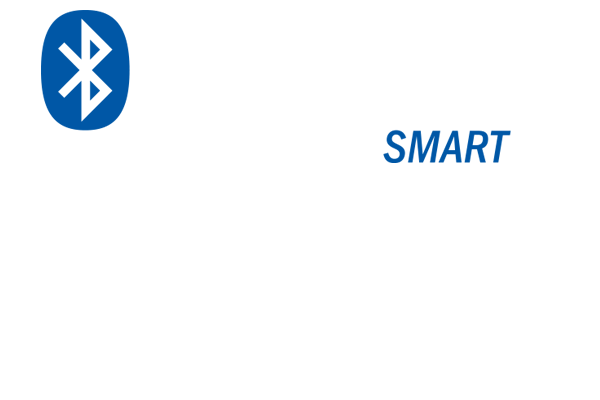 nanoKEY Studio può essere collegato non solo via USB ma anche Wireless. E' possibile quindi collegarsi facilmente e senza fili ad iPad/iPhone usando App musicali come: KORG Gadget, KORG Module, e GarageBand, così come ogni Software di produzione MIDI compatibile con il vostro Mac o Windows. L'accurata messa a punto delle funzionalità Bluetooth si traduce con elevata stabilità, bassa latenza, e nessun cavo collegato.
Grazie al design leggero e compatto può essere posizionato ovunque e trasportato facilmente
nanoKEY Studio è più piccolo di un foglio di carta, e può essere quindi facilmente riposto in una borsa e portato ovunque. Grazie al suo design elegante e raffinato, e all'illuminazione a LED, è il controller ideale per esser usato con i nuovi dispositivi con computer portatili, Tablet o Smartphone.
Crea un sistema avanzato di produzione musicale mobile con iPad/iPhone e nanoKEY Studio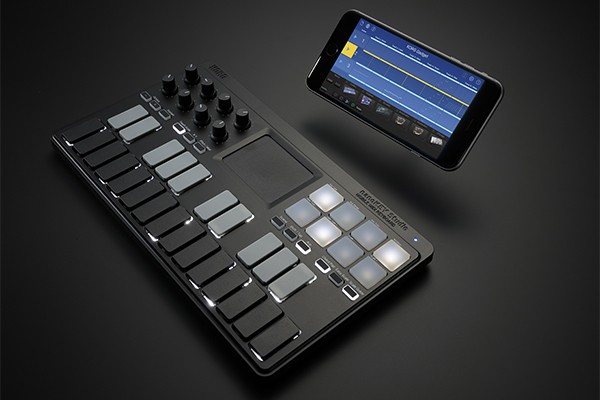 The combination of the nanoKEY Studio with KORG Gadget is the ultimate combination for mobile performance. The nanoKEY Studio supports wireless connection via Bluetooth MIDI, so your iPhone can instantly transform into a powerful music production tool. KORG Gadget has a special native mode exclusively for the nanoKEY Studio. Simply by connecting KORG Gadget, the most appropriate controls for MIDI assignment on your nanoKEY Studio are completed automatically. At home, in a coffee shop, in transit, or outdoors, you can quickly immerse yourself in making music in minimal space.
8 "Trigger Pad" ad alta sensibilità utilizzabili per inserire parti percussive o accordi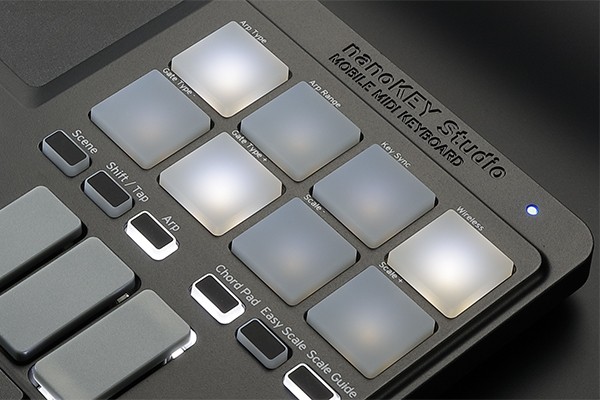 Gli 8 "Trigger Pad" ad alta sensibilità sono in grado di trasmettere ogni sfumatura dinamica dei suoni percussivi. La funzione Chord Scale, assegna automaticamente l'accordo più pertinente al tasto suonato, ed alla tonalità impostata, in questo modo ogni brano può prendere forma ad una velocità incredibile. I Pads possono anche eseguire delle Clip Audio.
Il "Touch Pad" acquisito dalla serie KAOSS, permette il controllo di sintetizzatori virtuali, con un solo dito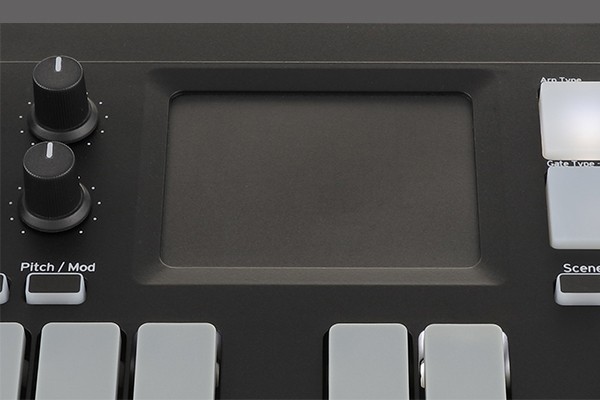 Con il "Touch Pad" è possibile controllare un sintetizzatore Software usando un solo dito proprio come sul Kaossilator, o controllare un plug-in di effetti come su KAOSS PAD. nanoKEY Studio dispone inoltre di un arpeggiatore con Pattern ritmici, che permette di generare nuove frasi musicali toccando semplicemente il Pad.
Otto manopole assegnabili per il controllo DAW e Plug-In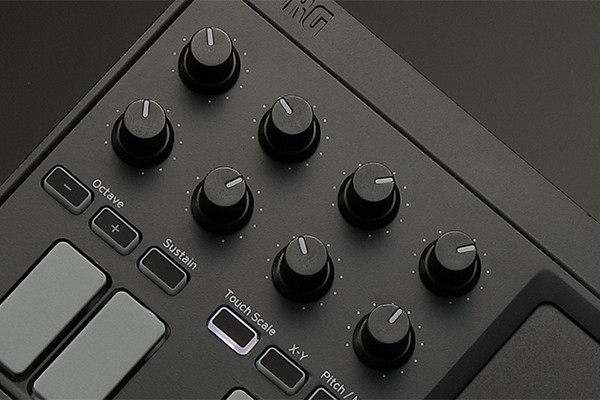 Le otto manopole consentono il versatile controllo dei sintetizzatori software, dei Plug-in effetti e del mixer DAW
Software for Bluetooth MIDI

KORG BLE-MIDI Driver for Windows
The proprietary KORG BLE-MIDI Driver now allows fast and simple wireless connection between your Windows PC and KORG Bluetooth enabled keyboard (such as the nanoSTUDIO series and microKEY Air).
You can enjoy performing or producing music via an easy wireless connection not only from your iPhone/iPad or Mac, but also from your Windows PC. This is a powerful new addition to the Windows world and this driver works with Windows 8.1 and above.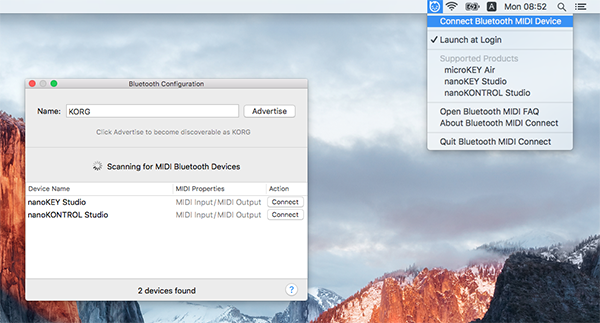 Bluetooth MIDI Connect for Mac
The dedicated utility "Bluetooth MIDI Connect for Mac" allows fast and simple wireless connection between your Mac and KORG Bluetooth enabled keyboard (such as the nanoSTUDIO series and microKEY Air).
This greatly simplifies the sometimes troublesome process of establishing a wireless connection, letting you easily and quickly connect whenever you want.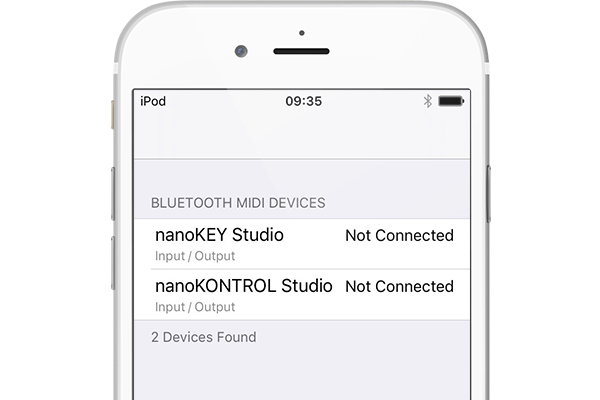 Bluetooth MIDI Connect for iOS
"Bluetooth MIDI Connect" allows you to wirelessly connect your iPhone/iPad and KORG Bluetooth enabled keyboard (such as the nanoSTUDIO series and microKEY Air) even when using an app that does not support Bluetooth MIDI.
This enables wireless connection for any app that supports Core MIDI.
Ricchissima dotazione di software musicale professionale gratuito
La serie nano Studio possiede in dotazione una favolosa collezione di software musicale d'altissimo livello, inclusa la popolare Special Edition di KORG Gadget e KORG Module unita alla KORG Legacy Collection M1 Le, che comprende appunto la versione "Plug-in" del leggendario KORG M1.
Con nanoKEY Studio non è necessario acquistare software aggiuntivo; è possibile iniziare a creare musica immediatamente.

I suoni e le funzioni vengono ulteriormente espansi utilizzando un'unità nano Studio con : "App per iPad/iPhone".
Apps per iPad/iPhone
KORG Gadget Le (music production studio DAW app)

KORG Module Le (piano/keyboard sound module app)
Software per Mac/Windows
KORG Legacy Collection - M1 Le (synthesizer sound module)

UVI Digital Synsations (synthesizer sound module)

AAS Ultra Analog Session (synthesizer sound module)

AAS Strum Acoustic Session (acoustic guitar sound module)

AAS Lounge Lizard Session (electric piano sound module)

Propellerhead Reason Limited (DAW music production software)

Ableton Live Coupon di Sconto di $50 (DAW music production software)

Melodics 40 free lesson (keyboard and finger drumming lesson)

Skoove free 1 month trial of Skoove Premium (online piano lesson)

KORG Gadget Le for Mac (DAW music production software)
Software Editor dedicato per "KORG KONTROL Editor" in dotazione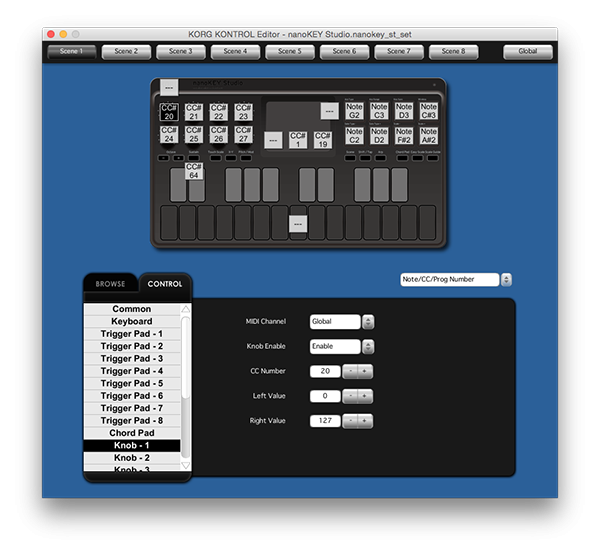 Usando l'Editor per KORG KONTROL dedicato (Mac / Windows), è possibile personalizzare il Controller con le proprie impostazioni dei parametri disponibili, come ad esempio la regolazione fine della curva di Velocity.
Frequently Asked Questions (FAQ)
PRODOTTI

nanoKONTROL Studio
Un controller MIDI USB o Wireless


KORG Gadget
La collezione di Synth più avanzata per: iPad Pro / iPad / iPhone KORG Gadget - lo studio di produzione musicale "All-in-one"


KORG Module
La qualità più elevata del suono del vostro iPad/iPhone.