Plus de fonctions, plus de sons, plus de possibilités
Une plate-forme à la pointe de la technologie bénéficiant de fonctions toujours plus grandes :
Le synthétiseur/station de travail portable qui fait tout.
KROSS 2, le successeur tant attendu du KROSS, est une station de travail compact et portable disposant d'une vaste gamme de sons. Tout en conservant son poids plume légendaire et sa compacité, il peut également fonctionner sur piles. Ce nouveau modèle améliore considérablement les sons et les fonctionnalités du KROSS. En plus d'un total de plus de mille sons prédéfinis, vous avez maintenant la possibilité d'étendre la mémoire PCM. Dans les autres nouveautés, vous disposez désormais d'un échantillonneur se déclenchant avec les pads. Il intègre un réel échantillonnage des sons. L'interface USB transforme l'instrument en réelle interface audio/MIDI. L'interface utilisateur a été repensée pour être encore plus intuitive.
Choisissez sans effort le son que vous voulez jouer, transformez-le pour correspondre à votre imagination, échantillonnez un son, créez des phrases et des rythmes, enregistrez votre voix ou votre guitare, amenez KROSS 2 sur scène et effectuez. Quelle que soit votre vision artistique, vous y arriverez. KROSS 2 est une plate-forme de synthèse polyvalente conçue pour la liberté créative.
KROSS 2 - Vidéo d'introduction
Des sons presets encore plus puissants, avec des banques optionnelles spécialisées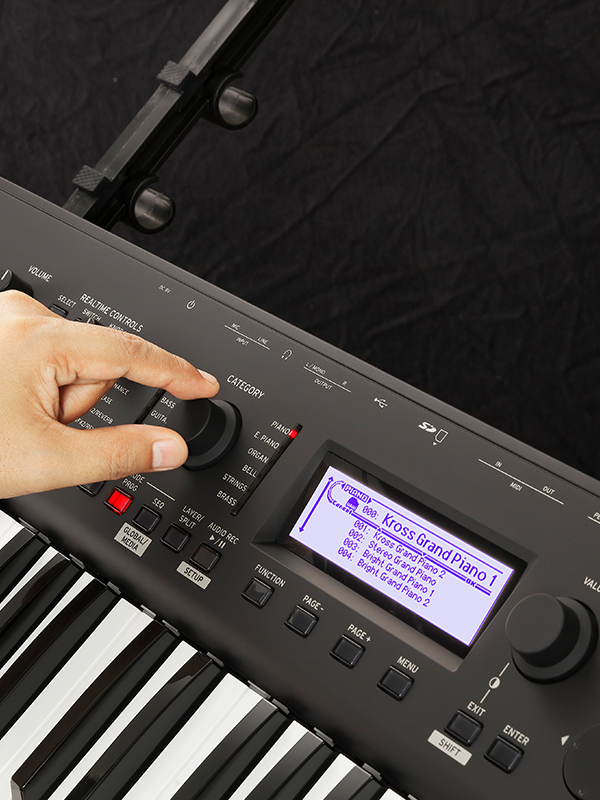 La qualité de son des synthétiseurs KORG est reconnue par les plus grands musiciens au monde. La nouvelle évolution KROSS 2 étend la polyphonie de 80 à 120 voix et augmente drastiquement le nombre de programmes passant de 809 à 1,075. Les pianoqs ne sont pas oubliés avec maintenant des échantillons en multicouches et des pianos électriques. Des nappes de cordes épaisses et tous les sons dont un groupe peut avoir besoin y sont présents. Les amateurs d'EDM seront ravis d'y trouver tous les derniers kits de batterie. Cette large sélection de programmes couvre tous les besoins que vous pouvez avoir pour la scène ou la production en studio.
Le KROSS 2 fournit maintenant 128 Mo de mémoire PCM intégrée. En ajoutant des bibliothèques optionnelles qui seront diffusées prochainement pour le KROSS 2, vous pouvez étendre les sons internes de KROSS 2 pour répondre aux besoins de votre style ou de votre besoin.
Le moteur de son intégré EDS-i Enhanced Definition Synthesis hérite de la longue histoire des synthétiseurs professionnels de KORG. Vous pouvez utiliser un total de sept unités d'effets simultanément: cinq inserts et deux maîtres. Une formidable expressivité est disponible à partir de la sélection de 134 effets de haute qualité, y compris des effets standards tels que le delay et la réverbération, ainsi que la modélisation d'ampli, les unités d'effets vintage et même un vocoder.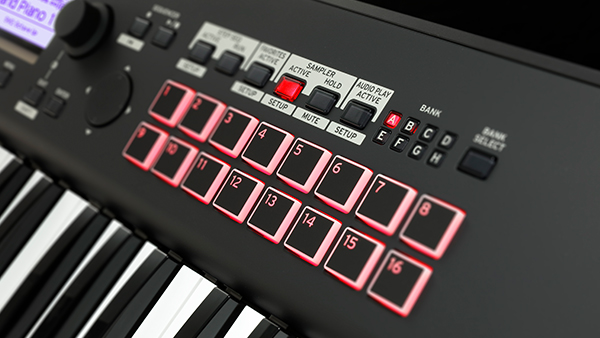 As a first in its class, the KROSS 2 is newly equipped with a unique sampling function that provides 16 playable pads. You can record the input from the LINE IN jack and assign a stereo sample of up to 14 seconds to each pad. Up to four pads can be triggered simultaneously. You can edit the sample waveform using functions such as start/end loop point settings and normalize, and even resample within the KROSS 2, allowing you to perform extensive sampling without requiring any additional equipment. Long audio files from an SD card can also be assigned to these pads.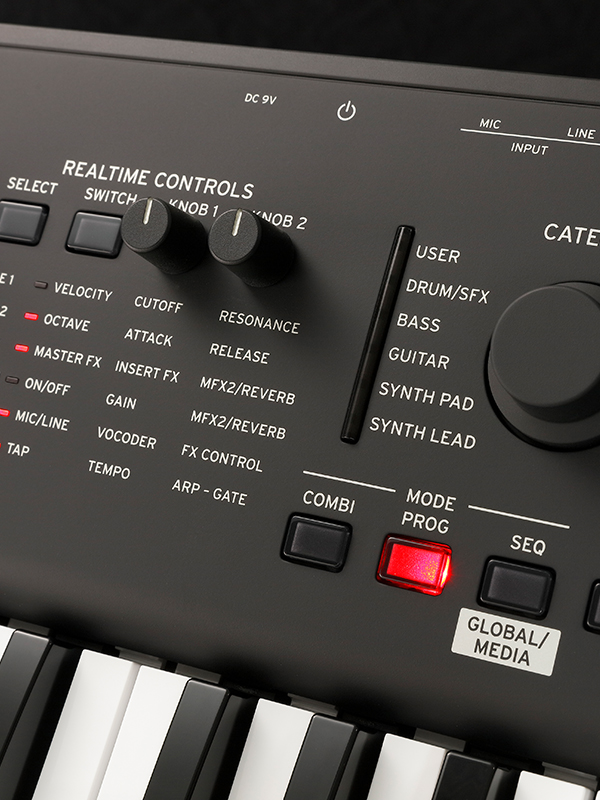 It's easy to get around on KROSS 2, thanks to a user-friendly layout. The panel of the KROSS 2 has been further improved since the first KROSS, ensuring that anyone can quickly access desired sounds and functions from the enormous range of choices.
The new realtime control section lets you directly control KROSS 2's main parameters without having to navigate through a menu hierarchy. In addition to realtime control of the sounds and effects, and simple editing of programs, you can use the knobs to easily control the vocoder settings or adjust the tempo of the arpeggiator and sequencer.
The favorite function lets you register frequently-used programs and combinations and recall them at a single touch, and has even been expanded to allow 128 favorite locations, twice the number of the first generation of KROSS. This function is ideal for live players that need quick access to a specialized set of sounds on stage.
The layer/split function, which lets you layer two sounds or assign separate sounds to the left and right regions of the keyboard, is now easier to set up, thanks to a dedicated quick layer/split button.
Category dial
A category dial is provided, allowing you to immediately find the sounds you're looking for amid the vast range of choices. Just choose the general type of sound, such as piano or organ, and then make your selection quickly and efficiently.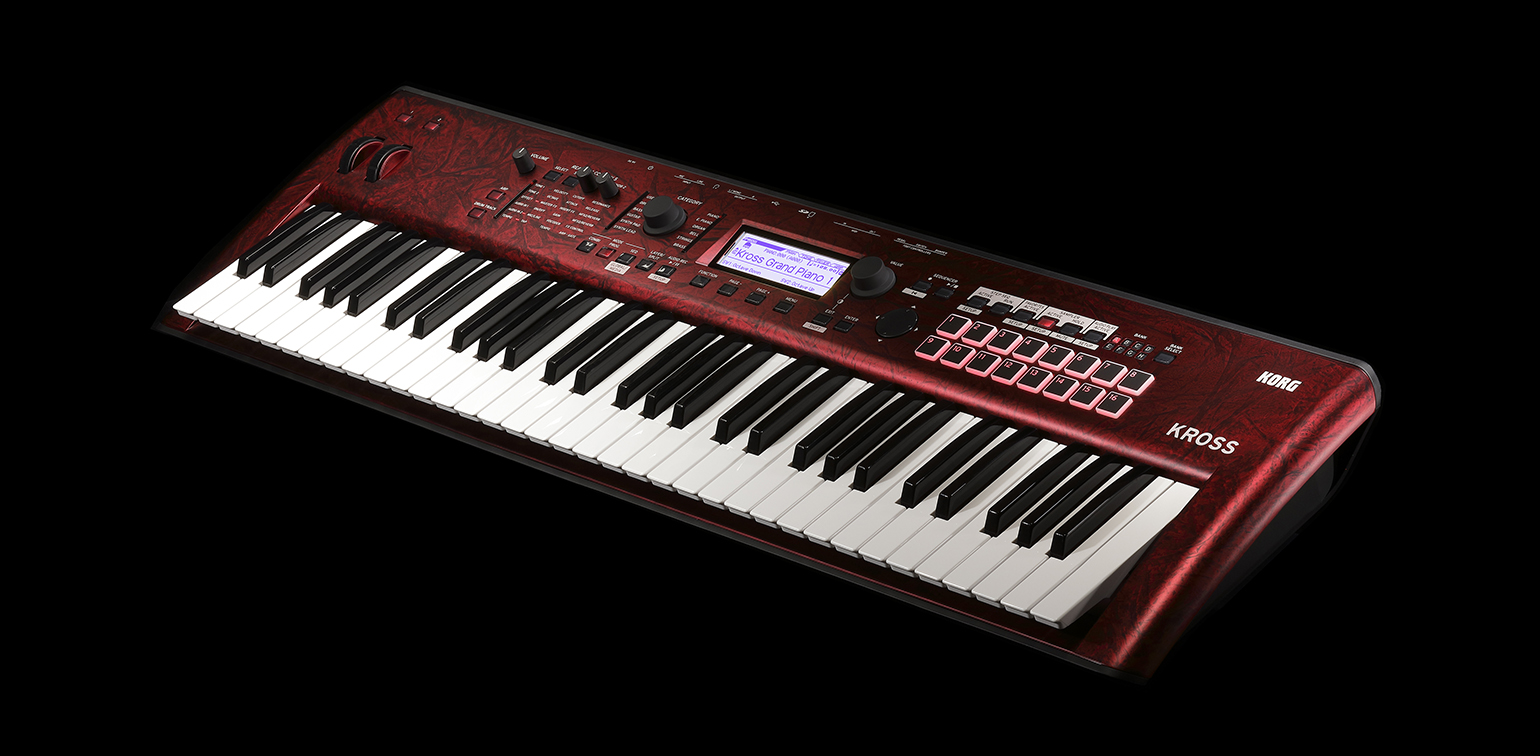 KROSS 2-61-RM (Red Marble, Limited Edition)


Ultra-lightweight and compact body, with support for battery operation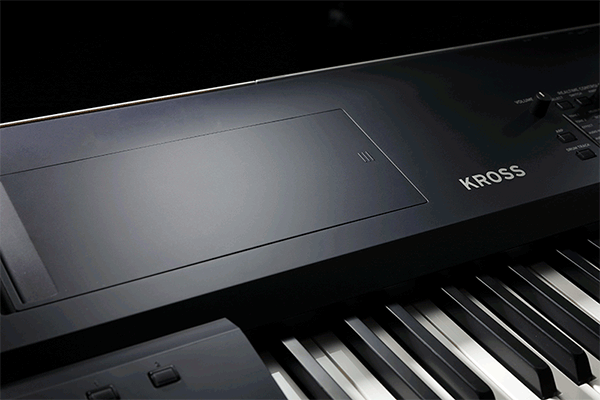 KROSS 2-88DB - The battery case
The amazing mobility of the KROSS series is better than ever. The 61-key model features a new and stylish design, and its weight has been further reduced from the 4.3 kg of the previous model to an even more lightweight 3.8 kg. Additional improvements in power efficiency allow up to seven hours of battery-powered operation from six AA batteries. The 88-key model newly provides an accessory compartment that can hold spare batteries or cables, as well as an easily accessible front-located battery panel. On both models, the rear panel KORG logo is fully illuminated, letting you stand out on stage.
The evolved KROSS 2 also features high quality in its body finish. First, the 88-key model uses a stylish and cool "dark blue" color. The 61-key model uses a "super matte black" color with a high-quality rubberized finish that is durable and feels great to the touch. Lavish use of this sophisticated rubberized finish gives the instrument a highly professional appearance. The 61-key model is additionally available in a limited-edition "red marbled" color. The special marbled red finish is unique and different on each KROSS 2 unit.

KROSS 2-88 (Dark Blue)

KROSS 2-61-MB (Super Matte Black)

KROSS 2-61-RM (Red Marble)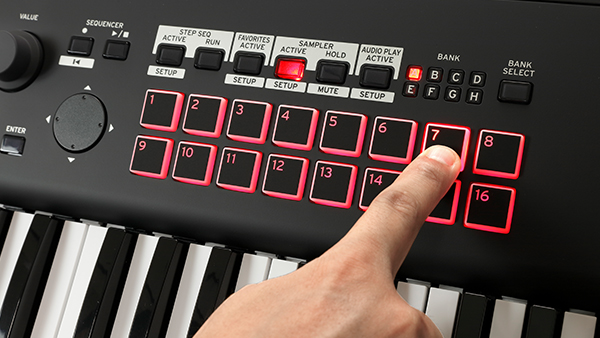 The built-in stereo audio recorder lets you record your KROSS 2 performance, or overdub an external input source such as vocals. There's also a pad audio play function that allows recorded sounds or audio files imported from an external source to be assigned to each of the 16 pads for playback. Unlike the sampling function, this allows extended recording and playback that is limited only by the capacity of the SD card; you can strike a pad to play back the backing of an entire song while you perform on the keyboard, or use the pads to trigger sound effects or background music.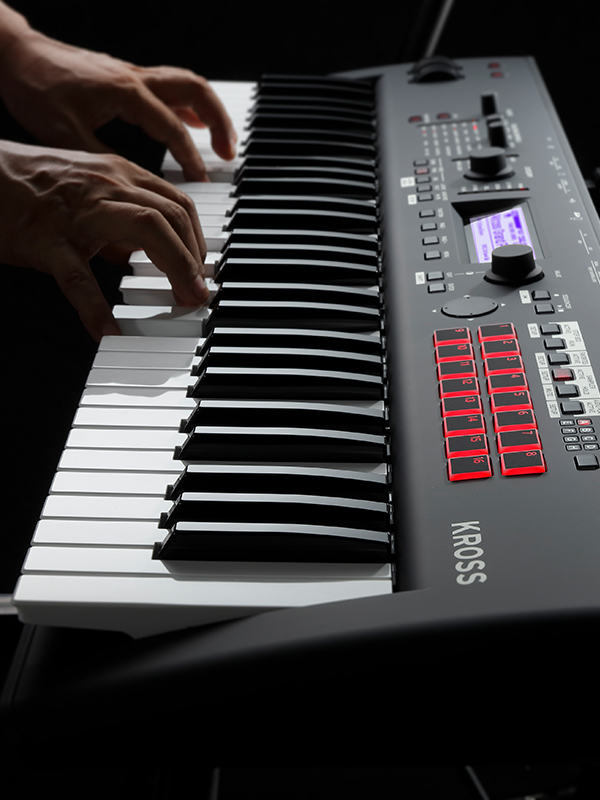 16-track MIDI sequencer
The 16-track MIDI sequencer records your keyboard performance and controller movements as MIDI data. It can also record your pad sampler performance, providing an easy way for you to create sketches of ideas for songs.
Step sequencer
This lets you use the 16 pads to intuitively and quickly create original rhythm patterns of up to 64 steps.
Drum track
The drum track lets you add rhythm to your performance simply by pressing a button. Choose from 772 preset drum patterns that cover a variety of styles.
Arpeggiator
This function is a great way to generate ideas for songs; simply hold down keys to generate rhythmic chords, bass phrases, or guitar strumming.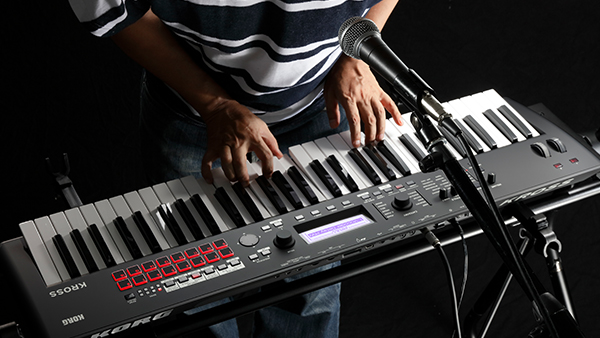 The 1/4" phone MIC IN jack lets you connect a mic directly, so there's no need for a singer-instrumentalist to provide a separate mixer when performing live. A vocoder function is also built-in, and you can easily perform vocoder sounds with rapid access via the realtime control section. Also provided is a LINE INPUT stereo mini-jack that's convenient for connecting your audio player or for sampling.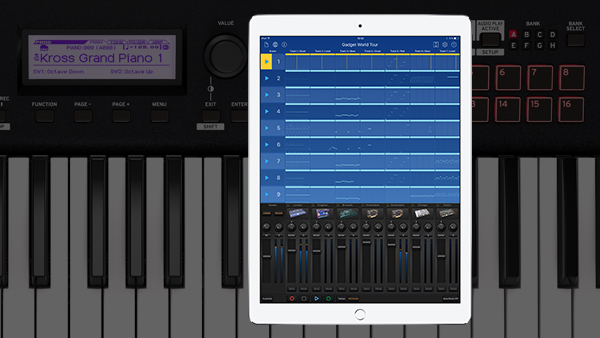 In addition to USB MIDI interface functionality, USB audio interface functionality has been newly added. You can connect the KROSS 2 to your Mac or Windows computer and enjoy DAW recording, or easily use the instrument for playing in conjunction with your iPad or iPhone. The KORG Module high-quality sound module app can be used as an external sound module that's played from the KROSS 2, or you can perform with the backing of tracks that you created using the KORG Gadget DAW app, all with the ease of connecting a single cable.

A dedicated KROSS2 Editor and Plug-In Editor are also provided. These let you edit while viewing numerous parameters at a glance on your computer, or allow you to use the KROSS 2 as a software synthesizer from within your DAW.

*For connection to PC, use the USB cable (sold separately).
*For connection to the iPad/iPhone, use the Apple Lightning - USB camera adapter (sold separately)
KROSS 2-61-MB (Super Matt Black)